La tigresse à la crinière de lionne
13
déc.
2007
... réputé pour avoir les plus belles gambettes de toute la soul.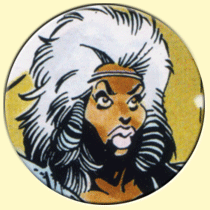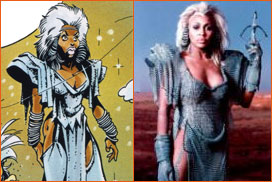 Dans Les sorcières de l'épée de cristal: Lorette et Harpye (Crisse et Goupil, Vents d'Ouest) Crisse croque Tina Turner dans le rôle de Lorette, une sorcière qui a pris l'apparence de Entity.
Outre le clin d'œil fait à Tina Turner, c'est un hommage à la saga post apocalyptique Mad Max de George Miller, où la chanteuse tient le rôle de Entity, la maitresse de la ville du troc, du troisième opus intitulé Au delà du dôme du tonnerre.


Pitch du film:
Max (Mel Gibson) s'est fait dépouiller de son maigre bien. Suivant le voleur, il arrive à la Ville du Troc, où règne Entity. Celle-ci l'engage pour qu'il la débarrasse de Master et Blaster, rois du Monde souterrain. N'ayant voulu tuer Blaster, Max est abandonné en plein désert, d'où il ressurgit à la tête d'une troupe d'enfants pour faire exploser la Ville du Troc.
Encore une fois comme pour Ursula Andress, Kim Basinger, Sophia Loren, Marilyn Monroe, Daryl Hannah, Brigitte Bardot, Tanya Roberts et Sylvia Kristel, toutes issues du même gag -double page-, cet article aurait très bien sa place dans la rubrique kesKIfouLA?.
(L'image est tirée de la page 33, case 3).

Tina Turner (1939) est une chanteuse américaine. Elle découvre avec sa sœur l'univers du rythm n'blues à St Louis. Elle rencontre Ike Turner, leader de The king of Rythm, qui l'engage comme choriste. En 1959, ils enregistrent leur premier grand succès national, A Fool in Love.
Il leur faut attendre 1966 avant de connaître une reconnaissance internationale. Après quelques gros succès, les relations du couple se détériorent, jusqu'à leur séparation en 1976. En 1979, après quelques années difficiles, Tina rencontre le producteur australien Roger Davis. La chanteuse collabore à divers projets et retrouve une maison de disque qui lui permet d'enregistrer son premier album, Private Dancer. Elle fait de nombreuses premières parties de chanteurs comme Lionel Ritchie, puis peut enfin donner des spectacles à guichet fermé.
Chanteuse et actrice sur le troisième volet de Mad Max dont elle signe le titre phare de la bande-originale, We Don' t Need Another Hero. En 1995, elle chante le générique du vingtième James Bond: GoldenEye. Tina enchaîne les succès et les duos avec des artistes comme Rod Stewart, Elton John, Eros Ramazotti ou Mark Knopfler, et contribue au disque en faveur de l'Ethiopie We Are The World.
Un film intitulé Tina adapté de son autobiographie I, Tina sort en 1993. Si elle annonce sa retraite depuis déjà quelques temps, Tina ne semble pas prête à abandonner la scène. Son dernier album en date est Twenty Four Seven est sorti en 1999. Elle est aujourd'hui considérée comme la mamie du rock.

PS: Ike Turner la surnomme Tina (son vrai nom étant Anna Mae Bullock) en référence à Sheena la Reine de la jungle, héroïne de comics créé par Will Eisner et SM Iger, et à laquelle il vouait une grande passion.