You talkin' to me ?!
05
févr.
2008
"Vous aurez le temps de vous reposez quand vous serez mort".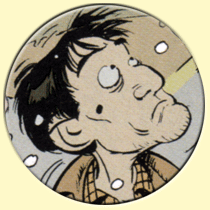 Dans Spoon & White - Tome 2 - "A gore et à cris" (Léturgie Père et fils, et Yann, Vents d'Ouest) Simon Léturgie (le fils) caricature Robert De Niro et lui donne le rôle d'un chauffeur de taxi.
(L'image est tirée de la page 6 case 8).


(Page 7 case 3).
En lui faisant tenir ce rôle, les auteurs font bien sûr référence au film Taxi Drivers de Martin Scorsese, dans lequel Robert incarne Travis Bickle, le taximan qui pête les plombs. En regardant de plus près, tu verras que Léturgie a pris soin de lui faire porter les mêmes vêtements, le taxi est identique, et on reconnaît même sa passagère la pute Iris alias Jodie Foster.

Robert De Niro (1943) est un acteur américain. Il grandit dans le quartier de Little Italy à New York et quitte l'école à seize ans pour suivre les cours d'art dramatique du Dramatic Workshop. Il suit également l'enseignement de Lee Strasberg à l'Actors' Studio. Il monte pour la première fois sur scène dans L'Ours d'Anton Tchekhov, et fait des débuts au cinéma, en 1965, comme figurant dans Trois chambres à Manhattan.
Un an plus tard, De Niro fait la connaissance de Brian De Palma avec qui il tourne trois comédies semi-improvisées : The Wedding party, Greetings et Hi, Mom !. Mais c'est Martin Scorsese qui révèle ses talents de comédien au grand public grâce au polar Mean streets en 1973. L'année suivante, son personnage de Vito Corleone jeune dans Le Parrain - 2ème partie de Francis Ford Coppola lui vaut l'Oscar du Meilleur second rôle.
Après sa troublante performance dans Taxi driver de Scorsese en 1976, il s'affirme comme un acteur de composition, épousant totalement le profil de ses rôles. Perfectionniste, il va jusqu'à apprendre le saxophone pour la comédie musicale New York, New York en 1977, à vivre aux côtés de mineurs-sidérurgistes dans Voyage au bout de l'enfer en 1978, à prendre trente kilos pour jouer un boxeur sur le déclin dans Raging Bull en 1980, performance qui lui vaut l'Oscar du Meilleur acteur, ou encore à apprendre à dire la messe en latin pour les besoins de Sanglantes confessions.
Durant les années 80, il joue la carte de la diversité, en multipliant les registres. De la comédie avec La Valse des pantins en 1982, des films de gangsters: Il était une fois en Amérique en1983, des films d'anticipation: Brazil en 1985, des fresques historiques: Mission qui obtient Palme d'or à Cannes en 1986, ou encore des thrillers surnaturels en incarnant Satan en personne: Angel heart en 1987. En 1990, le comédien retrouve son fidèle complice Martin Scorsese qui l'intègre dans le trio de tête des Affranchis, aux côtés de Joe Pesci et Ray Liotta. Leur collaboration se poursuit avec le remake des Nerfs à vif en 1991, où Robert De Niro exhibe une musculature impressionnante, et Casino en 1995, fresque sur la mafia dans l'univers du jeu de Las Vegas.
L'acteur adulé se trouve par la suite des partenaires à sa hauteur comme Al Pacino dans le monumental Heat, mais aussi Sylvester Stallone dans Copland, Dustin Hoffman dans Des hommes d'influence ou encore Marlon Brando dans The Score. Après avoir tourné sous la houlette de deux -jeune pointures-: Quentin Tarantino pour Jackie Brown et John Frankenheimer pour Ronin, Robert tourne dans des comédies grand public comme Mafia blues, Showtime, Mon beau-père et moi...
En 2007, treize ans après Il était une fois le Bronx, il repasse derrière la caméra avec Raison d'état dans lequel il dirige Angelina Jolie et Matt Damon. Le film reçoit une nomination aux Oscars et est présenté au prestigieux Festival de Berlin.
Prochainement, ce monstre sacré du cinéma donnera la réplique à George Clooney dans 36, remake de -notre- excellent 36 quais des Orfèvres. J'imagine que De Niro reprendra le rôle de Depardieu et Clooney celui d'Auteuil...
PS: Robert De Niro fait aussi parti du casing des Infiltrés 2, le premier étant un de mes meilleurs moments de cinéma de ces derniers années, j'attends avec impatience cette suite qui cette fois mettra en vedette l'inspecteur Digman alias Mark Wahlberg, De Niro lui incarnera un sénateur corrompu. J'espère que Scorsese sera toujours derrière la caméra...