Giant Woman
25
juil.
2013
On ne valse pas avec un géant, sans qu'il vous écrase un peu les pieds.

Claude Lelouch | Itinéraire d'un enfant très gâté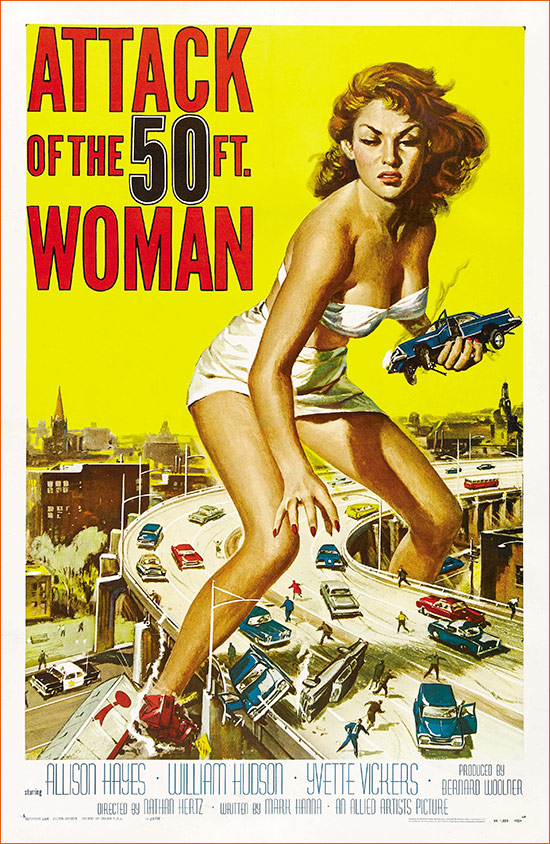 L'attaque de la femme de 50 pieds de Juran (1958).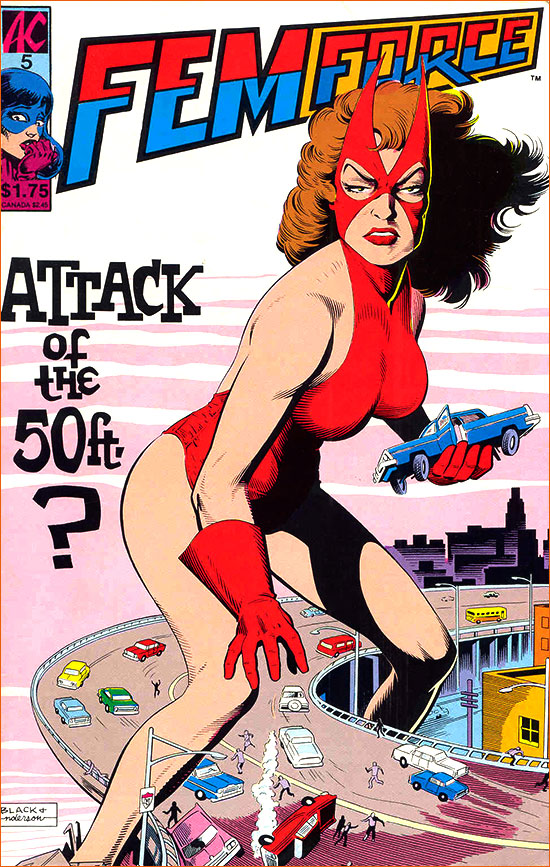 FemForce #5 de Propst et Black (Couverture).
Dans le comics book FemForce #5 - "Cat Fight" (Propst et Black, AC) Bill Black pastiche l'affiche du film L'attaque de la femme de 50 pieds de Nathan Juran sur la couverture de sa BD. Ici, Allison Hayes alias Nancy Fowler Archer est remplacée par Jessica Hunt alias She-Cat.
L'attaque de la femme de 50 pieds est un long métrage américain de science-fiction réalisé par Nathan Juran, sorti dans les salles obscures le 19 mai 1958.
Nancy (Allison Hayes) est une femme qui a tout pour elle. Néanmoins, son père mal-intentionné cherche à contrôler son entreprise, et Harry (William Hudson), son mari qui a une maitresse (Yvette Vickers), ne reste avec elle que pour l'argent. Nancy aimerait se révolter contre eux, mais son manque de confiance en elle l'en empêche. Une nuit, elle rencontre des extraterrestres, et quelque temps après se met à grandir jusqu'à atteindre la taille de 50 pieds. Nancy décide alors de profiter de son avantage et de se venger de ceux qui l'ont fait souffrir...

AlloCiné | L'attaque de la femme de 50 pieds
Sur certains sites le rôle de Nancy est quelques fois attribué à Yvette Vickers. Mais c'est faux, Vickers joue Honey Parker, la maitresse du mari. Cette confusion est surement en rapport avec le fait que Yvette Vickers était une ancienne Playmate du magazine Playboy dans les années 1950... mais la plastique de Hayes n'a rien à envier à celle de Vickers.
On retrouve notamment cette erreur dans les articles traitant de la mort tragique de la -Playmate of the month- de Juillet 1959. En effet, en 2011, Yvette Vickers a été retrouvée morte à son domicile de Beverly Hills, à l'âge de 82 ans. C'est un corps littéralement momifié que la police a découvert, car le décès de l'actrice remonterait à plus d'un an. Les journalistes qui ont remonté l'information, ont dût lire sa bio en diagonale, et ont sorti des titres du genre: La Star oubliée de "L'Attaque de la femme de 50 pieds" retrouvée momifiée...
Ce film est célèbre pour le côté kitsch de son intrigue, une analogie du féminisme en hausse, et surtout son titre, qui fut très souvent parodié et employé comme référence aux films de monstres géants des années 1950. Et puis, c'est surtout l'occasion de reluquer une pin-up géante courtement vêtue.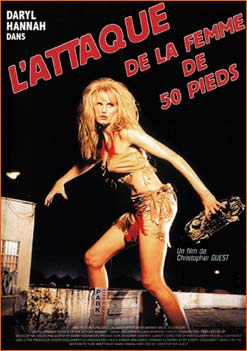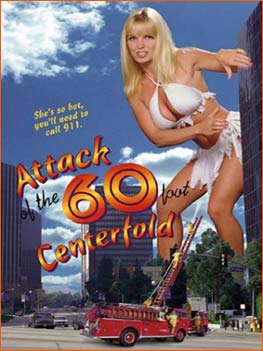 L'attaque de la femme de 50 pieds (1993) et L'attaque de la pin-up géante (1995).
D'ailleurs, un remake fut tourné en 1993 par Christopher Guest avec Daryl Hannah dans le rôle-titre. Et deux ans plus tard, Fred Olen Ray en remet une couche avec son Attaque de la pin-up géante avec un casting bien poumoné: J.J. North, Tammy Parks, et Raelyn Saalman.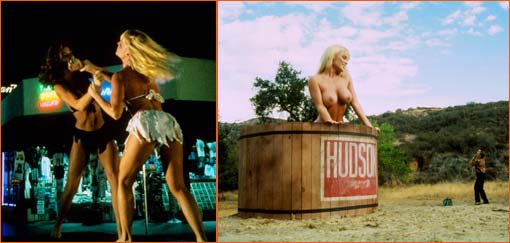 Cette fois ci, on y va franco dans le racolage, ça ressemble pour ainsi dire à un film porno parodique dont on aurait retiré les scènes de culs: "Trois playmates rivalisant pour un concours de beauté se livrent une guerre sans merci ...." Là où il y a de la place pour une, y en a pour trois... ^^

Si vous apercevez un géant, regardez d'abord la position du soleil, et voyez si le géant n'est pas l'ombre d'un pygmée.

Novalis