... troque la fourche pour une tronçonneuse !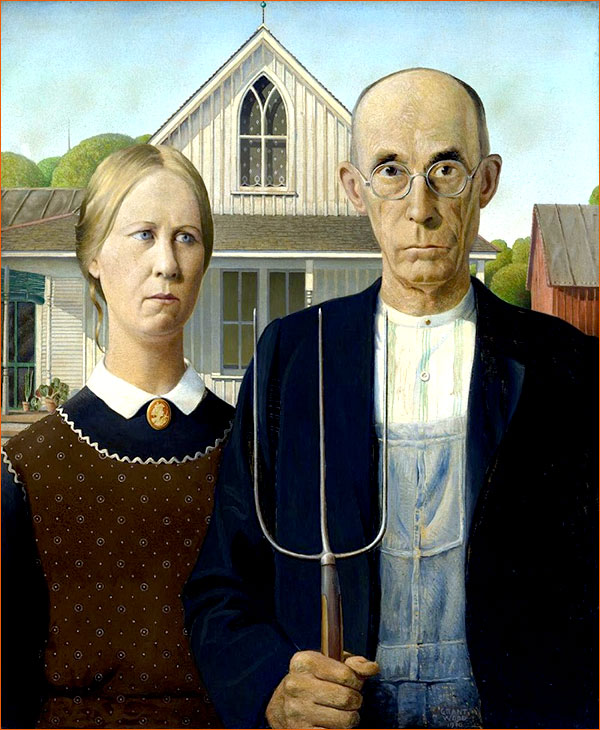 American Gothic de Wood exposé au Art Institute de Chicago.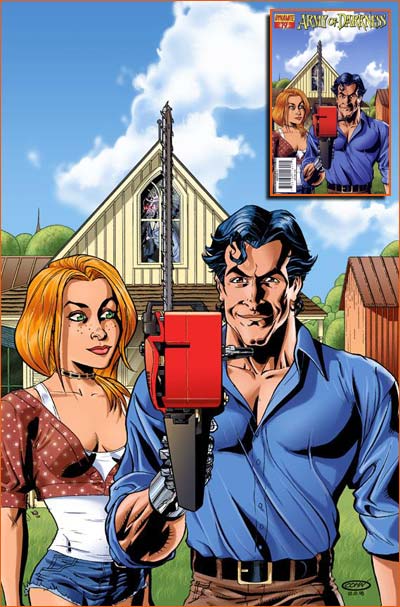 Army of Darkness #19 de Marcos et Raicht (Couverture de Cohn).
Dans le comics book Army of Darkness #19 (Marcos et Raicht, Dynamite) Scott Cohn, l'illustrateur de la couverture, parodie la toile de Grant Wood, American Gothic. Ici, la fermière interprétée Nan Wood Graham, la sœur de l'artiste, est remplacée par Georgia; le fermier incarné par B.H. McKeeby, le dentiste du peintre, par Ashley 'Ash' James Williams; et la fourche par une tronçonneuse.
Pour en savoir plus sur cette célèbre toile américaine et en (re)voir d'autres adaptations, va faire un tour »ici« et »là« où j'ai déjà évoqué le sujet. 😉
Pour la promotion de la saison 4 de la très bonne série TV True Blood, le numéro du 1e juillet 2011 de l'hebdomadaire Entertainment Weekly est sorti sous trois couvertures différentes. Ces trois Unes font toutes référence à la toile qui nous intéresse aujourd'hui. Sur chacune d'elles, on retrouve Anna Paquin alias Sookie Stackhouse accompagnée par un des trois mâles de la série se disputant la jolie blonde...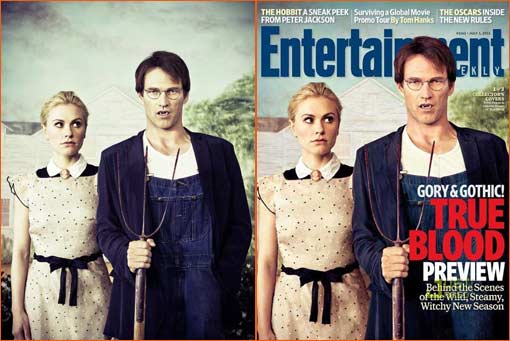 Première version avec William Thomas 'Bill' Compton interprété par Stephen Moyer.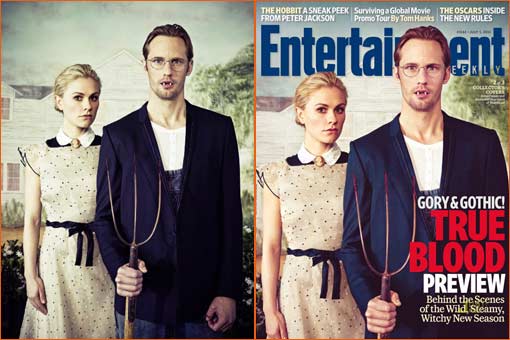 Deuxième version avec Eric Northman interprété par Alexander Skarsgård.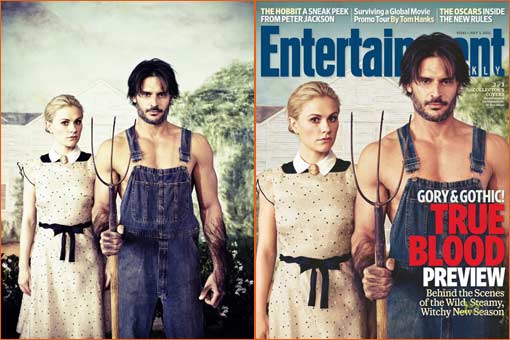 Troisième version avec Alcide Herveaux interprété par Joe Manganiello.

L'Entertainment Weekly, souvent abrégé en EW, est un magazine américain qui couvre des domaines aussi variés que le cinéma, la télévision, la musique, les productions de Broadway, les livres et la culture populaire en général.