Je te promets des fleurs et des dentelles...
18
août
2012
Je te promets des fleurs et des dentelles pour que tes nuits soient douces...♫♫♫♪

Johnny Hallyday |Je te promets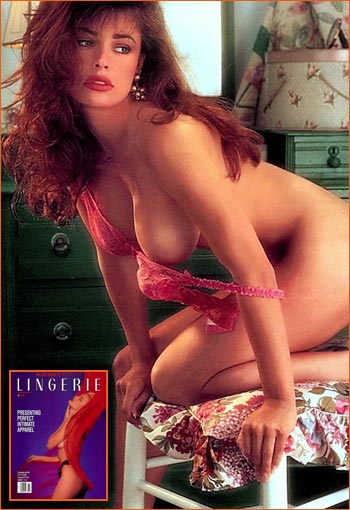 Photographie de York par Goldman pour Playboy (1992).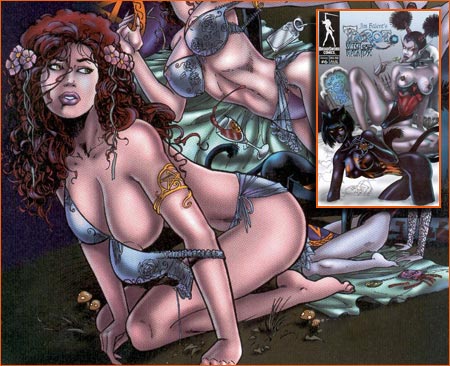 Tarot: Witch of the back rose #6 de Balent (Planche 7).
Dans le comics book Tarot: Witch of the back rose #6 - "Ghoulish Intentions" (Balent, Broadsword Comics) Jim Balent plagie une photographie de Brittany York sur une planche de sa BD. Ce cliché issue du numéro spécial de novembre/décembre 1992 du magazine Playboy's Book of lingerie a été pris par le photographe Andrew Goldman. Ici Brittany York est remplacée par Rowan alias Tarot.
Pour avoir plus de détails sur Playboy, et contempler d'autres pastiches de playmates du magazine coquin, va faire un tour sur les articles suivants où j'ai déjà couvert découvert le sujet: 1 - 2 - 3 - 4 - 5 - 6 - 7 - 8 - 9. 😋
Playboy's Book of lingerie est un genre de spin-off de Playboy. Comme l'indique son nom, il est entièrement consacré à la lingerie, et les playmates du magazine aux longues oreille y pausent uniquement en souvêtement. Contrairement à la revue mensuelle, il n'y a ni chroniques, ni articles, les seuls textes qu'on y lit sont les courtes légendes qui accompagnent les photographies.
C'est Christine Coté qui en couverture du numéro de novembre/décembre 1992. A l'intérieur, parmi plus d'une centaine de photos, on y trouve un unique cliché de Brittany York en page 55 pris par Andrew Goldman.
Brittany York est en fait un alias de l'actrice britannique Alison Armitage (1965), que la jeune femme a utilisé durant sa carrière de playmate. Elle a grandi à Hong Kong, où elle a vécu pendant vingt ans. Nageuse de compétition, elle est qualifiée dans l'équipe olympique de Hong Kong. Elle déménage en suite aux Etats-Unis où elle devient Brittany York sur la page centrale du Playboy d'octobre 1990. Elle continue sa carrière de modèle de charme pour Playboy et d'autres magazine comme Maxim.
Elle se dirige ensuite vers une carrière d'actrice en tournant de nombreuses pubs pour les équipements de sport Reebok, la bière Budweiser, des cellulaires, des cigarettes... Elle obtient finalement des petits rôles dans les films: Secret games, Jerry Maguire, Driven... Puis Alison devient une des vedettes la série TV Agence Acapulco, et tourne aussi dans Les Nouvelles Aventures de Robin des Bois, Seinfeld, Les dessous de Palm Beach, Los Angeles Heat...

Victor Hugo: Si Dieu n'avait pas fait la femme, il n'aurait pas fait la fleur.