Palme No Fiction
21
mai
2012
A l'occasion de la 65e édition du film international de la Croisette, je vais te proposer, chaque jour de cette seconde semaine du Festival de Cannes, un long métrage ayant été nominé depuis de sa création.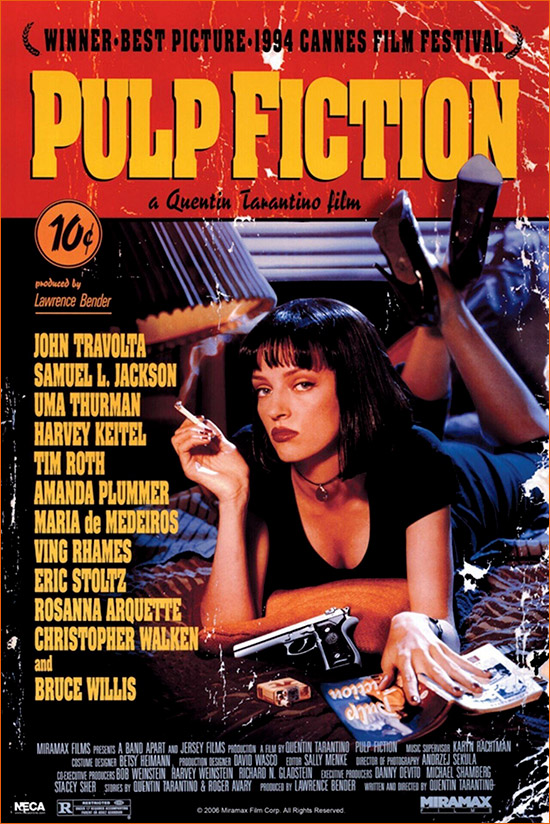 Pulp Fiction de Tarantino (1994).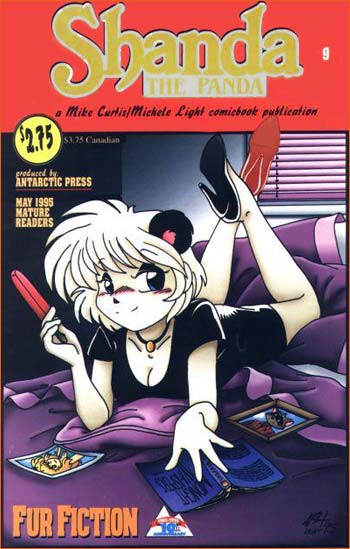 Shanda the Panda #9 de Light et Curtis (Couverture).
Dans le comics book Shanda the Panda #9 - "Fur Fiction" (Light et Curtis, Antartic Press), Michele Light pastiche l'affiche du film de Quentin Tarantino Pulp Fiction sur la couverture de sa BD. Ici Mia Wallace alias Uma Thurman est remplacée par Shanda Bruin, la gérante de cinéma, héroïne de la série ; et sa cigarette par un esquimau à la fraise.
Pour obtenir plus d'informations sur ce film et en voir d'autres adaptations, va faire un tour »ici« , »là« , et aussi »ici« , où j'ai déjà traité le sujet. ;-)

Pulp Fiction a obtenu 4 nomination au Festival de Cannes: Prix du Jury Œcuménique, Prix de la mise en scène, Prix du Jury, et Grand Prix ; et a remporté la Palme d'Or.
Le film a été nominé aux César: César du Meilleur film étranger.
Il a aussi été consacré aux Oscars avec 6 nominations: Oscar du Meilleur film, Oscar du Meilleur réalisateur, Oscar du Meilleur acteur, Oscar du Meilleur acteur dans un second rôle, Oscar de la Meilleure actrice dans un second rôle, et Oscar du Meilleur montage ; et a remporté l'Oscar du Meilleur scénario original.

Marsellus Wallace: "Si Butch se réfugie en Indochine, je veux un Bonze dans chaque bol de riz prêt à lui plomber les molaires".