OZer le trash !
09
août
2013
Je crois que tu te trompes. Ce n'est pas un tueur en série malade qui a trop lu la bible. C'est simplement un fumier ordinaire qui déteste les femmes.

Stieg Larsson | Millenium - Tome 1 - Les Hommes qui n'aimaient pas les femmes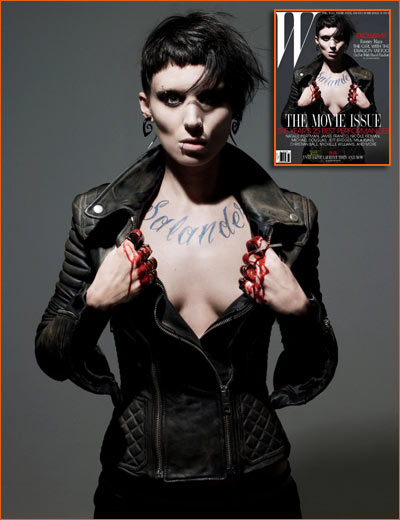 Photographie de Mara par Mondino pour W (2011).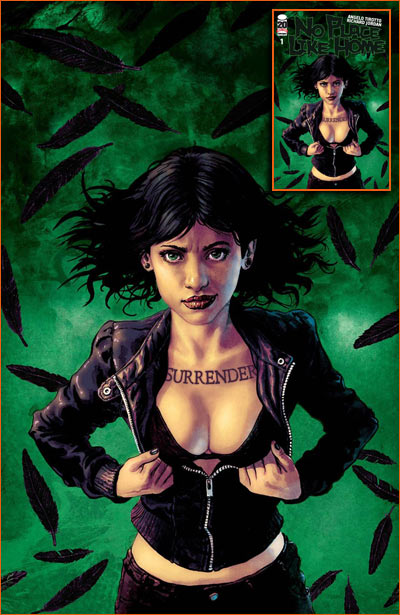 No place like home #1 de Jordan et Tirotto (Couverture).
Dans le comics book No place like home #1 - "Home again - Part 1/5" (Jordan et Tirotto, Image Comics) Richard Jordan parodie la Une du magazine W de février 2011 sur la couverture de sa BD. C'est plus précisément un pastiche d'une photographie de Rooney Mara, shootée par Jean-Baptiste Mondino, promouvant le film Millenium de David Fincher. Ici, Rooney Mara alias Lisbeth Salander est remplacée par Dee.
Une compile des 5 premiers tomes est paru en France chez Atlantic BD sous le titre Les assassins d'Oz - Tome 1.
W est un magazine de mode américain de grand format, mensuel, créé en 1972, et publié par les éditions Condé Nast depuis 1999 à plus de 400 000 exemplaires annuels. Son mon, la lettre -W-, est un rappel de la réminiscence de son slogan: "Who, What, Where, When, and Why in the World of style".
Le numéro de février 2011, qui nous intéresse aujourd'hui, fait la promotion du film Millenium: Les hommes qui n'aimaient pas les femmes, version US, avec l'excellent David Fincher à la réalisation. Le mag' et sa couv', lèvent le voile sur les premières photographies de l'actrice Rooney Mara dans la peau de Lisbeth Salander. Les clichés du photographe français, Jean-Baptiste Mondino, révèlent une Rooney très rock voire hypnotisante, bien loin de son personnage d'Erica de The social network.
Préférée à Natalie Portman, Léa Seydoux ou Scarlett Johansson, Rooney Mara, 25 ans, a la loourde tâche de succéder à Noomi Rapace, interprète acclamée du personnage dans la version scandinave de l'adaptation des romans de Stieg Larsson. Daniel Craig, Robin Wright, Christopher Plummer ou encore Stellan Skarsgård complètent le casting du thriller. Pour avoir vu les deux versions, et avoir beaucoup apprécié la version suédoise, je dois dire que la remake américain est vraiment excellent. Ce qui confirme encore une fois le talent de Fincher.

Mikael savait très bien que toutes les familles ont des squelettes dans le placard. La famille Vanger avait un cimetière entier.

Stieg Larsson | Millenium - Tome 1 - Les Hommes qui n'aimaient pas les femmes