Simon Phoenix
13
avr.
2011
"C'est le meilleur des mondes ! C'est con que tu doives le quitter !"
(©Demolition Man)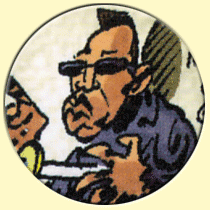 Dans Sœur Marie-Thérèse - Tome 6 - "La guère sainte" (Maëster, Drugstore) Maëster caricature Wesley Snipes au détour d'une case, et lui donne le rôle d'un chasseur de vampire ayant subit quelques désagréments.
(L'image est tirée de la page 36, case 4).
Avec ce clin d'œil, l'auteur fait références à la trilogie cinématographique des Blade dont Snipes est le héros.

Wesley Snipes (1962) est un acteur américain. Après une enfance passée dans le Bronx, il intègre la réputée High School for the Performing Arts mais n'obtient pas son diplôme. Il aime trop la comédie pour renoncer et continue à se produire dans des petits théâtres locaux.
Remarqué par un agent lors d'un casting, il décroche son premier rôle en 1986 dans Wildcats au côté de Woody Harrelson. Il retrouve ce dernier dans Les blancs ne savent pas sauter et Money train. Après une apparition dans le clip de Michael Jackson Bad en 1987, Wesley poursuit sa carrière sur grand écran. Il joue dans The King of New York en 1990, Mo' Better Blues, Jungle Fever en 1991.
A partir de 1992, l'acteur se spécialise dans les films d'action: Passager 57, Soleil levant avec Sean Connery, Demolition Man avec Sylvester Stallone, US Marshals avec Tommy Lee Jones, L'Art de la guerre, Appel au meurtre ou encore Un seul deviendra invincible. Wesley Snipes n'abandonne cependant pas entièrement les autres registres, jouant les drag queens dans Extravagances en 1996, ou un tueur de vampires dans la trilogie des Blade de 1998 à 2004, son rôle le plus célèbre à ce jour.
Malheureusement, depuis, sa carrière connaît une sérieuse perte de vitesse, l'acteur se retrouvant essentiellement cantonné à des séries B musclées sans grande envergure comme Chaos ou 7 secondes.

PS: Son nom est évoqué pour l'éventuel deuxième volet de Expendables de et avec Sylvester Stallone.