Ash oui CAMpbell !
04
janv.
2021
C'est controversable pour le président des Etats-Unis d'honorer le street art. Ça reste un acte illégal, souvent conçu comme du vandalisme.

Shepard Fairey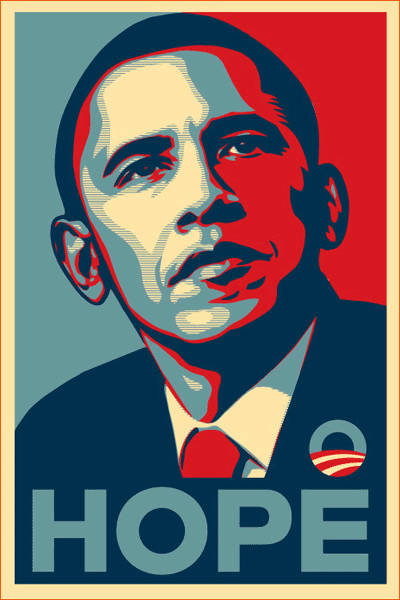 The Barack Obama "Hope" poster de Fairey (2008).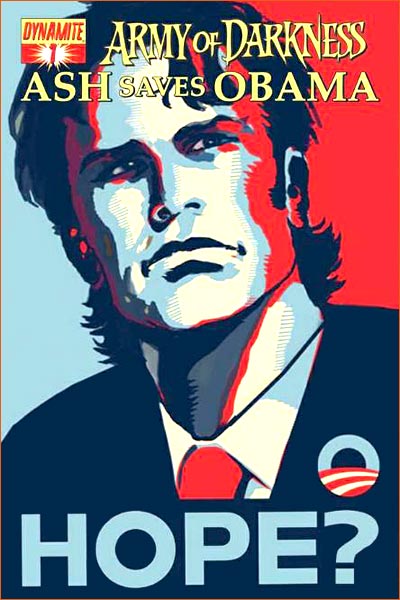 Army of Darkness: Ash Saves Obama #1 de Padilla et Serrano (Couverture alternative de Nauck).
Dans le comics book Army of Darkness: Ash Saves Obama #1 (Padilla et Serrano, Dynamite) Todd Nauck, l'illustrateur de la couv', pastiche l'affiche de propagande The Barack Obama "Hope" poster de Shepard Fairey sur la couverture bis de sa BD. Ici, le visage de Barack Obama est remplacé par celui de Ashley 'Ash' James Williams.
Pour avoir plus d'informations sur cette célèbre affiche et en voir une autre parodie, va faire un tour »ici« où j'ai déjà traité le sujet. 😉
Véritable artiste engagé, Shepard Fairey risque chaque jour de passer par la case prison pour ses initiatives dénonciatrices de la manipulation politique. Pour lui, le street art est un moyen de participer au débat, au dialogue. Dans la rue, tout le monde peut prendre la parole.
Je collais des autocollants. Ça a été assez grave. Ils ont présenté 34 chefs d'inculpation. Je risquais jusqu'à huit ans de prison. J'ai finalement écopé d'une peine avec sursis. Je sors tout juste de ma période de probation. Mais si je suis repris, ce sera la prison ferme.

Shepard Fairey
L'artiste californien tente de porter un regard critique sur la propagande médiatique du système capitaliste, au travers de pochoirs percutants. Un travail original, qui permet de révéler les messages perçus de manière inconsciente par les gens. Dès les années 1990, Shepard Fairey s'approprie la théorie de Marshall McLuhan, philosophe et sociologue canadien: "The medium is the message". Il fait alors du concept un fondement idéologique de son travail et caricature les codes de la propagande. Pour les régimes totalitaires, il reprend le rouge et le noir. De l'univers publicitaire, il s'approprie des slogans incitatifs. En ressort une réalité troublante pour le public: l'homme est-il libre de ses choix ? Un talent qui lui donne l'opportunité de réaliser des actes militants.

Au final, peu importe ce qui s'est passé avec Obama. Peu importe que je sois content ou pas. La seule chose qui importe c'est qu'un graphisme, une simple image a fait la différence. La leçon va au-delà du fait d'avoir à voter ou non. Ce qui compte, c'est d'utiliser les outils qu'on a pour imposer son point de vue.

Shepard Fairey