Hope bas mot !
20
avr.
2014
Je veux vous [Shepard Fairey] remercier d'avoir utilisé votre talent au service de ma campagne. Vos messages politiques ont encouragé les Américains à croire qu'ils pouvaient changer le statu quo. Vos images ont un effet profond sur les gens, qu'elles soient vues dans une galerie ou sur un panneau indicateur. C'est un privilège pour moi d'avoir été l'objet de votre travail d'artiste et une fierté d'avoir eu votre soutien.

Barack Obama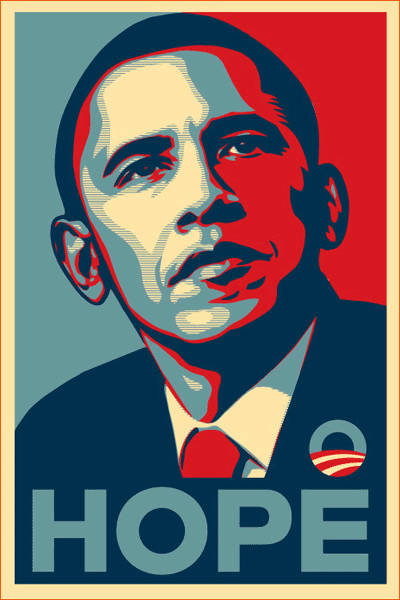 The Barack Obama "Hope" poster de Fairey (2008).

President Evil #4 de Hutchison (Couverture).
Dans le comics book President Evil #4 - "Yes we cannibal" (Hutchison, Antarctic Press) David Hutchison pastiche l'affiche de propagande The Barack Obama "Hope" poster de Shepard Fairey sur la couverture de sa BD. Ici, le visage de Barack Obama est détourné à la sauce zombie.
Le slogan "Hope" est remplacé par "Yes we Cannibal" faisant bien sûr référence à la fameuse anaphore "Yes we can" prononcé en 2008 par le, alors, sénateur Obama dans son discours de défaite après la perte du New Hampshire dans la course à la primaire. Ce slogan "Oui, nous pouvons" a ensuite été repris de nombreuses fois lors de la campagne des primaires, puis présidentielle, et enfin en 2009 lors de du discours d'investiture du président Obama. Mais le vrai slogan de sa campagne présidentielle était "Change we can believe in" (=Nous pouvons croire au changement).
L'artiste de rue, Shepard Fairey, crée une série d'affiches en soutien à la candidature de Barack Obama à l'élection présidentielle de 2008. Cette sérigraphie du portrait de Barack Obama est constituée d'aplats de trois couleurs empruntées à la bannière étoilée: du bleu décliné en deux tons, du rouge et du blanc. Le rendu est Warholien, et l'image devient rapidement une icône. Shepard distribue à ses frais 300 000 autocollants et 500 000 affiches pendant la campagne, se finançant par la vente d'affiches et de dérivés.
Parfois, on croit que j'ai été engagé par son équipe de campagne, mais non. Je l'ai fait parce que j'ai trois filles, que je fais de mon mieux pour leur donner une vie décente. Obama était simplement celui qui me semblait le mieux défendre mes valeurs.

Shepard Fairey
A l'origine le slogan sur le poster est "Progess" (=Progrès) mais suite au succès et à l'impact grandissant de cette propagande sauvage, l'équipe de campagne d'Obama contacte l'illustrateur freelance, et lui demande si il veut bien remplacer son texte par "Hope" (=Espoir), message plus en phase avec celui de la campagne d'Obama. Fairey accepte et en imprime même d'autres séries avec "Change" (=Changement), et "Vote".
J'ai créé le premier, le portrait Hope, la deuxième semaine de janvier 2008 et dans les deux semaines suivantes, j'ai réalisé que cela avait un impact, car c'était partout sur Internet. J'en avais fait des affiches que j'avais accrochées dans Los Angeles et j'en ai distribué plusieurs milliers à un meeting mené par Oprah Winfrey. Et je les ai retrouvées sur les sites d'informations, les blogs, les pages Facebook et Myspace des gens... Pour moi, cela vient de deux choses: premièrement, il n'y avait pas d'image iconographique d'Obama et les supporters veulent avoir un symbole qui puisse être représentatif tout en ayant un caractère humain. Le logo d'Obama était un bon logo mais cela ne touchait pas les gens comme un portrait peut le faire. Comme aucun portrait n'existait, cela satisfaisait un besoin. Deuxièmement, avec mon statut d'artiste urbain et le fait que je me sois prononcé publiquement contre la guerre en Irak et contre la politique de George W. Bush, cela a pu faire comprendre qu'il y avait une dimension de plus que l'image elle-même.

Shepard Fairey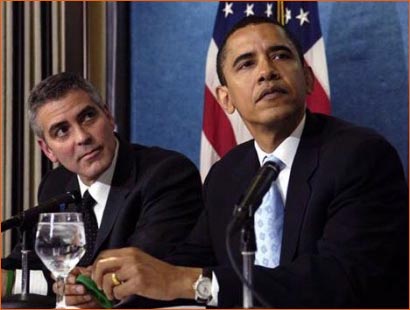 Photographie de Clooney et Obama par Garcia pour Associated Press (2006).
La photographie à l'origine du travail de Fairey, est un cliché datant du 27 avril 2006, de Mannie Garcia, photographe indépendant. Garcia, travaillant ce jour là en freelance pour le compte d'Associated Press, doit photographier George Clooney, de retour de visite des camps de réfugiés au Darfour. Obama, alors sénateur de l'Illinois, accompagne l'acteur à la conférence de presse et il se retrouve ainsi sur plusieurs clichés du photographe. Plus d'un an après, cette photo attire l'attention de Shepard Fairey alors qu'il cherche sur Google un portrait d'Obama pour réaliser son fameux poster. L'affichiste a d'ailleurs, par la suite, été ennuyé par l'agence de presse AP détenteur des droits d'auteur de ce cliché, mais les deux parties ont fini par s'entendre à l'amiable.
En janvier 2009, l'US National Portrait Gallery achète l'image originale Hope pour sa collection permanente.

PS: Time Magazine a commandé à Fairey le portrait d'Obama utilisé en couverture du numéro consacré à la personnalité de l'année 2008. Cette nouvelle image a aussi été utilisée en couverture du numéro de février 2009 d'Esquire Magazine. GQ Magazine a désigné Fairey parmi ses hommes de l'année, pour l'influence qu'il a eue sur l'élection.