Il ne craignait plus rien. La vie et la mort, peu lui importait. Tout ce qui comptait, c'était que la foule soit là pour le saluer de ses cris de joie et de fureur. Il commença à prendre conscience de son sens des valeurs au combat.

Le narateur | Conan le Barbare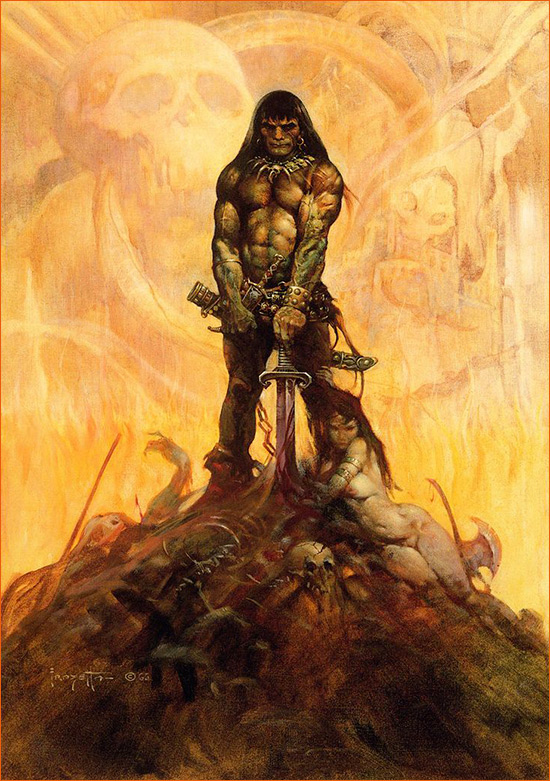 The Barbarian de Frazetta pour l'affiche de Conan le Barbare de Milius (1982).

Ex-libris Joker and Harley Quinn de Nunez.
Sur un ex-libris tiré de l'univers de Batman (DC Comics) Billy Nunez dit Biz20 pastiche l'illustration The Barbarian de Frank Frazetta utilisée pour l'affiche du film de John Milius, Conan le barbare. Ici, Conan alias Arnold Schwarzenegger et Valéria alias Sandahl Bergman sont remplacés par le Jocker et Harley Quinn alias le Dr. Harleen Francis Quinzel.
Pour avoir plus d'informations sur ce film fantastique et voir une autre adaptation de son affiche, va faire un tour »ici« où j'ai déjà traité le sujet.
Un couple muet...
Bien qu'ils soient côte à côte durant tout le film, les échanges verbaux entre les personnages de Conan et de Valéria se comptent sur les doigts d'une main.
... mais sacrément baraqué...
Malgré de nombreuses scènes dangereuses, Arnold Schwarzenegger et Sandahl Bergman ont réalisé eux-mêmes leurs cascades. En effet, les deux acteurs possédant des mensurations si imposantes, la production a été incapable de trouver des doublures suffisamment ressemblantes. Le tournage du film a été très éprouvant pour tous les acteurs et particulièrement pour Schwarzenegger. Son épée était si lourde qu'il pouvait à peine la porter. Et son encombrante armure l'empêchait de s'asseoir correctement et donc de se reposer entre les prises.

Prenons ce monde sans pitié à la gorge et obligeons-le à nous donner ce que nous désirons !

Sandahl Bergman alias Valéria