J'étais le plus gros bébé dans le comté de Clark, Arkansas. Ils m'ont mis dans le journal. J'étais comme un navet de prix-concours.

Billy Bob Thornton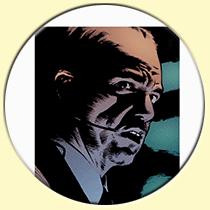 Dans Zéro Absolu - Tome 3 - "Incarnations" (Bec et Marazano, Soleil) Christophe Bec croque Billy Bob Thornton le temps d'une case, et lui donne le rôle d'un opérateur de la mission qui a pour but de découvrir pourquoi la base de recherche de la planète glacière Sibéria ne donne plus signe de vie.
(L'image est tirée de la page 31, case 3).
Cette caricature furtive fait surtout référence à son rôle de Dan Truman, l'administrateur de la NASA, du film Armageddon de Michael Bay.
Billy Bob Thornton (1955) est un acteur, réalisateur, producteur, scénariste et musicien américain. Elevé par un père professeur d'histoire et une mère voyante, il commence sa carrière artistique comme batteur et chanteur dans le groupe Tres Hombres. En 1981, il part à Los Angeles avec son ami d'enfance, Tom Epperson, afin de tenter une carrière d'acteur et de scénariste. Les débuts sont difficiles, il doit enchaîner les petits boulots mais décroche néanmoins quelques rôles dans des séries télé, dont Hearts Afire, et sur grand écran avec Hunter's Blood en 1987. Dealer assassin dans Un faux mouvement de Carl Franklin, il joue les seconds couteaux dans des productions parfois importantes et remarquées telles que Proposition indécente en 1993 ou Dead Man en1994.
En 1996, Billy se met en scène dans Sling Blade, film pour lequel il est cité à l'Oscar du Meilleur acteur et grâce auquel il remporte celui du Meilleur scénario adapté. Cinq ans plus tard, il dirige Matt Damon et Penélope Cruz dans De si jolis chevaux qui ne remporte pas le même succès critique mais confirme ses talents de réalisateur.
Devant la caméra, il affectionne les rôles d'idiots et de marginaux: U-Turn, Un plan simple, et Bandits; mais également ceux qui nécessitent une certaine assurance. On le retrouve ainsi conseiller de John Travolta dans Primary Colors, Aiguilleur du ciel aux côtés de John Cusack, expert de la NASA dans Armageddon... Côté vie privée, le couple excentrique qu'il forme jusqu'en 2003 avec Angelina Jolie, de presque vingt ans sa cadette, défraye la chronique.
En 2001, les frères Coen lui offrent un premier rôle mémorable dans le film noir The Barber: l'homme qui n'était pas là. Salué par la critique, le film achève d'installer sa notoriété. L'année suivante, en gardien de prison raciste, il donne la réplique à Halle Berry dans A l'ombre de la haine. Mais la comédie reste son point fort: faux Père Noël alcoolique et lubrique dans Bad Santa, il entraîne une équipe de base-ball médiocre dans le remake Bad News Bears, enseigne à L'école des dragueurs et interprète l'incurable Monsieur Woodcock en 2007 aux côtés de Seann William Scott. Après deux thrillers, sur les dangers des nouvelles technologies avec L'œil du mal, et des drogues avec Informers, et une comédie inédite en France: The smell of success, Thornton revient au film de pure action avec le rôle du flic à la poursuite de Dwayne Johnson dans Faster.
Actuellement, tu peux le voir dans la série TV Fargo, le remake de l'excellent film des frères Cohen.

PS: En septembre 2001, Billy Bob Thornton enregistre son premier album: Private Radio.