A la colle !
13
déc.
2013
Toute prison a sa fenêtre.

Gilbert Gratiant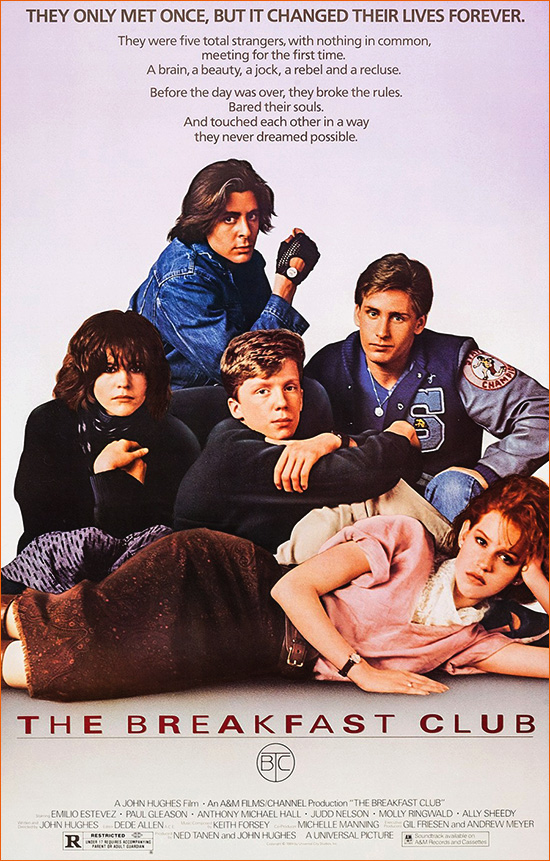 Breakfast Club de Hughes (1985).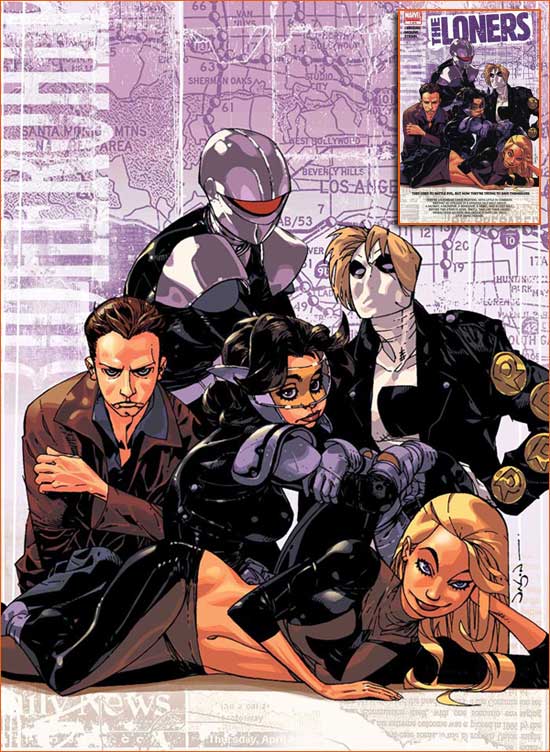 The Loners #1 de Moline et Cebulski (Couverture de Pearson).
Dans le comics book The Loners #1 - "Fear of flying" (Moline et Cebulski, Marvel) l'illustateur de la couverture, Jason Pearson, parodie l'affiche du film de John Hughes Breakfast Club sur la couv' de sa BD. Ainsi, Molly Ringwald alias Claire Standish se transforme en Lightspeed alias Julie Power, Ally Sheedy alias Allison Reynolds en Green Goblin alias Phil Urich, Anthony Michael Hall alias Brian Johnson en Turbo alias Michiko Musashi, Emilio Estévez alias Andrew Clarke en Ricochet alias Jonathan Gallo, et Judd Nelson alias John Bender en Darkhawk alias Christopher Powell. Ouf !
Breakfast Club est une comédie dramatique américaine écrite et réalisée par John Hughes, et sortie dans les salles obscoures le 15 février 1985. Comme dans beaucoup de ses films, Hughes place le récit dans la ville fictive de Shermer, en Illinois, une banlieue de Chicago très similaire à Northbrook où il a grandi.
Cinq lycéens aux caractères totalement opposés se retrouvent en colle un samedi après-midi. Au fur et à mesure que la journée passe, ils discutent, se déchirent et finissent par se trouver plus de points communs qu'ils ne pensaient.

AlloCiné | Breakfast Club
Pour ce film, John Hughes, va lui-même recruter les acteurs Judd Nelson, Ally Sheedy, Anthony Michael Hall, Molly Ringwald et Emilio Estévez afin de créer une histoire réunissant cinq étudiants à personnalités très divergentes, soit le délinquant, la détraquée, le surdoué, la fille à papa, et l'athlète.
Du début à la fin, Breakfast Club nous entraîne dans un univers auquel tout adolescent s'est identifié. La fin constitue l'un des moments les plus forts du film, amenant le spectateur au thème même du film par le biais du sujet imposé aux élèves en retenue: "Qui pensez-vous être ?".
La bande originale est composée de morceaux classiques de l'époque, dont Don't you (forget about me) interprété par Simple Mind.
De nombreuses séries TV reprennent dans un de leur épisode le schéma narratif du film: Kick Kasskoo dans "Le pion, le cancre, et la maitresse" ; Victorious dans "La retenue du samedi" ; Dawson dans "Deux garçons, trois filles, cinq possibilités" ...

PS: Dans l'album Dookie du groupe Greenday, la chanson Basketcase est directement inspirée du personnage d'Ally Sheedy de Breakfast Club.