Veuves noires
15
août
2015
Certains hommes ne supportent pas l'arsenic ?



Denise Faye alias Annie | Chicago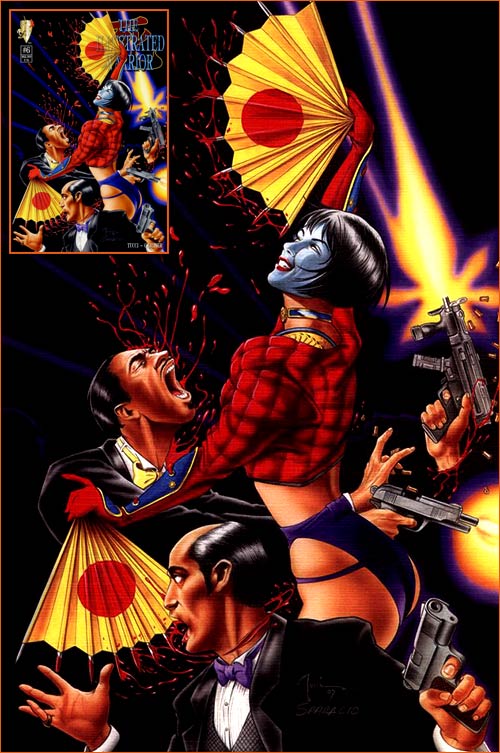 Shi: The illustrated warrior #6 de Tucci (Couverture).
Dans le comics book Shi: The illustrated warrior #6 (Tucci, Crusade Fine Arts) Billy Tucci parodie une photographie du tournage du film Chicago de Rob Marshall, sur la couverture de sa BD. Ici Velma Kelly alias Catherine Zeta-Jones est remplacée par Ana Ishikawa alias Shi.
Le long métrage Chicago sorti dans les sallles obscores américaines le 27 décembre 2002, est une comédie musicale réalisé par Rob Marshall. Le film est adapté de la comédie musicale montée en 1975 par Bob Fosse, elle-même inspirée de la pièce de théâtre qu'avait écrite Maurine Dallas Watkins en 1926 d'après le véritable procès de Roxie Hart. Cette pièce avait déjà fait l'objet de deux adaptations: Chicago en 1927 et Roxie Hart en 1942 avec Ginger Rogers.
A Chicago, dans les années vingt, Roxie Hart (Renée Zellweger), une jeune femme qui rêve de monter sur la scène de l'Onyx Club, est accusée du meurtre de son amant indélicat et envoyée en prison. Derrière les barreaux, elle retrouve celle qu'elle admire, Velma Kelly (Catherine Zeta-Jones), une chanteuse de jazz condamnée pour avoir tué son mari et sa sœur, pris en flagrant délit d'adultère. Le très populaire avocat Billy Flynn (Richard Gere) va brillamment plaider leur cause et attirer l'attention des médias sur ces deux jeunes femmes à la superbe voix. Roxie, dont Billy a fait l'emblème de la naïveté abusée, devient en quelque temps une véritable star à Chicago...

AlloCiné | Chicago
La comédie musical Chicago est le film le plus nommé lors de la 75e cérémonie des Oscars, sur 13 nominations 6 prix ont été gagnés:
- Oscar du meilleur film pour le producteur Martin Richards,
- Oscar de la meilleure actrice dans un second rôle pour Catherine Zeta-Jones,
- Oscar du meilleur montage pour Martin Walsh,
- Oscar de la meilleure direction artistique pour John Myhre et Gordon Sim,
- Oscar des meilleurs costumes pour Colleen Atwood,
- et Oscar du meilleur son pour Michael Minkler, Dominick Tavella et David Lee.
Tous les acteurs suivent deux mois de répétitions intensives, travaillant jusqu'à quatorze heures par jour. Le réalisateur Rob Marshall veut que Catherine Zeta-Jones conserve ses longs cheveux, mais elle insiste pour une coupe à la garçonne. Elle explique qu'elle veut avoir le visage dégagé afin que les spectateurs ne doutent jamais que c'est bien elle dans chaque numéro de danse.
Et ensuite il a couru vers mon couteau. Il a couru vers mon couteau 10 fois, et il en est mort !



Catherine Zeta-Jones alias Velma Kelly | Chicago