水果 Fruit Sister 妹妹
18
mai
2015
Si les gens veulent un modèle à suivre, qu'ils regardent Miley Cyrus, pas moi.

Katy Perry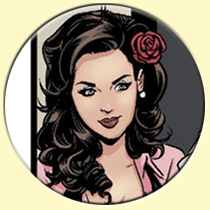 Dans le comics book Batman, Incorporated: Leviathan Strikes #1 (Burnham, Stewart, et Morrison, DC Comics), Chris Burnham et Cameron Stewart croquent Katy Perry et lui donnent le rôle d'une professeur de l'école pour filles Hadrian's Finishing School.
(L'image est tirée de la planche 3, case 1).
Katheryn Elizabeth Hudson dit Katy Perry (1984) est une chanteuse pop rock américaine. Elle est la fille d'un couple de pasteurs évangélistes. C'est donc à travers le gospel et les chants d'église que Katheryn Hudson, plus connue sous le nom de Katy Perry, s'initie à la musique avant de sortir un premier opus éponyme en 2001: Katy Hudson, placé sous le signe particulier du rock chrétien.
Mais très vite, la jeune fille s'affranchit de ce registre en devenant choriste pour le collectif The Matrix, aux inspirations plus pop. Si le projet avorte, Katy tente sa chance en solo et sort, en 2007, le single Ur so say dans lequel elle affiche ses influences, notamment celle de Queen, et revendique son ambiguïté sexuelle. Dans la lignée de ce succès, elle enregistre l'année suivante l'album One of the boys porté par des textes incisifs, souvent provocants à l'instar du titre I kissed a girl, ainsi que des mélodies efficaces et festives.
Katy Perry est la seule artiste à être restée plus de 52 semaines consécutives dans le top 10 du Billboard Hot 100. Seule artiste féminine ayant classé consécutivement numéro 1 cinq titres d'un même album aux Etats-Unis, elle a vendu plus de 48 millions de singles sur le sol américain, pour un total de près de 100 millions de disques dans le monde.
Elle a fait ses débuts au cinéma, en prêtant sa voix à la Schtroumpfette, et fait partie du jury d'American idol et The X factor. Elle est la personne la plus suivie de Twitter avec plus 56 millions de followers.
Elle a reçu de nombreuses récompenses et nominations, a été nommée pour onze Grammy Awards et a été nommée par Billboard comme la Femme de l'année 2012. Son quatrième album, Prism, est sorti le 22 octobre 2013, et premier single extrait, Roar, devient son huitième titre classé numéro 1 aux Etats-Unis25, où il dépasse les 5 millions de ventes.

Les hommes sont comme des artichauts. Très fournis à l'extérieur...mais quand on arrache toutes les feuilles, on n'est pas sûre de trouver un cœur.

Katy Perry