Le petit Prince
04
janv.
2016
Ce qui manque à la musique pop c'est le danger.

Prince | Guardian (2006)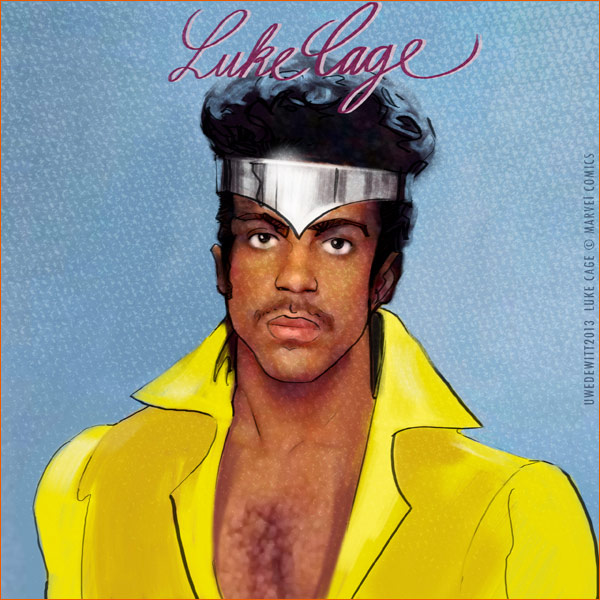 Ex-libris Luke Cage de De Witt.
Sur un Ex-libris de l'univers Marvel, Uwe de Witt pastiche la pochette de l'album musical Prince du Love symbol. Ici, Prince est remplacé par Carl Lucas alias Luke Cage. Pour l'occasion, l'auteur rhabille même le super-héros avec un des costumes fétiche du Love symbol.
Prince est le deuxième album de Prince sorti en 1979 chez Warner Bros. Records, un an après son premier album For you, cet album ce classe 22e au Billboard 200, tandis que le single I wanna be your Lover est 11e au Billboard Hot 100, et s'écoule à un million d'exemplaires. Toutes les chansons sont écrites, composées, et produites par Prince. Il interprète et joue lui-même chaque piste instrumentale.
Face-A
1. I wanna be your lover
2. Why you wanna treat me sob ?
3. Sexy dancer
4. When we're dancing close and slow

Face-B
5. With you
6. Bambi
7. Still waiting
8. I feel for you
9. It's gonna be lonely

Prince | Prince
Ce qui n'était qu'érotisme sur For you devient ici pornographique. Seul dans son studio, le Kid a cessé de simuler. Chaque titre est un coït. D'abord le hit I wanna be your lover, cinglant et sauvage, le funk se dopant à la caféine pour s'accoupler au rock, voilà bien le portrait-robot de la griffe Prince de l'époque. "Si je sais encore te faire jouir, pourquoi me traiter si durement?" lance Prince sur Why you wanna treat me sob ?.
Retour sur la galaxie F. U. N. K avec Sexy dancer. Il est tendre avec With you et rugit avec Bambi sur des guitares saturées et c'est le titre noir le plus punky du moment.

Ce que l'on voit à la télévision. Ce sont des images dégradées.

Prince