L'étendard sanglant est levé
31
oct.
2014
La loi c'est moi, et vous êtes en état d'arrestation !

Sylvester Stallone alias Judge Dredd | Judge Dredd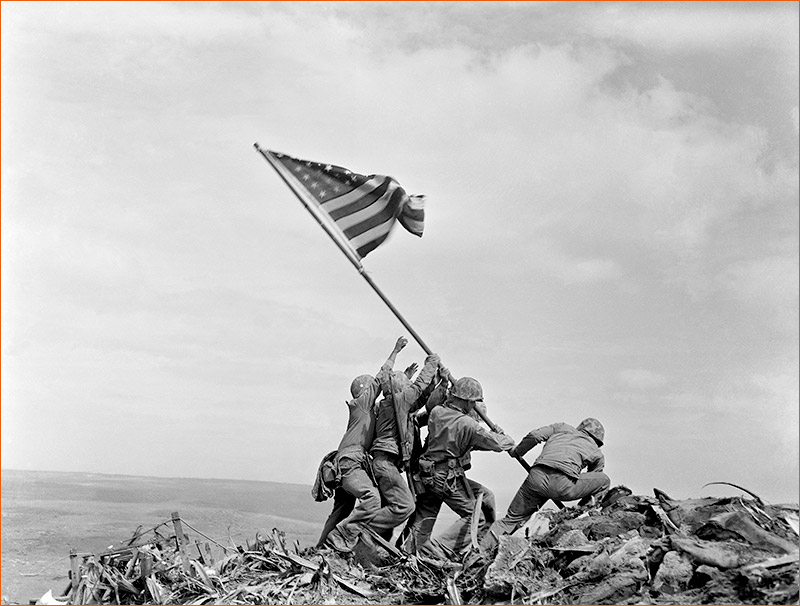 Raising the flag on Iwo Jima par Rosenthal (1945).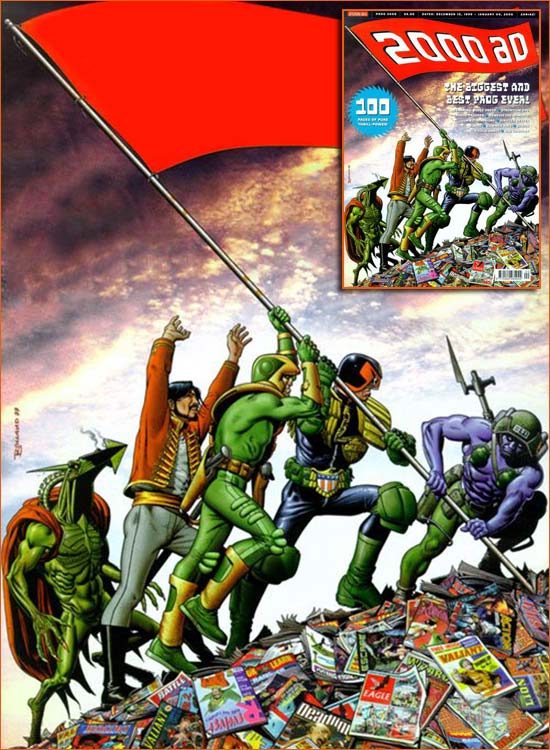 2000 AD #2000 (Couverture de Bolland).
Dans le comics book 2000 AD #2000 - "Annual Prog 2000" (Collectif) Brian Bolland, l'illustrateur de couv', parodie la photographie Raising the flag on Iwo Jima de Joe Rosenthal sur la couverture du périodique. Ici, les militaires sont remplacés par Nemesis the Warlock, Nikolai Dante, John Kreelman alias Johnny Alpha, Joseph Dredd alias Judge Dredd, et Helm alias Trooper H2O.
2000 AD est un hebdomadaire britannique de bande dessinée de science-fiction créé par Pat Mills, Kelvin Gosnell et John Wagner. Le périodique rassemble plusieurs bandes dessinées, dont le célèbre Judge Dredd de Mike McMahon ou encore Sláine de Pat Mills. D'illustres auteurs ont fait leurs armes par le biais de ce magazine: Alan Moore, Neil Gaiman, Brian Bolland, Pat Mills, Warren Ellis, Garth Ennis, Mark Millar, Grant Morrison ...
Pour avoir plus de détails sur cette photographie et en voir d'autres pastiches, c'est par ici que ça se passe: 1 - 2 - 3 - 4 - 5 - 6 - 7 - 8 - 9 - 10. 😉

Tu sais qu'on a le choix: on peut créer toute une race de conformistes tarés au cerveau passé à la moulinette et les nommer juges ou alors on peut créer des gens aux idées larges et les nommer humains.

Sylvester Stallone alias Judge Dredd | Judge Dredd