T'ar ta gueule à la récré !
28
déc.
2014
T'ar ta gueule à la récré...

Alain Souchon | J'ai dix ans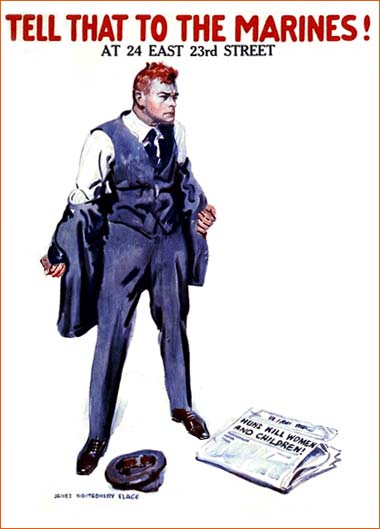 Tell that to the Marines ! de Flagg (1917).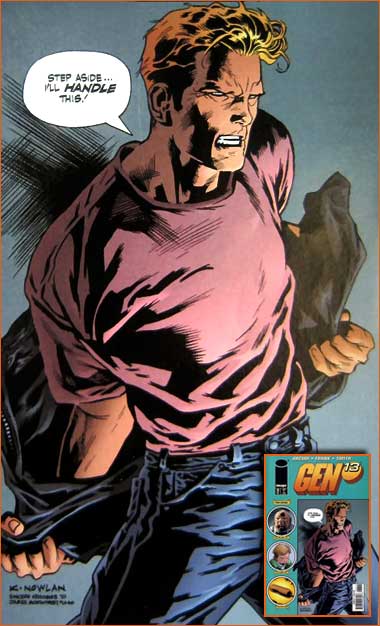 Gen13 #36 de Frank, Nowlan, et Arcudi (Couverture).
Dans le comics book Gen13 #36 - "But You Can't Hide / No Good Deed" (Frank, Nowlan, et Arcudi, Image Comics) Kevin Nowlan pastiche le dessin, Tell That to the Marines !, de James Montgomery Flagg sur la couverture de sa BD. Ici, l'homme en colère de l'affiche est remplacé par Robert Lane alias Burnout.
Cette affiche de propagande anti-allemande publiée en 1917 durant la Première Guerre mondiale est dessinée par James Montgomery Flagg. Ce dernier, après son dessin de l'Oncle Sam appelant ses compatriotes à s'engager dans l'U.S. armé, récidive un an plus tard avec cette nouvelle illustration pour une nouvelle campagne de recrutement pour la Marine.
L'affiche représente un homme en colère, tombant sa veste comme s'il était prêt à en découdre avec les allemands suite à la lecture d'un journal ayant pour titre après traduction "Les Bochs tuent les femmes et les enfants".

PS: Le chanteur et acteur américain Al Jolson (1886-1950) a parodié cette affiche sur la »couverture« d'un de ses albums musical sorti en 1918.