Le spécialiste endimanché
10
févr.
2013
Mon but fondamental est d'interpréter l'Américain typique. Je suis un conteur.

Norman Rockwell

The Connoisseur de Rockwell pour la couverture du Saturday Evening Post (1962).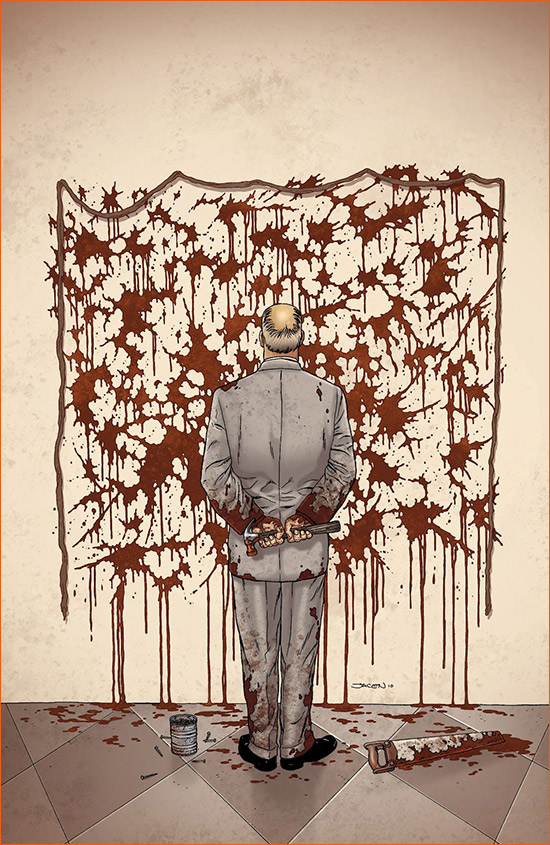 Crossed: Valeurs familiales #6 de Barreno et Lapham (Couverture de Burrows).
Dans le comics book Crossed: Valeurs familiales #6 (Barreno et Lapham, Avatar Press) le dessinateur de la couverture, Jacen Burrows, parodie l'illustration de Norman Rockwell, The Connoisseur, faisant la Une du Saturday Evening Post du 13 janvier 1962.
On constate beaucoup d'humour et d'ironie dans ce dessin conçue par Norman Rockell (1894-1978) pour illustrer la couverture du magazine Saturday Evening Post. De dos, planté devant une peinture moderne, certainement une parodie de l'œuvre de Pollock malicieusement réalisée par Rockwell lui même, se trouve un vieux monsieur, digne et élégant, portant costume, gants, chapeau, parapluie... chez Rockwell chaque détail compte de façon jubilatoire.
Le titre indique que nous avons affaire à un connOisseur, traduire un historien de l'art laconique (et non un connaisseur). On ne voit pas l'expression du personnage. On peut l'imaginer dubitatif. Son soucis? Se tenir informé de ce qui est en vogue. Il examine l'œuvre, sans recul, dans une attitude de raideur circonspecte. Malgré sa bonne volonté, l'innovation reste quelque chose avec laquelle il n'est pas familiarisé.
On pourra douter de son engouement pour une peinture moderne dont la vocation est de bouleverser l'ordre et le sens commun, valeurs auxquelles son style vestimentaire tend à prouver qu'il est attaché. Ce monsieur bien mis et bien droit venu -s'encanailler- dans un musée d'art moderne nous offre un savoureux moment de décalage esthétique.

Je n'aurai jamais assez de temps pour peindre toutes les images que je voudrais.

Norman Rockwell
On en est tous là...