Little Dragon
20
avr.
2009
La simplicité est le principe de l'art.

Bruce Lee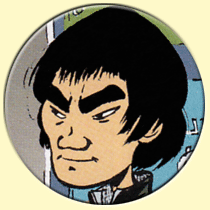 Dans Spoon & White - Tome 3 - "Niaq Micmac" (Léturgie Père et fils, et Yann, Vents d'Ouest) Simon Léturgie (le fils) caricature Bruce Lee et lui donne le rôle d'un malfrat qui raquette un vendeur de frite.
(L'image est tirée de la page 31 case 4).
Bruce Lee (1940-1973) était un acteur, réalisateur, scénariste et producteur américain. Fils d'une star de la compagnie d'opéra cantonnais de Hong Kong, Bruce tourne à l'âge de six ans son premier long métrage The birth of mankind. Durant toute son enfance, il tourne une vingtaine de films chinois.
Il commence à étudier le kung-fu à l'âge de douze ans. En 1958, il part aux Etats-Unis, où il obtient quelques années plus tard son diplôme de philosophie et de psychologie à l'Université de Washington. Il se marie avec une américaine et s'installe à Los Angeles pour entrer dans l'industrie du film. Il joue d'abord dans la série télé Le Frelon vert puis dans le film La Valse des truands en 1969 de Paul Bogart.
Il retourne à Hong-Kong en 1971, et signe avec la Golden Harvest pour deux films: Big Boss en 1971 et La Fureur de vaincre en 1972. Lorsque ces films percent sur le marché international, il a déjà écrit, réalisé, interprété La Fureur du dragon.
Son film suivant fut Opération dragon de Robert Clouse en 1973. Il commence alors Le jeu de la mort ; avant que le film soit achevé, il meurt d'un œdème cérébral le 20 juillet 1973.
En seulement 32 ans et quatre films, il révolutionne le cinéma d'action en imposant un nouveau genre: le cinéma Kung Fu contemporain.

PS: Le fils de Bruce Lee, Brandon, est décédé tragiquement sur le plateau de The Crow, d'une mauvaise manœuvre d'un explosif. Croyant à une blague, l'équipe du film n'avait pas réagi tout de suite lorsque l'acteur s'est écroulé en appuyant sur la gâchette.