Open all night
08
sept.
2012
Le grand art est l'expression extérieure d'une vie intérieure de l'artiste, et que cette vie intérieure se traduise par sa vision personnelle du monde.

Edward Hopper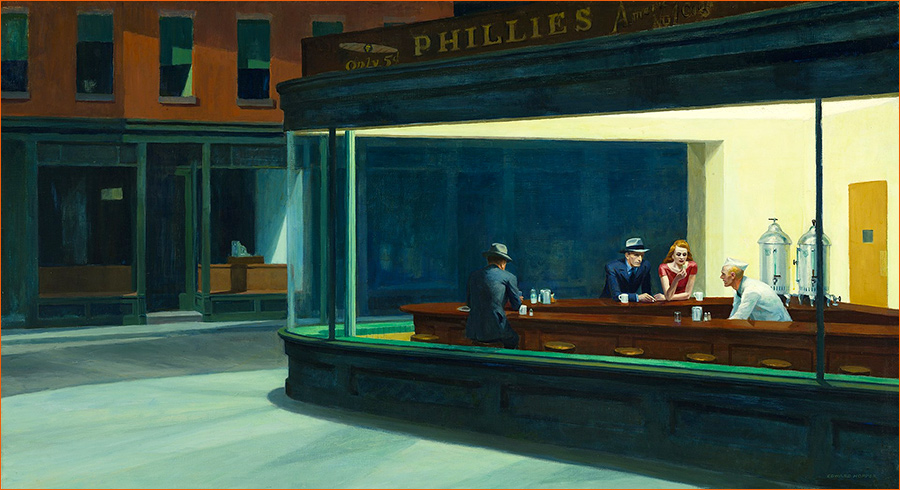 Nighthawks de Hopper exposé au Art Institute of Chicago (1942).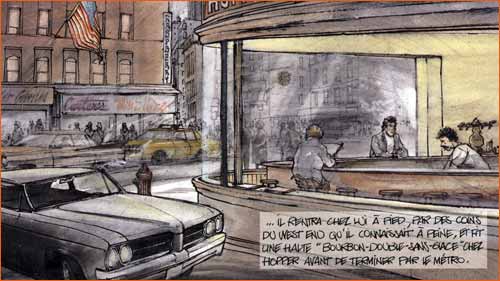 Pierre qui roule de Lax (Planche 60, case 2).
Dans Pierre qui roule (Lax, Casterman) Christan Lacroix dit Lax transpose la toile d'Edward Hopper, Nighthawks, dans une case de sa BD. Le diner Philies devient le bar Bourbon-Double-Sans-Glace. Assis au fond, accoudé au bar, on retrouve le repris de justice, John Dorthmunder venu se rincer le gosier chez le bien nommé Hopper.
Pour en savoir plus sur cette toile et en contempler d'autres parodies, va fais un tour »ici« , »là« , et aussi »ici« où déjà évoqué le sujet. 😉

PS: Le groupe de Rock'n'roll The Nighthawks a aussi repris ce tableau sur la pochette de son album: Open all nite.