Young Sherlock Holmes
11
nov.
2013
Rien n'est petit pour un grand esprit.

Arthur Conan Doyle | Sherlock Holmes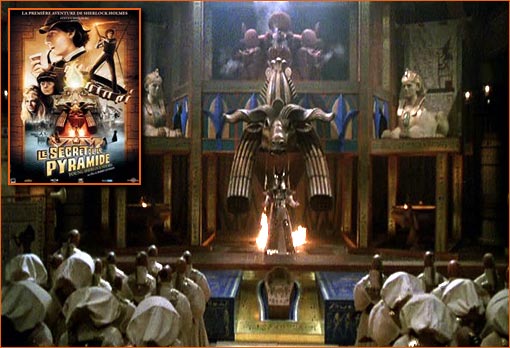 Le secret de la pyramide de Levinson (1986).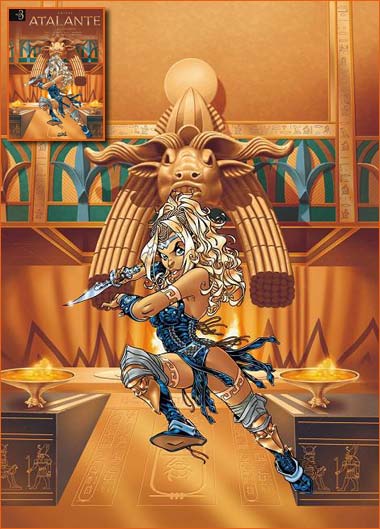 Atalante - Intégrale Preuve par 3 Volume 1 de Crisse (Couverture).
Dans Atalante - Intégrale Preuve par 3 - Volume 1 (Crisse, Soleil) Didier Crisse s'inspire d'un plan du film de Barry Levinson, Le secret de la pyramide, pour illustrer le décor de sa couverture. Ici, le Temple clandestin de la secte des adorateurs d'Osiris situé dans les bas-quartiers de Londres, est remplacé par le Palais de l'île de Samothrace où Atalante et les Argonautes ont accosté.
Cette intégrale Preuve par 3 Soleil, compile les trois premiers tomes de la série Atalante: Le pacte, Nautiliaa, et Les mystères de Samothrace. La couverture de ce recueil fait allusion au Tome 3, où on retrouve le même décor page 33 case 1.
Le Secret de la pyramide est un long métrage d'aventure américain réalisé par Barry Levinson, sorti dans les salles obscures le 4 décembre 1985. Comme le générique du film l'indique, la production a entièrement recomposé l'histoire de Sherlock Holmes. En effet, Sir Arthur Conan Doyle n'a jamais évoqué l'adolescence du personnage et lui a fait rencontrer Watson à l'âge adulte.
A Londres en 1870, le jeune John Watson fait son entrée dans une nouvelle école. Il y rencontre un autre adolescent à l'esprit de déduction très développé : un certain Sherlock Holmes. Très vite, Holmes et le futur docteur Watson se lient d'amitié et sont conduits à mener leur première enquête sur une série de meurtres étranges survenus à la suite d'hallucinations épouvantables...

AlloCiné | Le secret de la pyramide
Le chevalier créé dans les vitraux de l'église est le tout premier personnage entièrement animé en image de synthèse, inséré dans un plan avec de vrais acteurs. C'est un certain John Lasseter qui superveise la production de cette séquence. La société Industrial Light and Magic mit quatre mois pour l'achever. En 1986, Le Secret de la pyramide décroche une nomination à l'Oscar des meilleurs effets visuels. Le film a également été nommé aux prix du Meilleur film fantastique et du Meilleur scénario et a remporté celui de la Meilleure musique, lors des Academy of Science Fiction, Fantasy & Horror Films.
L'acteur Alan Cox qui incarne le jeune John Watson, eut une poussée de croissance durant le tournage du film. Dans les dernières scènes, il a été filmé en gros plan, ou assis alors que les acteurs autour de lui étaient surélevés.

PS: La séquence du générique de début, montrant une ombre se mouvant sur le sol, est un hommage à l'ouverture de la série Sherlock Holmes avec Basil Rathbone et Nigel Bruce.