Rap Horror Show
05
déc.
2022
C'est la beauté de l'amour. Parfois, vous n'avez rien à dire.

RZA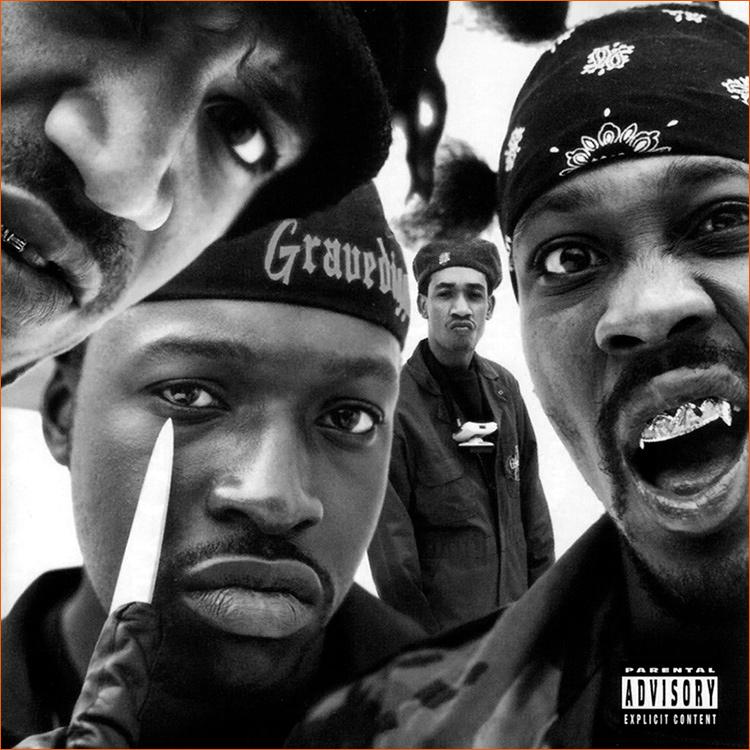 6 Feet Deep ou Niggamortis de Gravediggaz (1994).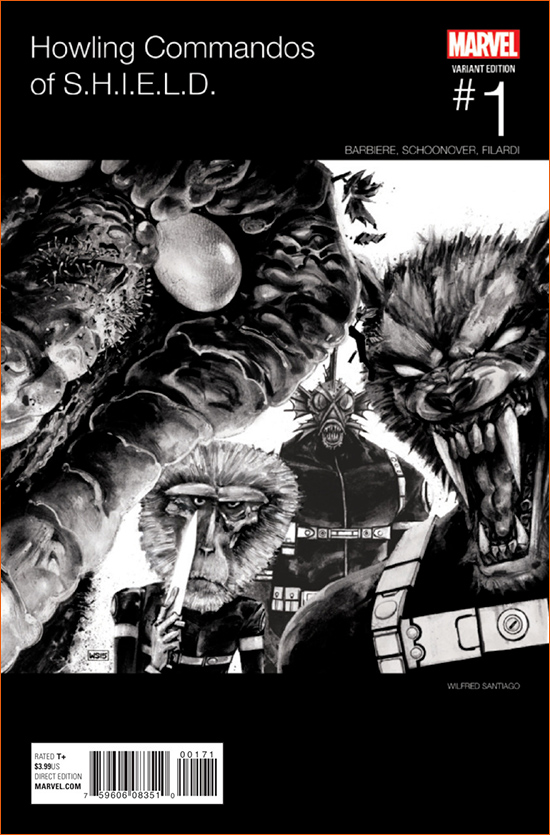 Howling Commandos of S.H.I.E.L.D. #1 de Schoonover et Barbiere (Couverture bis de Wilfred Santiago).
Dans le comic book Howling Commandos of S.H.I.E.L.D. #1 - "Mission 001: Earth Idol" (Schoonover et Barbiere • Marvel) le cover artist Wilfred Santiago parodie la pochette de 6 Feet Deep du groupe de rap Gravediggaz sur la couverture alternative de la BD. Ici, Too Poetic dit The Grym Reaper est remplacé par Theodore Sallis alias Man-Thing, Frukwan dit The Gatekeeper par Hit-Monkey, Prince Paul dit The Undertaker par Manny alias Manphibian, et RZA dit The Rzarector par Martin Reyna alias Warwolf.
Gravediggaz est un groupe de rap américain, originaire de Long Island, à New York. Le groupe est formé en 1992, et se compose de Prince Paul, Frukwan, Too Poetic et RZA. Le groupe a également significativement contribué au sous-genre musical horrorcore.
6 Feet Deep (ou Niggamortis en Europe) est le premier album du groupe. Troquant leurs pseudonymes habituels pour d'autres, où se déclinait le thème de la mort, The Undertaker (Prince Paul), Rzarector (RZA), The Grym Reaper (Poetic) et The Gatekeeper (Frukwan) cultivent savoureusement des penchants meurtriers et des envies suicidaires. Sur ce disque qui s'ouvre, comme de bien entendu, sur les premières notes de "La Marche Funèbre", il n'est question que de massacres, de torture, d'autodestruction, de serial killers, de fous furieux.

1. Just When You Thought It Was Over (Intro)
2. Constant Elevation
3. Nowhere to Run, Nowhere to Hide
4. Defective Trip (Trippin')
5. 2 Cups of Blood
6. Blood Brothers
7. 360 Questions
8. 1-800 Suicide
9. Pass the Shovel
10. Diary of a Madman
11. Mommy, What's a Gravedigga?
12. Bang Your Head
13. Here Comes the Gravediggaz
14. Graveyard Chamber
15. Deathtrap
16. 6 Feet Dee
17. Rest In Peace (Outro)

Gravediggaz | 6 Feet Deep
Cette débauche verbale, toutefois, n'aurait pas eu tant d'impact si le groupe n'avait pas compté en son sein deux des beatmakers les plus inventifs de l'histoire du rap. Avec Prince Paul aux manettes et RZA en support, le sample tueur est dégainé au bon moment avec la guitare de Defective Trip, le beat dévastateur adéquat souligne la violence effroyable de Bang your Head et l'excellent 1-800 Suicide s'agrémente d'une mélodie inquiétante à souhait.
6 Feet Deep avec ces airs de plus grosse blague de l'histoire du hip-hop, est une satire de la violence du hip hop hardcore et du gangsta rap.

Nous avons fait du vrai hip-hop à une époque où il se transformait en Pop ou en R&B.

RZA