Bruce Springfield
03
sept.
2010
Petit exception, ce clin d'œil n'a pas été publié dans un comics mais dans un magazine...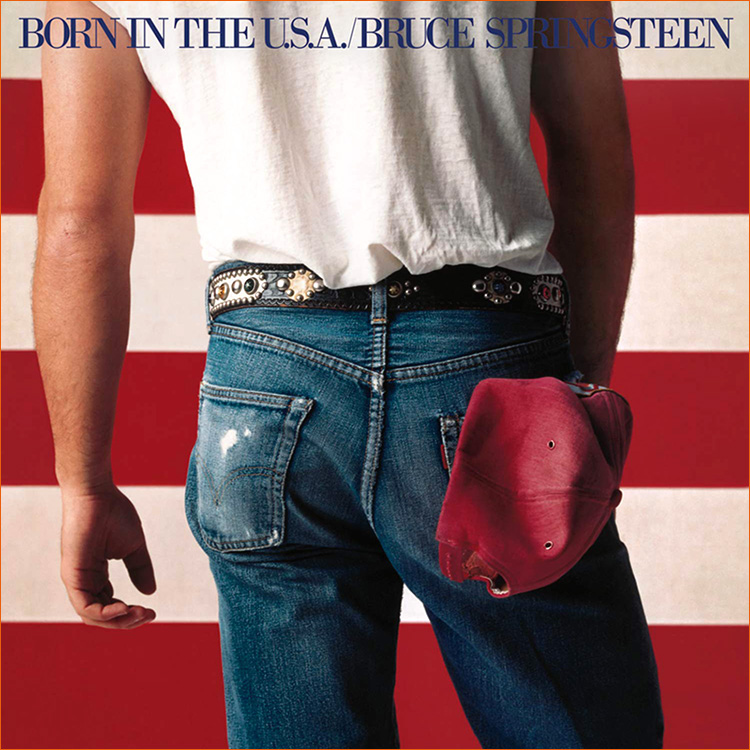 Born in the U.S.A. de Springsteen (1984).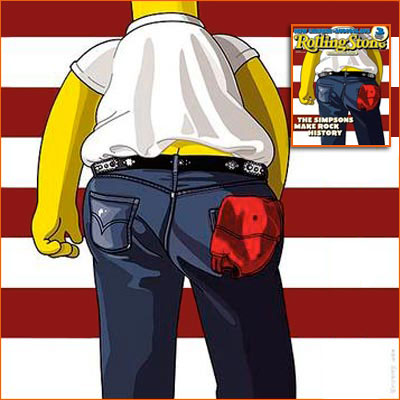 Rollingstone - n°910 (Couverture de Groening).
Dans le magazine Rollingstone - n°910 - Numéro spécial du 28 novembre 2002, Matt Groening parodie la pochette de l'album musical de Bruce Springsteen, Born in the U.S.A., sur la couverture du mag. Le postérieur du chanteur est remplacé par celui d'Homer Simpson.
Ce numéro spécial de novembre 2002, est sortie sous trois couvertures différentes, toutes illustrées par Groening. Les deux autres feront l'objet d'articles à venir. 😉
Born in the U.S.A. est le septième album de Bruce Springsteen. Il est sorti en 1984. Longtemps pris par certain, Reagan en tête, pour un monument de chauvinisme yankee éhonté, Born In The U.S.A. est en réalité tout l'inverse.

1. Born in the U.S.A.
2. Cover me
3. Darlington county
4. Working on the highway
5. Downbound Train
6. I'm on fire
7. No Surrender
8. Bobby Jean
9. I'm goin' down
10. Glory days
11. Dancing in the dark
12. My hometown

Bruce Springsteen | Born in the U.S.A.
La pochette avec sa bannière étoilé, son jeans usé, et sa casquette d'ouvrier, était peut être maladroite, voire démago mais elle avait le mérite de toucher sa cible: le public américain modeste, les petites gens ignorées par Reagan, désarçonnées par une crise qui les jette à la rue, hantées par le souvenir de la guerre du Viêt-Nam imposée par les politiciens.
Le Boss tente de redonner une dignité à ces gens humiliés en partageant son désarroi, mais l'impact miraculeux de cet album repose avant tout dans son énergie. La batterie pilon du morceau titre le montre d'emblée: Springsteen veut réveiller l'Amérique, lui apprendre la solidarité mais en tapant du pied. Le E Street Band, fidèle orchestre rodé par les tournées marathon, l'épaule parfaitement, tout en discrétion. L'orgue, le saxophone, les claquements de mains réveillent le souvenir du rhythm'n'blues new-yorkais.

PS: La chanson titre de l'album, Born in the U.S.A., cet hymne véritable dénonçant la guerre du Viêt-Nam, fut utilisé par le Parti républicain américain à des fins électorales sans le consentement de l'auteur. En effet, George H. W. Bush utilise ce titre de l'album comme hymne pour sa campagne de 1988, et quelques années auparavant, Ronald Reagan avait tenté de se réapproprier les paroles de Born in the U.S.A. pour sa campagne électorale.