Intermittent du spectacle
08
oct.
2015
Le travail est la meilleure des régularités et la pire des intermittences.

Victor Hugo | Littérature et philosophie mêlées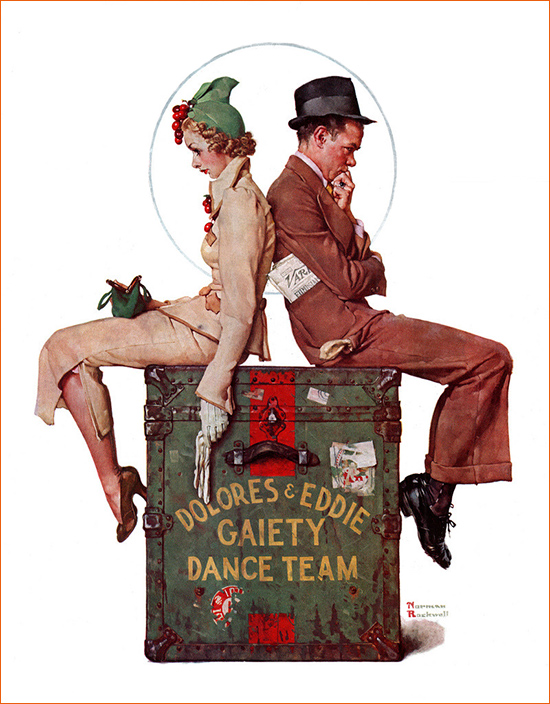 Dolores & Eddie de Rockwell pour le Saturday Evening Post (1937).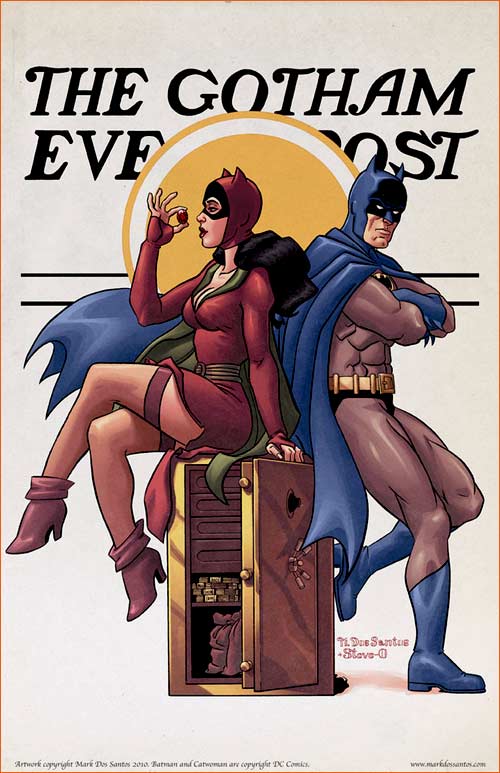 Ex-libris - Batman de Dos Santos.
"What if Rockwell had been from Gotham City?". C'est le sujet que s'est imposé le dessinateur Mark Dos Santos pour une série d'Artwork... et l'Ex-libris - Batman (Dos Santos, DC Comics) d'aujourd'hui est une des réponses à cette interrogation. The Saturday Evening Post du 12 juin 1937, avec en Une l'illustration Dolores & Eddie de Norman Rockwell, s'est transformé en The Gotham Evening Post. Et ici, Dolorès est remplacée par Catwoman, Eddie par Batman, et la malle par un coffre fort.
Dolores & Eddie, c'est un peu la représentation de tous ces acteurs danseurs de cabaret qui se produisent dans les années 30 aux Etats-Unis. Tous bossent dur et rêvent de Broadway, mais en cette période de disette économique, bien peu parviennent au sommet.
Le journal Variety qu'Eddie a dans sa poche n'a rien à leur offrir dans ses petites annonces, et ils sont plutôt résignés à leur triste sort. Dolores est abattue, et Eddie dubitatif. Les poches sont vides, le porte-monnaie aussi. Leur malle contient leur vie, et est usée par les déplacements incessants.
1937 subit encore les effets de la Grande Dépression. Rockwell saisi toute la détresse et la résignation du couple. Le Gaiety Dance Team, les danseurs joyeux, est accablé et semble bien se demander de quoi sera fait demain.

PS: Quelques théâtres comme le New Amsterdam Theater ou le Radio City Music Hall de New York permettaient à des artistes comme Dolores et Eddie de se produire sur scène, parfois en introduction à la projection d'un film de cinéma, mais seulement une poignée d'entre eux ont réussi la carrière dont ils rêvaient. Fred Astaire et Ginger Rogers sont de ceux-ci.