Rencontre avec les scarabées
26
déc.
2013
Nous étions tous dans ce bateau des Sixties, notre génération, dans un bateau parti pour découvrir un monde nouveau, et les Beatles étaient à la proue de ce bateau.

John Lennon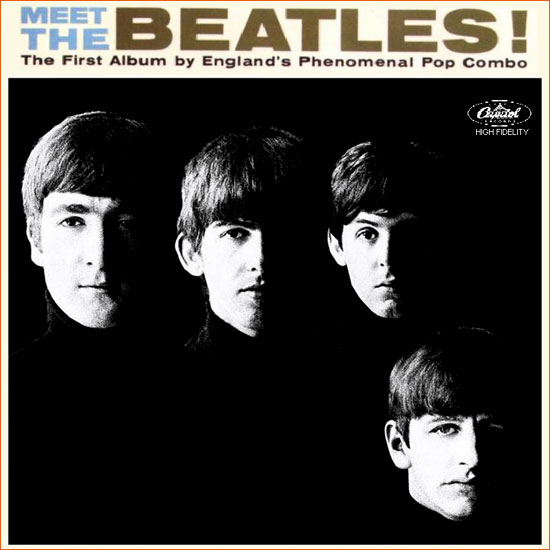 Meet the Beatles ! des Beatles (1964).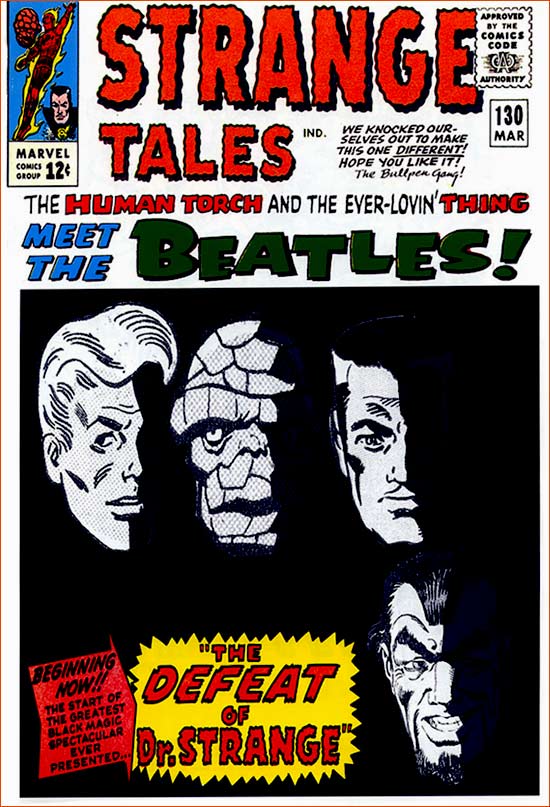 Strange Tales #130 de Kirby et Lee (Couverture bis).
Dans le comics book Strange Tales #130 - "Meet The Beatles !" (Kirby et Lee, Marvel) Jack Kirby parodie la pochette de l'album musical Meet the Beatles ! des Beatles sur une version alternative de la couverture de sa BD. Ici, John Lennon est remplacé par Johnny Storm alias la Torche, George Harrison par la Chose alias Benjamin Jacob Grimm, Paul McCartney par le Docteur Strange alias Stephen Vincent Strange, et Ringo Starr par le baron Mordo alias Karl Amadeus Mordo.
Meet the Beatles ! est le deuxième album américain des Beatles, sorti en 1964 et le premier sur l'étiquette Capitol, propriété de EMI. Il reprend une partie du contenu du deuxième album britannique du groupe: With the Beatles, et y ajoute trois titres tirés de singles. 85% des morceaux sont de John Lennon et Paul McCartney.
Face A:
1. I want to hold your hand
2. I saw her standing there
3. This boy
4. It won't be long
5. All I've got to do
6. All my loving

Face B:
1. Don't bother me
2. Little Child
3. Till there was you
4. Hold me tight
5. I wanna be your man
6. Not a second time

The Beatles | Meet the Beatles !
La photographie de jaquette reprend tout simplement celle du second album britannique du groupe: With the Beatles. Ce fameux cliché est pris par Robert Freeman le 22 août 1963 dans le Palace Court Hotel, à Bournemouth en Angleterre. Freeman est déjà connu pour avoir travaillé sur le premier calendrier Pirelli et pour avoir photographié Nikita Khrouchtchev dans le Kremlin. Mais ce sont ses photos en noir et blanc de la légende du jazz John Coltrane qui ont attiré l'attention des Beatles.
[Robert Freeman] nous a mis dans un corridor de l'hôtel du Palace Court: c'était vraiment différent des photos qu'on avait l'habitude de faire dans les studios photographiques. Le corridor était très noir et il y avait une fenêtre au bout. En utilisant la forte source de la lumière naturelle venant de la droite, il a créé cette fabuleuse photo. Certains croient que toute la préparation a dû durer des heures et des heures. En fait, ça n'a pris qu'une heure. Il s'est assis, a pris des photos par-ci par-là, et c'était fini.

Paul McCartney
Il fallait que les quatre Beatles tiennent dans le format carré du 33 tours, alors, au lieu de les disposer en ligne, j'ai mis Ringo dans le coin inférieur droit, parce qu'il était le dernier à avoir joint le groupe. Il était aussi le plus petit.

Robert Freeman

PS : Les titres de With the Beatles absents de cet album apparaissent aux Etats-Unis sur l'album US suivant du groupe.