American Bar !
30
nov.
2014
Le grand art est l'expression extérieure d'une vie intérieure chez l'artiste, et cette vie intérieure nous entraîne dans sa vision personnelle du monde.

Edward Hopper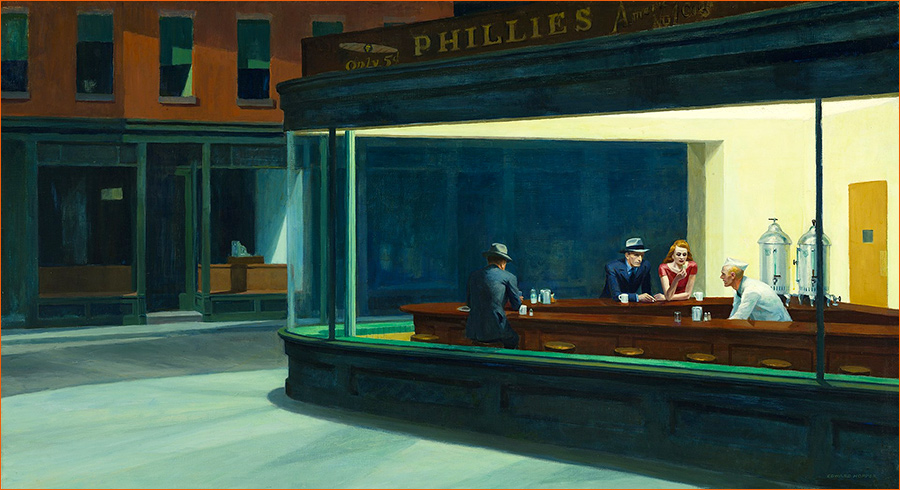 Nighthawks de Hopper exposé au Art Institute of Chicago (1942).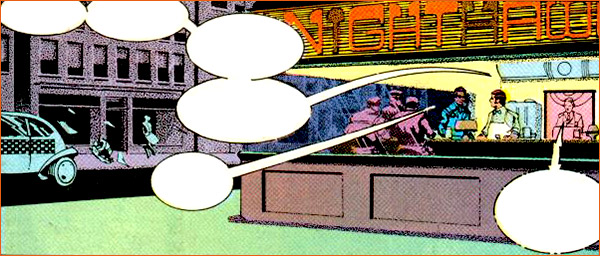 American Flagg! #19 de Chaykin (Planche ??, case ??).
Dans le comics book American Flagg ! #19 - "Bullets and Ballots !" (Chaykin, First Comics) Howard Chaykin, pastiche le tableau d'Edward Hopper, Nighthawks, sur une planche de sa BD. Ici, le diner Philies devient le Nighthawks.
Ne possédant pas ce comics, et n'ayant pas réussi à trouver les numéros de la planche et de la case de cette référence après moult recherches, j'ai dû me résigner à publier cet article sans ces informations. Si tu connais les coordonnées de cette case, je suis bien sûr preneur afin de compléter ce billet.
Pour avoir plus de détails sur cette toile américaine et en voir d'autres adaptations, c'est par ici que ça se passe: 1 - 2 - 3 - 4 - 5 - 6. 😉
L'illustrateur portugais, Marco Mendes, a lui aussi repeint Nighthawks à sa façon:

Donner à toute chose une forme définie, lui désigner sa place, surmonter le vide, la peur et l'horreur, en les bannissant sur cette toile blanche justement: c'est cela que son œuvre a de commun avec le cinéma et qui fait de Hopper un grand conteur de la toile blanche.

Wim Wenders