Animal House
22
avr.
2014
(Titre en VO).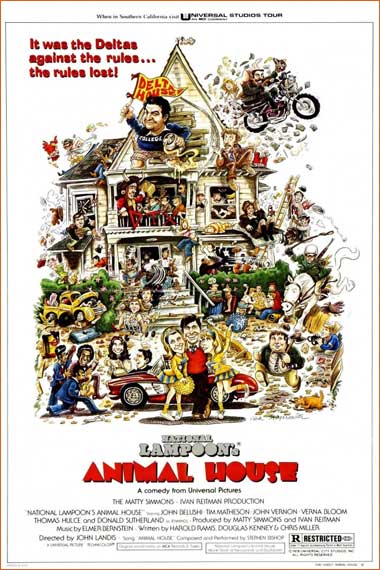 American College de Landis (1978).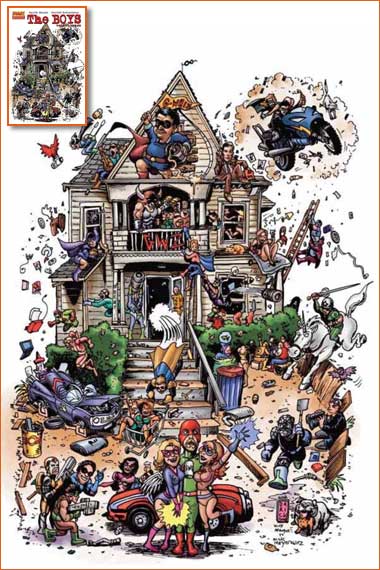 The Boys #24 de Robertson et Ennis (Couverture).
Dans le comics book The Boys #24 - "We gotta go now" (Robertson et Ennis, Dynamite Entertainment), Darick Robertson pastiche l'affiche du film de John Landis, American College, sur la couverture de sa BD.
American College est un long métrage américain réalisé par John Landis et sorti dans les salles obscures le 27 juillet 1978. Le scénario est en partie basé sur les souvenirs d'étudiants des scénaristes. Se déroulant en 1962 dans l'université fictive Faber, le film met en scène une rivalité entre deux fraternités d'étudiants.
1962. Deux confréries d'étudiants cohabitent sur le campus de la fac américaine de Faber. L'une, très fermée, la Omega, est composée de riches bourgeois dont le snobisme n'a d'égal que leur éducation, la seconde, la Delta, est le repaire d'une bandes de chahuteurs. Le doyen (John Vernon) s'associe avec la première afin d'expulser du campus les joyeux lurons de la Delta. Mais ces derniers ont un tout autre plan en tête ...

AlloCiné | American College
American College est considéré comme le film qui popularisera le genre gross-out qui inspirera d'innombrables autres comédies telles que Police Academy, et Retrour à la fac. Produit avec un petit budget de 2 700 000 dollars, American College se révèle être l'un des films les plus lucratifs de l'histoire du cinéma. Depuis sa sortie, le film a recueilli une somme de 141 000 000 dollars grâce aux seules ventes de vidéos cassettes VHS et de DVD.

PS: Le film inspira une émission de télévision de courte durée diffusée sur la chaîne ABC, dans laquelle John Vernon reprend son rôle du doyen malveillant Dean Wormer.