Les écorchés
19
nov.
2012
Je dis toujours la vérité, même quand je mens c'est vrai.

Al Pacino alias Tony Montana dans Scarface de Brian De Palma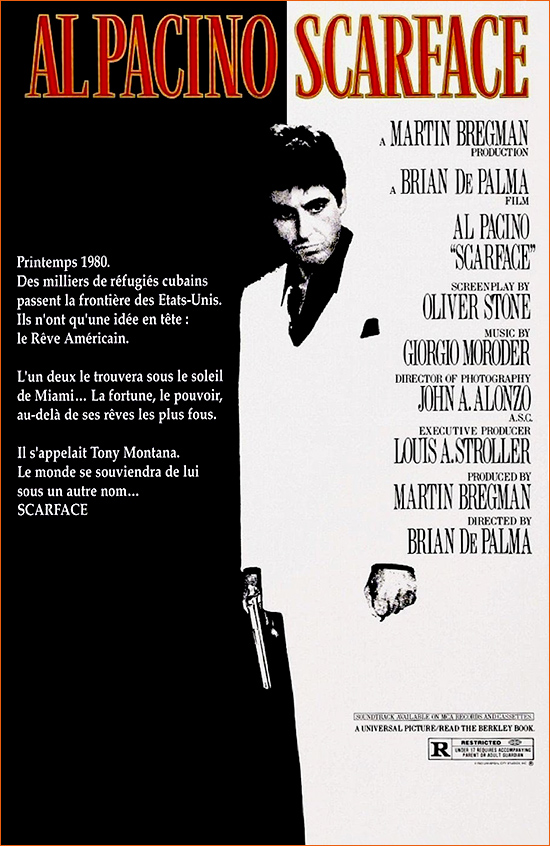 Scarface de De Palma (1984).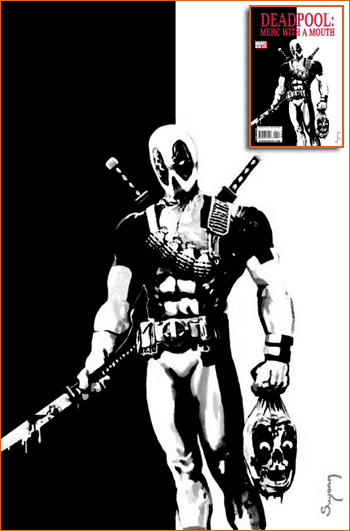 Deadpool: Merc with a Mouth #4 de Dazo et Gischler (Couverture de Suydam).
Dans le comics book Deadpool: Merc with a Mouth #4 (Dazo et Gischler, Marvel) l'illustrateur de la couverture, Arthur Suydam, parodie l'affiche du film Scarface de Brian De Palma. Ici, Al Pacino alias Tony Montana est remplacé par Wade Winston Wilson alias Deadpool.
Pour avoir plus de détail sur ce film et en voir une autre adaptation, va faire un tour »ici« où j'ai déjà traité le sujet. 😉
On recense par moins de 42 cadavres dans le film. Le mot -fuck- est prononcé 226 fois, soit une moyenne de 1,32 fois par minute. Voilà qui n'a pas dû aider le film lors de sa classification par la MPAA... Et pour cause, ce dernier s'est vu décerner au premier montage une classification -X-, soit la plus sévère du système américain. Etait en cause, outre les morts et les grossièretés, le nombre de balles impressionnant que reçoit Octavio le clown. Malgré plusieurs recoupes opérées par la suite, l'association des professionnels du cinéma n'a pas souhaité revenir sur sa décision. Il a fallu l'intervention du producteur pour que le film soit finalement montré à un panel d'experts au sein duquel se trouvaient des spécialistes du narcotrafic, qui jugèrent le long-métrage tout à fait conforme à la réalité. La violence n'étant plus perçue comme gratuite mais, au contraire, tout à fait justifiée, la classification du film fut finalement abaissée à -Rated R-, autrement dit -Interdit aux moins de 17 ans sans accompagnateur-.

J'ai des mains faites pour l'or et elles sont dans la merde !

Al Pacino alias Tony Montana dans Scarface de Brian De Palma