Ford Mustang Fastback vs. Dodge Charger RT
30
août
2021
Je n'étais fort en aucune matières. L'école n'était pas une bonne chose pour moi. Je n'y ai jamais vraiment brillé. J'ai bien essayé mais je préférais chahuter avec les autres garçons.

Steve McQueen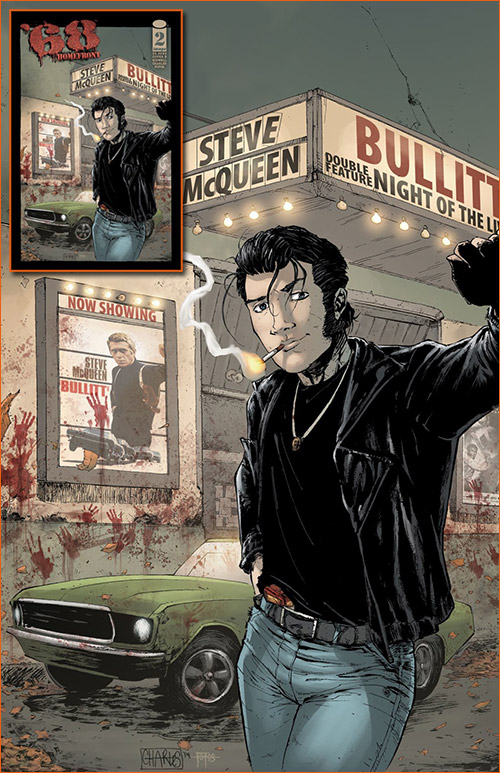 '68: Homefront #2 de Charles et Kidwell (Couverture alternative).
Dans le comics book '68: Homefront #2 - "Peece and love Part 2 of 4: A white knight on his steed" (Charles et Kidwell, Image) Kyle Charles pastiche l'affiche du film Bullitt de Peter Yates, sur la couverture alternative de sa BD. Ici, le lieutenant de police Frank Bullitt alias Steve McQueen est remplacé par Johnny Love qui adopte la même position.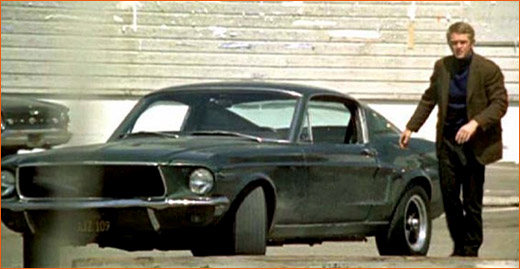 Plan du film Bullitt - Steve McQueen et sa Ford Mustang Fastback.
Sur le dessin en arrière plan, on reconnait: la célèbre Ford Mustang Fastback verte que pilote McQueen dans le long métrage, et le film à l'affiche du cinéma est, je te le donne en mille, Bullitt.
Pour avoir plus d'informations sur ce film et en voir une autre parodie, va faire un tour »ici« où j'ai déjà traité le sujet. 😉
Concernant la célèbre course de voitures dans les rues de San Francisco, Steve fait appel à son ami Bill Hickman, ancien coureur moto, pour conduire le véhicule qu'il poursuit dans le film. L'acteur exige par ailleurs de ne pas être doublé dans cette séquence. La vitesse au compteur atteint deux cents kilomètres à l'heure. Le tournage de cette scène dure trois semaines et nécessite le recours à deux Ford Mustangs Fastback et deux Dodge Chargers RT. Une des plus belles poursuites de bagnoles au cinoche !

Connaissez vous la définition de l'alcoolique ? C'est quelqu'un que vous n'aimez pas et qui boit autant que vous !

Steve McQueen alias le lieutenant Frank Bullitt dans Bullitt