Elle s'accroche à mon cœur comme une grenade à main.
05
juin
2014
On est juste un stupide groupe appelé Green Day, et on ne vient pas d'un endroit en particulier, juste d'un endroit d'ou personne ne vient sur cette putain de planète.

Billie Joe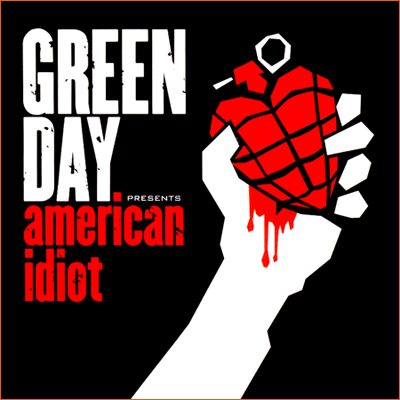 American idiot de Green day (2004).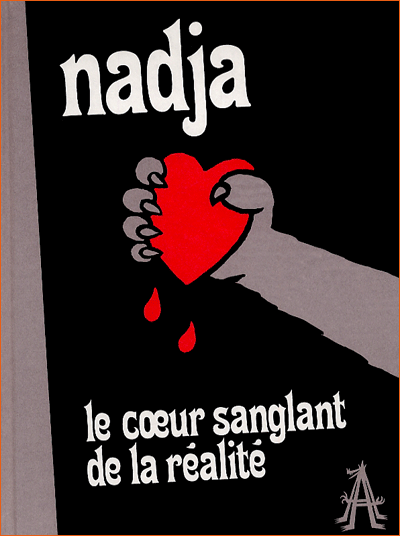 Le cœur sanglant de la réalité de Nadja (Couverture).
Dans Le cœur sanglant de la réalité (Nadja, Apocalypse) Nadja parodie la pochette de l'album musical American idiot du groupe Green day sur la couverture de sa BD.
American Idiot est le septième album studio du groupe américain de punk rock Green day, sorti le 21 septembre 2004 sur le label Reprise Records. A la fois manifeste politique, ouvertement anti-Bush, et opéra rock, l'album réussit cet exercice difficile d'associer succès public, exigence musicale et créativité. Au travers de l'histoire de Jesus of Suburbia, l'album décrit la lutte d'un citoyen pour simplement exister au quotidien. Cet américain moyen qui travaille au Seven eleven, une sorte de supérette, quitte son travail pour chercher à sortir de son quotidien. Accompagné par son alter ego Saint Jimmy, il s'initie aux plaisirs et recherche une vie plus intéressante, jusqu'à son retour final à la maison, convaincu que la vie n'est pas meilleure ailleurs.

1. American idiot
2. Jesus of Suburbia
I. Jesus of Suburbia
II. City of the damned
III. I don't care
IV. Dearly beloved
V. Tales of another broken home
3. Holiday
4. Boulevard of broken dreams
5. Are we the waiting
6. St. Jimmy
7. Give me novacaine
8. She's a rebel
9. Extraordinary girl
10. Letterbomb
11. Wake me up When september ends
12. Homecoming
I. The death of St. Jimmy
II. East 12th St.
III. Nobody likes you
IV. Rock and roll girlfriend
V. We're coming home again
13. Whatsernam

Green day | American idiot
American idiot démarre par la chanson éponyme, pur produit punk rock énergique et militant. Mais la suite est beaucoup plus créative. Le titre Jesus of Suburbia est emblématique de ce que le groupe sait désormais faire en matière de variations sonores. Ce morceau, de plus de 9 minutes en 5 actes, démesuré, multiplie les changements d'atmosphère et de rythmes. Et lorsque l'on retrouve un Green day de facture plus classique, avec des titres rapides ou efficaces comme Give me novocaine, Boulevard of broken dreams, ou Wake me up when september ends, les accords de guitares acoustiques viennent se greffer sur l'ensemble avec goût.
Ce disque inspiré et énervé, est en symbiose avec le sujet traité: disque de révolte qui dénonce l'attitude des dirigeants de ce monde, proposant dans chaque tableau un motif de continuer de lutter et d'agir. A ce titre Green day rejoint le peloton des groupes ayant cherché à dépasser la simple composition musicale au profit d'une démarche formelle plus aboutie et d'une conscience plus aiguë du monde.
L'illustration de la pochette est l'œuvre de l'artiste Chris Bilheimer. Après avoir écouté l'album, Bilheimer prend note des paroles "And she's holding on my heart like a hand grenade" ("Et elle s'accroche à mon cœur comme à une grenade à main") de la chanson She's a rebel. Influencé par l'affiche du film de 1955 L'homme au bras d'or, conçue par le graphiste américain Saul Bass, Bilheimer dessine un bras tendu tenant une grenade rouge en forme de cœur. Chris Bilheimer: "Je suis sûr qu'il y a des théories psychédéliques sur le fait que [la couleur rouge] soit la même couleur que celle du sang, et donc qu'elle a des pouvoirs de vie ou de mort ... Et en tant que designer, j'ai toujours ressenti ça comme une sorte de faux-fuyant, donc je ne l'avais jamais utilisée auparavant. Mais il n'y avait aucune raison qu'on ne le fasse pas sur cette pochette".

Un mec se dirige vers moi dans la rue et me demande: «C'est quoi le Punk ?». Donc je shoote dans une poubelle et je lui dis: «C'est ça le Punk !». Du coup, il shoote dans une poubelle et dit: «C'est Punk ?», et je lui réponds «Non, ça c'est la mode !».

Billie Joe