Plus je vieillis plus j'essaye de diriger ma colère au lieu de me vautrer dedans.

Billie Joe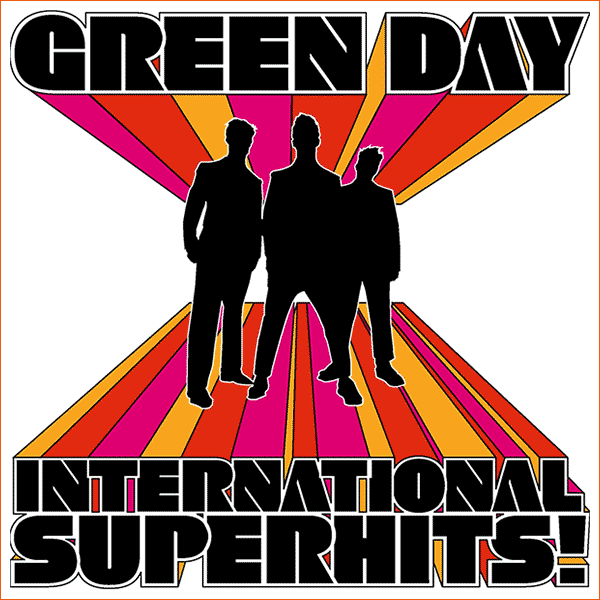 International Superhits ! de Green Day (2001).

Beck - Tome 15 de Sakuishi (Page de garde).
Dans le manga Beck - Tome 15 (Sakuishi, Delcourt), Harold Sakuishi parodie la pochette de l'album musical International Superhits ! de Green Day sur la page de garde de sa BD. Ici, les silhouettes des membres du groupe Green Day sont remplacées par celles de ceux de Beck.
International Superhits ! est une compilation de singles du groupe punk américain Green Day sortie en 2001. Elle comprend les singles sortis par le groupe entre 1994 et 2001, ainsi que deux nouvelles chansons, Maria et Poprocks & Coke.

1. Maria
2. Poprocks & Coke
3. Longview
4. Welcome to paradise
5. Basket case
6. When I come around
7. She
8. J.A.R.
9. Geek stink breath
10. Brain stew
11. Jaded
12. Walking contradiction
13. Stuck with me
14. Hitchin' a ride
15. Good riddance
16. Redundant
17. Nice guys finish last
18. Minority
19. Warning
20. Waiting
21. Macy's day parade

Green Day | International Superhits !
Vrai punk ou faux rebelles ? Pop, rock ou gros vendeur ? Green Day, en adoptant son style librement inspiré de punk mais remis au goût du jour, a fait couler beaucoup d'encre et est à l'origine de plus d'une polémique. Pour se faire une idée définitive, rien ne vaut l'écoute de International Superhits !, reprenant des titres des précédents Dookie, Insomniac, Nimrod, et Warning. Ajoutez à cela une poignée de morceaux inédits, histoire d'oublier que le groupe a fait l'impasse sur sa période garage dans cette compilation, et vous n'aurez plus aucun doute: punk ou pas, Green Day est une véritable machine à tubes.
En écoutant ce best of, j'ai l'impression de retrouver mes années Lycée notamment avec When I come around. Ça ne me rajeunit pas tout ça ! ^^

Toute ma croyance religieuse est basée sur la guerre des étoiles.

Mike Dirnt