Le fugitif...
26
mars
2009
... ou tout du moins: le fugueur ! 😉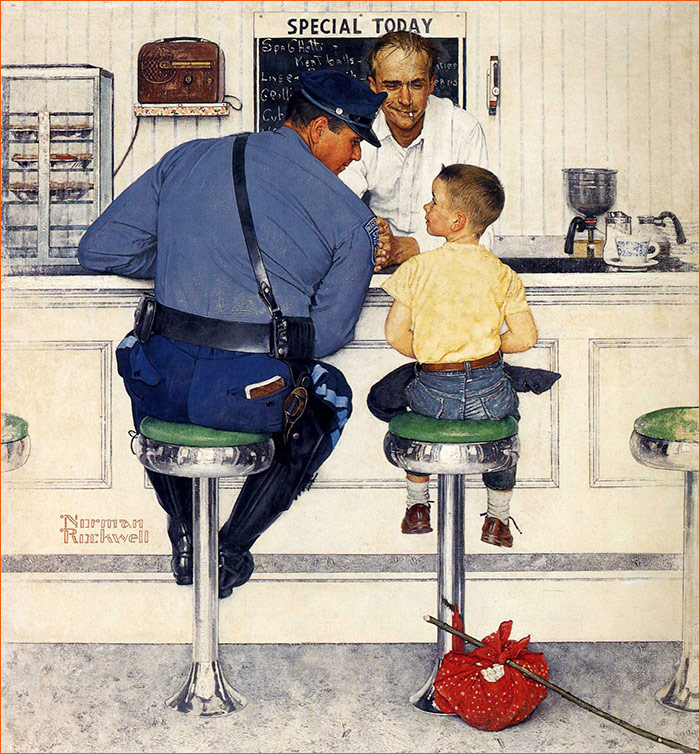 The Runaway de Rockwell pour la couverture du Saturday Evening Post (1958).

Incredible Hulk #38 de Romita Jr et Jones (Couverture d'Andrews).
Dans le comics book Incredible Hulk #38 - "Last Chance Cafe" (Romita Jr et Jones, Marvel) Kaare Andrews, le dessinateur de la couverture, transpose l'illustration The Runaway de Norman Rockwell illustrant la Une du Saturday Evening Post du 20 septembre 1958 sur la couv' de la BD. Ici, le policier est remplacé par Hulk et le jeune fugueur par Doc Samson.
The Runaway est une huile sur caneva peinte par Norman Rockwell pour la couverture du journal The Saturday Evenig Post paru le 20 septembre 1958. Aujourd'hui cette toile est exposée dans la collection permanente au Norman Rockwell Museum de Stockbridge.
Je m'étais enfui de la maison quand j'étais gosse à Mamaroneck, et je déambulais le long de la plage, donnant des coups de pied dans les pierres, et regardant les moutons sur la crête des vagues. Mais la nuit tombée, un vent froid se leva qui faisait gémir les arbres. Alors, je rentrai à la maison... Après la première esquisse que je fis de ce tableau, je le peignis deux fois. Nous avions pris des photos dans un restaurant Howard Johnson à Pittsfield, Massachussets, mais j'ai ensuite changé le décor pour quelque chose de plus rural, car je voulais véhiculer l'idée que le gamin s'était enfui de la ville avant d'être appréhendé. Et j'ai pris un autre modèle pour le barman, car j'ai pensé qu'un homme mûr serait plus à même de comprendre la fugue qu'un homme plus jeune.

Norman Rockwell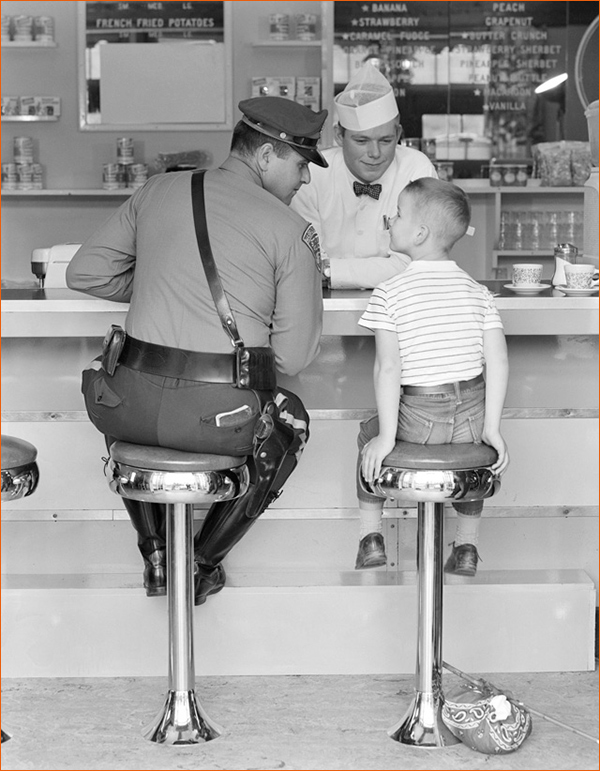 Le modèle qui pose pour le policier est Richard Clemens et le gamin n'est autre qu'Eddie Locke, qui avait déjà posé pour l'artiste dans Before the shot.
Pour plus d'information sur le travail de Rockwell au The Saturday Evening Post et voir d'autres parodies, rends-toi »ici«, »là«, ou encore »ici«, ou bien encore »là«, où j'ai déjà traité le sujet. 😃

PS: A plus je farfouile sur la toile pour enquêter sur le travail de Rockwell pour mes articles, à plus je deviens fan de son œuvre. Et je t'encourage vivement à aller te balader sur son site officiel et sur celui du Saturday Evening Post.