Il faudrait qu'Hollywood comprenne que l'aspect humain d'une histoire est le meilleur des effets spéciaux.

Jeff Bridges | Studio magazine en septembre 2003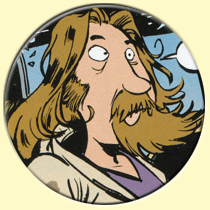 Dans Spoon & White - Tome 6 - "XXL" (Léturgie Père et fils, Isard, et Yann, Vents d'Ouest) Simon Léturgie (le fils) croque Jeff Bridges et lui fait jouer le rôle d'un conducteur prenant en stop un fugitif poursuivit par Spoon et White.
(L'image est tirée de la page 37, case 8).
Avec ce clin d'œil, les auteurs rendent aussi hommage au film des frères Cohen The Big Lebowski où il incarne Jeff Lebowski dit le Duc. A côté de lui, on retrouve son pote de bowling qui, lui, fera l'objet d'un futur article... 😉
Jeff Bridges (1949) est un acteur américain. C'est à quatre mois qu'il débute sa carrière au cinéma, en incarnant un nourrisson dans The company she keeps. Il joue huit ans plus tard aux côtés de son père, Lloyd Bridges, dans un épisode de la série télévisée Remous. A vingt-deux ans, il décroche une nomination à l'Oscar du meilleur second rôle pour La dernière séance de Peter Bogdanovich, qui le révèle au grand public.
En 1974, Le Canardeur de Michael Cimino lui apporte une nouvelle nomination à l'Oscar et installe ainsi sa réputation d'acteur talentueux. Il retrouvera d'ailleurs le réalisateur en 1980 avec La porte du paradis. Collaborant avec des cinéastes confirmés, comme John Frankenheimer ou John Huston, Jeff Bridges ne rencontre pourtant le succès public qu'au début des années 1980, avec le film de Disney Tron.
En 1985, il est une fois de plus nommé aux Oscars grâce au Starman de John Carpenter et continue de tourner avec de grands réalisateurs: Francis Ford Coppola pour Tucker en 1988, et Terry Gilliam pour Fisher King en 1991. L'acteur américain rentre dans la cour des grands en 1997 en interprétant le Duc, glandeur invétéré de The Big Lebowski réalisé par les frères Coen. Il est ensuite à l'affiche de Arlington Road, puis du politique Manipulations. De Pur-sang, la légende de Sea Biscuit en 2003 à Tideland en 2006, Jeff Bridges refuse de choisir un genre et continue de tourner dans des films au style différent. En 2008, il incarne Obadiah Stane dans l'excellente adaptation de la bande-dessinée Iron Man, réalisée par Jon Favreau.
Deux ans plus tard, il devient Bad Blake, ex-star de country, pour Crazy Heart de Scott Cooper, une performance qui lui permet enfin de décrocher l'Oscar du meilleur acteur. Mais il ne s'arrête pas de tourner pour autant avec la même énergie, puisqu'il apparaît en 2011 au générique de Tron l'héritage, suite du classique qui lui a apporté la gloire près de trente ans auparavant ainsi que dans le western True Grit, occasion pour lui de retrouver les frères Coen, 13 ans après The Big Lebowski.

Mr Treehorn n'est pas un homme convenable, il traite les objets comme des femmes...

Jeff Bridges alias Jeff Lebowski | The Big Lebowski