Dans la famille Menton Poinçonné, le fils.
21
mars
2012
Le cinéma, ce n'est pas signer des autographes ou porter des lunettes noires, c'est un vrai business.

Michael Douglas | Le Figaro du 31 Août 2007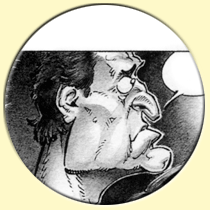 Dans Meurtres fatals - Tome 1 - "Meurtres fatals graves" (Maëster, Fluide Glacial) Maëster caricature Michael Douglas dans le récit "Basic harcèlement fatal, grave je te dis pas". Il lui fait jouer le rôle de l'inspecteur Douglas.
(L'image est tirée de la page 11, case 5).
Outre ce clin d'œil à l'acteur américain, l'auteur fait aussi et surtout référence au film Basic Instinct de Paul Verhoeven, où Douglas incarne l'inspecteur Nick Curran. D'autres références, dans de futurs articles... 😉
Michael Douglas (1944) est un acteur américain. Fils de Kirk Douglas, il étudie l'art dramatique en Californie et commence sa carrière d'acteur en 1969 dans Hail, Hero. De 1972 à 1976, il joue dans Les rues de San Francisco et reçoit une nomination au Golden Globe du Meilleur acteur de télévision.
A la fin des années 1970, Michael joue dans Le syndrome chinois, qu'il coproduit avec Jane Fonda. Il triomphe ensuite en 1984 dans A la poursuite du diamant vert. L'acteur enchaîne alors les films: Liaison fatale en 1987, Wall Street d'Oliver Stone qui lui vaut l'Oscar du Meilleur acteur en 1987 et le Golden Globe 1988 du Meilleur acteur dramatique, La Guerre des Rose de son ami Danny de Vito qui lui vaut une nomination au Golden Globe du Meilleur acteur de comédie en 1990, Basic Instinct de Paul Verhoeven en 1992, ou encore The Game en 1997.
Il prend le rôle du président des Etats-Unis dans Le Président et miss Wade et reçoit une nouvelle nomination aux Golden Globes, puis joue aux côtés de Gwyneth Paltrow dans Meurtre parfait remake du Crime était presque parfait d'Alfred Hitchcock.
L'acteur revient sur les écrans en 2003 avec la comédie Espion mais pas trop d'Andrew Fleming. Mais il reste attaché à l'univers du thriller et joue un psychiatre devant sauver la vie de sa fille dans Pas un mot. En 2006, il devient un agent des services secrets aux côtés d'Eva Longoria dans The Sentinel, film pour lequel il est aussi producteur. Quatre ans plus tard, Michael Douglas reprend le rôle de Gordon Gekko dans Wall Street 2, également réalisé par Oliver Stone.
Prochainement, il sera à l'affiche de Haywire de Steven Soderbergh. Film au casting alléchant: Ewan McGregor, Michael Fassbender, Gina Carano, Antonio Banderas, Bill Paxton...

Je ne suis pas un grand cinéphile. Je ne regarde pas beaucoup de films. Je passe tout mon temps à regarder le sport à la télé. Parce qu'à la différence des films, on ne sait jamais comment ça va finir...

Michael Douglas