"Why so serious ?"
03
mars
2014
Why so serious !

Heath Ledger alias le Jocker | The Dark Knight: Le Chevalier noir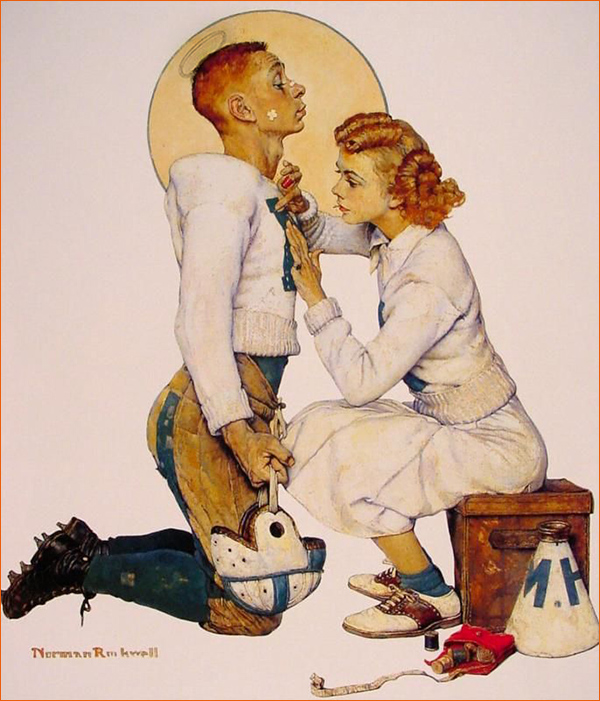 Football hero ou Letterman de Rockwell pour le Saturday Evening Post (1938).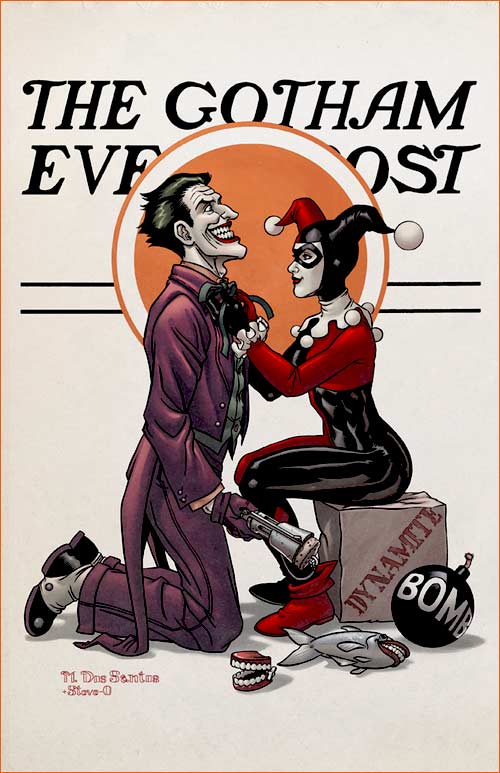 Ex-libris - Batman de Dos Santos.
"What if Rockwell had been from Gotham City?". C'est le sujet que s'est imposé le dessinateur Mark Dos Santos pour une série d'Artwork... et l'Ex-libris - Batman (Dos Santos, DC Comics) d'aujourd'hui est une des réponses à cette interrogation. The Saturday Evening Post du 19 novembre 1938, avec en Une l'illustration Football hero de Norman Rockwell, s'est transformé en The Gotham Evening Post. Et ici, le footballeur est remplacé par le Joker, et la pompom girl par Harley Quinn.
Bien que Rockwell n'ait jamais fait beaucoup de sport, sûrement trop frêle et/ou trop occupé par le dessin... il est quand même très au fait des différents activités sportives, et ses peintures ont abordé ce thème en décrivant de nombreuses disciplines que se soit pour le Post, d'autres magazines, ou la publicité ayant trait aux sports.
Il a tout de même une préférence pour le Baseball dont il a à maintes reprises décliné les représentations... ces deux plus célères illustrations de la discipline arborent les murs du Baseball Hall of Fame à Cooperstown dans l'état de New-York: 100 Years of Baseball et Bottom of the Sixth.
Encore une fois, Rockwell n'est pas avare de détails, il suffit de regarder la trousse de couture avec ses bobines de fil, et l'attention que porte la jeune fille à ce qu'elle fait. Epingles à la bouche, dé au doigt, elle essaie de ne pas piquer le footballeur. Cette jeune femme qui coud le numéro de maillot, est aussi une des cheerleaders de l'équipe comme l'indique son porte voix posé à ses pieds.
Le jeune homme a l'air d'un saint, avec son auréole, mais nul doute qu'il ne sera pas le dernier à en découdre et à rendre coup pour coup dès la reprise de la partie... mais pour l'instant, il file doux ! ^^

Les athlètes ont une identité, c'est à dire une reconnaissance parmi les autres gens. Je n'avais pas ce talent-là, tout ce que je savais faire était de dessiner.

Norman Rockwell