Atticus Finch
20
nov.
2014
Je ne suis pas un redresseur de torts. Ça me gêne d'être classé comme un humanitaire. Je participe tout simplement à des activités auxquelles je crois.

Gegory Peck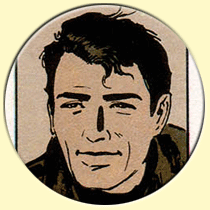 Dans le comics book Batman: Vengeance oblige #1 - "L'aube noire" (Mazzucchelli et Miller, DC Comics) David Mazzucchelli croque Gregory Peck et lui donne le rôle de Bruce Wayne alias Batman. Ce célèbre comics est plus connu sous son titre VO Batman Year one.
(L'image est tirée de la page 4, case 7).
Gregory Peck (1916-2003) était un acteur américain. Il a six ans lorsque ses parents divorcent, il est alors confié à sa grand-mère. A dix ans, il est envoyé à l'Academie militaire de St John à Los Angeles où il apprend les valeurs de la discipline et de l'autorité. Après avoir obtenu ses diplômes au lycée, il s'inscrit à l'Université de Californie à Berkeley. Poussé par son père qui voulait faire de lui un médecin, le jeune homme suit l'année préparatoire de médecine. Durant ses études, il se découvre un véritable intérêt pour l'écriture et l'art dramatique.
Installé à New York, il fait partie de la distribution de The neighborhood playhouse et se perfectionne dans des petits rôles. Il débute sur la scène de Broadway en 1942 dans The morning star d'Emlyn Williams, mais c'est le cinéma qui l'attire.
A Hollywood, la RKO le prend sous contrat en 1944: commence alors une incroyable carrière. En un demi-siècle, l'acteur joue dans plus de soixante films, tourne sous la direction des plus grands: King Vidor avec Duel au soleil, William Wyler avec Vacances romaines, John Huston avec Moby Dick, Stanley Donen avec Arabesque, Martin Scorsese avec Les Nerfs à vif, Alfred Hitchcock avec La Maison du docteur Edwards... Il a pour partenaires Ingrid Bergman, Sophia Lauren, Ava Gardner, mais aussi Robert Mitchum, et James Stewart.
Grand par la taille et le talent, l'acteur est crédible dans tous ses rôles, réussissant à apparaître à la fois vulnérable et héroïque. Il devient même une référence dans certains genres cinématographiques, comme dans l'inoubliable comédie Vacances romaines, aux côtés d'Audrey Hepburn.
Elégant, modeste, il a souvent incarné des personnages épris de justice à l'écran, à l'image de l'homme qu'il était lui-même. Militant démocrate convaincu, il s'engage dans des œuvres de solidarité. Membre fondateur de l'American Film Institute, il a été président de l'Academy of Motion Picture Arts and Sciences et contribue à animer le théâtre de sa ville natale.
Pour moi, un de ses rôles les plus mémorables est celui de l'avocat Atticus Finch dans Du silence et des ombres de Robert Mulligan adapté du roman Ne tirez pas sur l'oiseau moqueur de Harper Lee. Le film s'est d'ailleurs distingué en remportant trois Oscars dont celui du Meilleur acteur pour Peck.

Je l'ai toujours admirée en tant qu'actrice, et j'ai toujours eu le sentiment qu'elle n'était pas appréciée à sa juste valeur, parce que les gens étaient trompés par sa beauté et n'attendaient rien de plus. Elle-même n'était pas très ambitieuse quant à sa carrière d'actrice. Pourtant elle s'est constamment améliorée, et dans ses meilleurs films, je crois qu'on peut légitimement la classer parmi les grandes actrices du cinéma américain.

Gregory Peck à propos d'Ava Gardner | Ava, Mémoires