L'artiste tatoueur
05
avr.
2007
Ça faisait un moment que la rubrique kesKifouLA?, n'avait pas pointé le bout de son nez...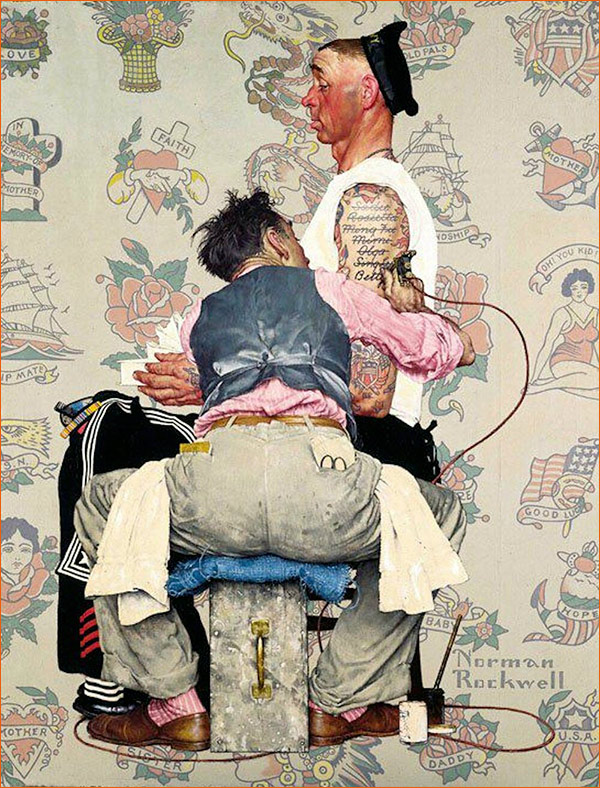 Tatoo Artist de Rockwell pour la couverture du Saturday Evening Post (1944).

Ex-libris de Hub inspiré de sa série Okko (2007).
Dans le portfolio Femmes du Donjon, tiré de l'univers de Okko (Hub, Delcourt), Hub, avec un de ses dessins, rend hommage à l'illustration Tatoo Artist de Norman Rockwell. Cette peinture de Rockwell a été réalisée pour la couverture du magazine The Saturday Evening Post du 4 mars 1944.
La couverture du magazine représente un soldat de la marine américaine dans une scène typique: en pleine séance de tatouage. Norman Rockwell (1894-1978) use toujours d'un trait hautement réaliste. Il est considéré comme le maître de la peinture dite -narrative-, c'est-à-dire pensée pour raconter explicitement une scène. Rockwell se donnait pour rôle d'observer les images que lui renvoyait chaque jour la société américaine. Son intention n'est pas de critiquer la société mais de la prendre en photo, avec affection et dignité comme le ferait un photographe désireux de prendre une belle photo de famille.
Pour arriver à ce résultat ""photographique"" Rockwell travaille à partir de cliché de ses modèles prenant la pose.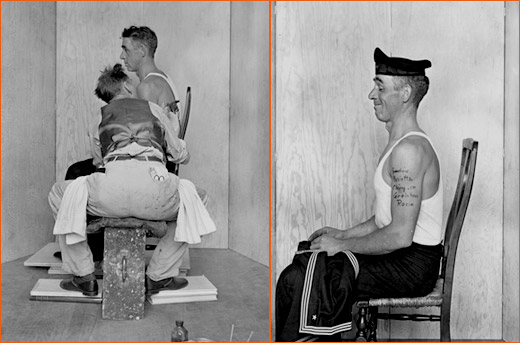 Ici, le voisin et ami de l'artiste, Mead Schaeffer, joue le tatoueur, et Clarence Decker gérant du dancing d'Arlington -The Grange- endosse le costume du marin. Ce dernier a posé de nombreuses fois pour Norman Rockwell: Heed and Toe (1940), The long shadow of Lincoln (1945), Weekend travellers (1948)...

PS: En créant ce blog, j'avais décidé de ne piocher les références seulement dans les albums afin que -monsieur tout le monde- puisse aller se plonger dans sa bdthèque et se dire: "Ah oui, mais c'est bien sûr, comment ça a pu m'échapper !". Et puis avec le temps, je trouve que c'est dommage de passer à côté d'ex-libris de qualité. Alors à l'image de cet article, dorénavant lorsque je tombe sur une illustration intéressante, je vous la montre.