Platinium Blonde
07
déc.
2012
Blondie, c'est la rencontre de deux mythes : Marilyn et la guitare électrique.

Blondie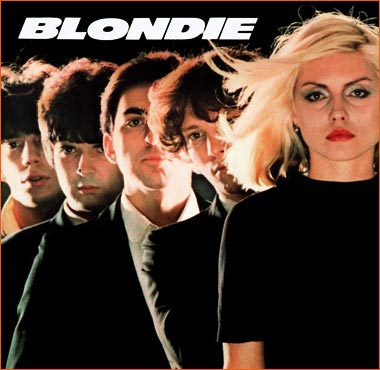 Blondie de Blondie (1976).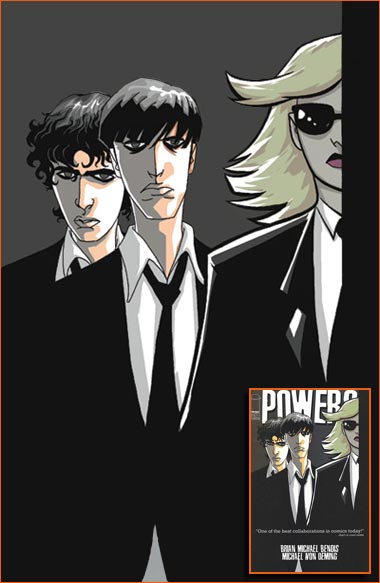 Powers #23 d'Oeming et Bendis (Couverture).
Dans le comics book Powers #23 - "Anarchy - Part 3" (Oeming et Bendis, Image Comics) Michael Avon Oeming, pastiche la pochette de l'album musical Blondie du groupe éponyme sur la couverture de sa BD. Ici, la chanteuse Debbie Harry est remplacée par Janis alias retro Girl.
Blondie est un groupe américain fondé par Deborah Harry et Chris Stein en 1975. Leur premier album éponyme sort en 1976. Ce disque est la première marche d'un escalier qui mène Debbie Harry et ses amis vers le sommet de la gloire durant les années 80. Une œuvre pleine d'énergie et de naïveté. Le groupe se tourne délibérément vers un style et des sonorités très sixties et se démarque ainsi de la scène punk new-yorkaise d'alors.

1. X-Offender
2. Little girl lies
3. In the flesh
4. Look Good in Blue
5. In the sun
6. A shark in jet's clothing
7. Man overboard
8. Rip her to shreds
9. Rifle range
10. Kung-Fu girls
11. The attack of the giant ants
Bonus 1. Out in the Streets
Bonus 2. The thin line
Bonus 3. Platinum blonde
Bonus 4. X Offender (Single version)
Bonus 5. In the sun (Single version)

Blondie | Blondie
Dans ce premier album, les influences sont très marquées. Par exemple, le titre Look good in blue est très proche des Marvelettes, Carla Thomas, ou encore les Shangri-Las. Les titres In the sun et Rifle Range sont plus proches des sonorités punk. Leur musique, plus que celle d'autres groupes de l'époque, renvoie alors à l'imagerie des sixties, ça transpire le pop art d'Andy Warhol sur fond de Bonnie and Clyde... Même la pochette, ce cliché décalé des musiciens, rappelle la ""ringardise"" des sixties.
Personnellement, même si je suis plus Rock que Pop, j'avoue préférer d'autres productions du groupe plus disco tel que Call me, Herat of Glass, One way or another, Atomic, ... car même si ses titres n'apparaissent pas dans mes playlists, ils sont profondément ancrés et martelés dans ma culture cinématographique avec des films tels que Scarface, Donnie Brasco, American Gigolo, La nuit nous appartient...

Chaud, fou et excitant, le punk est une histoire d'explosion, la première véritable expression du détachement.

Debbie Harry