Gora le destructeur
14
août
2022
La richesse peut être merveilleuse, mais le succès peut mettre à l'épreuve le caractère d'un homme aussi sûrement que le plus fort de ses adversaires.

Mako alias l'Enchanteur | Conan le Barbare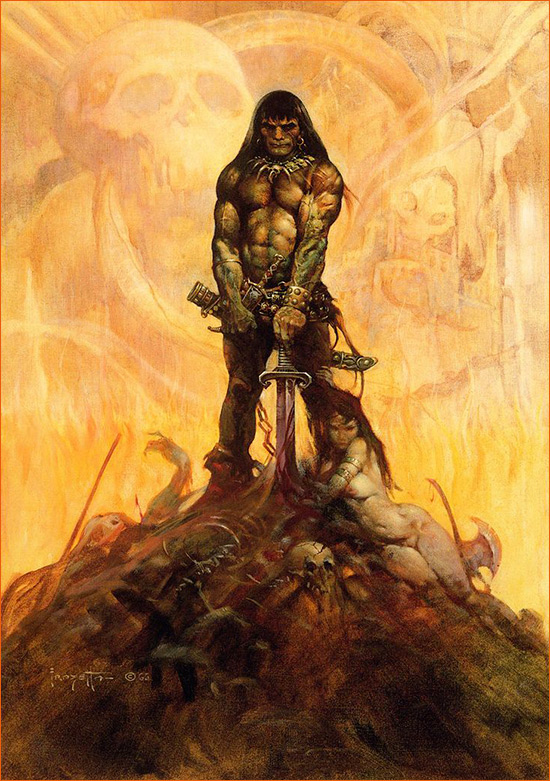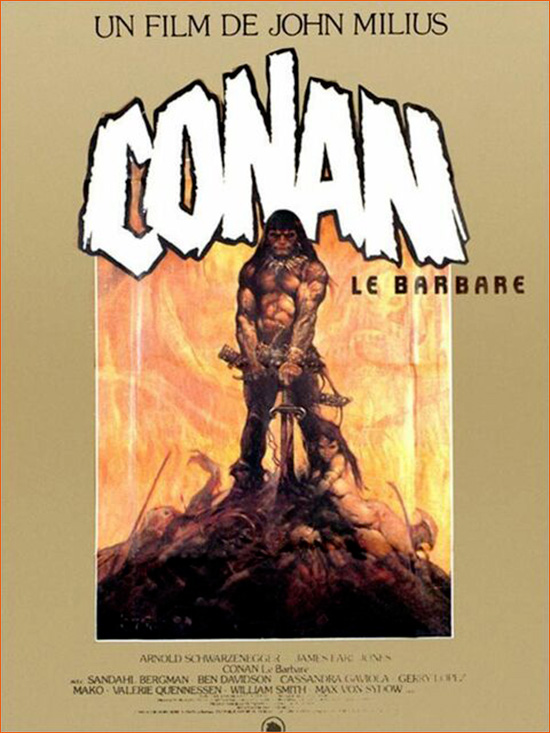 The Barbarian de Frazetta pour l'affiche de Conan le Barbare de John Milius (1982).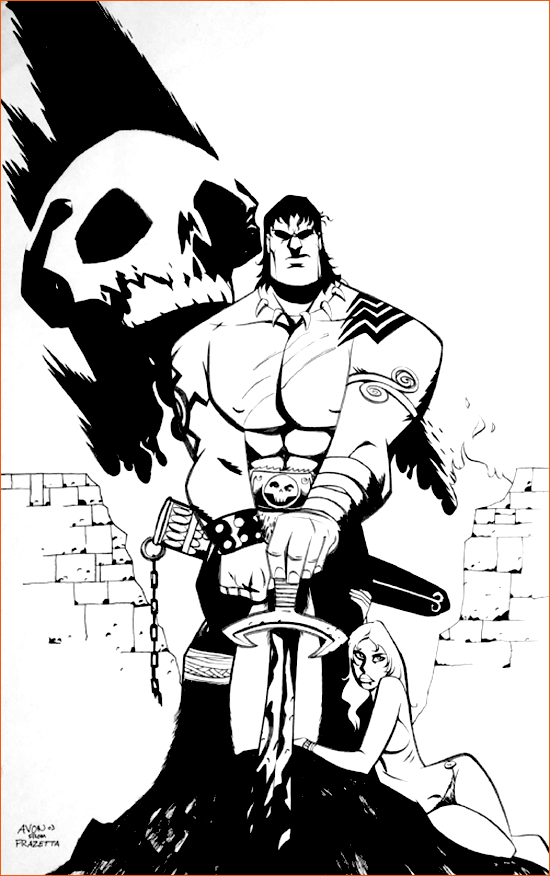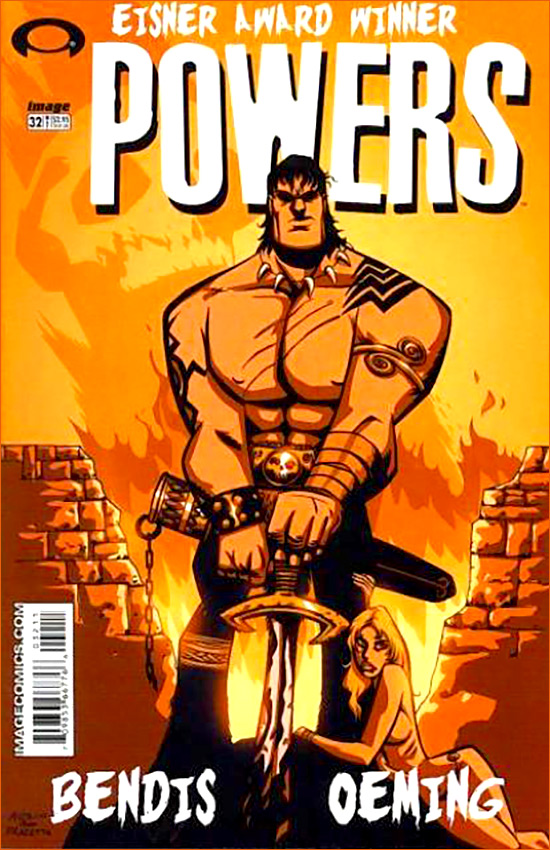 Powers #32 de Michael Avon Oeming et Brian Michael Bendis (Couverture).
Dans le comics book Powers #32 - "Forever" (Oeming et Bendis, Image Comics) Michael Avon Oeming parodie l'illustration The Barbarian de Frank Frazetta utilisée pour l'affiche du film de John Milius, Conan le barbare, sur la couverture de sa BD. Ici, Arnold Schwarzenegger alias Conan est remplacé par l'inspecteur Christian Walker alias The Mighty Gora.
Pour avoir plus d'informations sur ce film fantastique et voir d'autres adaptations de son affiche, va faire un tour »ici« où j'ai déjà traité le sujet plusieurs fois. 😉
A l'intérieur du même numéro du comics book, Michael Avon Oeming rend aussi hommage à une autre illustration de Frank Frazetta...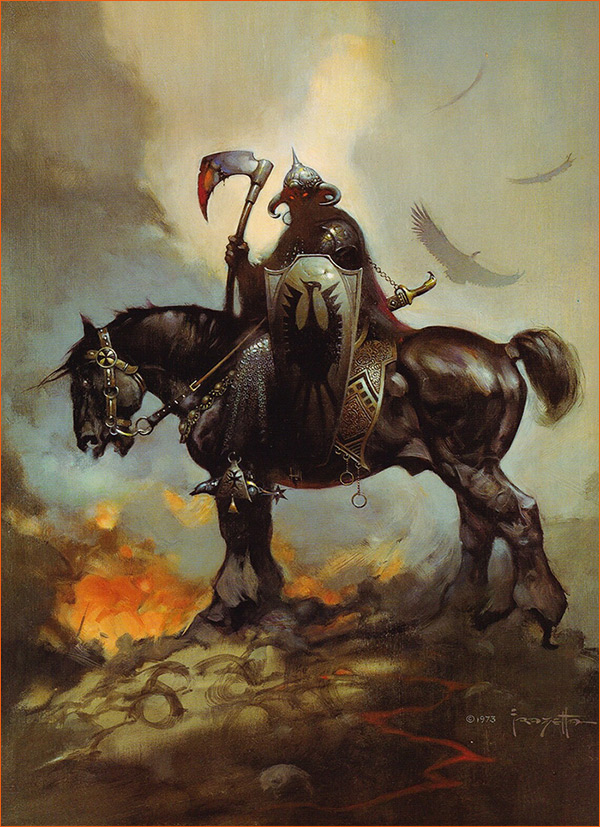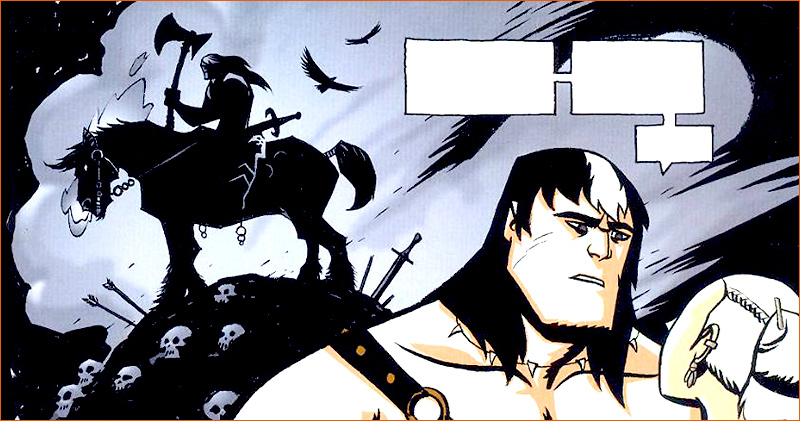 Death Dealer de Frank Frazetta et Powers #32 de Michael Avon Oeming.
... et c'est probablement le dessin le plus célèbre de Frazetta, son Death Dealer, sur lequel j'ai déjà disserté mainte et mainte fois...

- Conan, qu'y a-t-il de mieux dans la vie ?
- Ecraser ses ennemis, les voir mourir devant soi et entendre les lamentations de leurs femmes.

Akio Mitamura alias le Général Mongol et Arnold Schwarzenegger alias Conan | Conan le Barbare