Ferris Bueller's day off
04
janv.
2022
La vie bouge très vite. Si tu t'arrête pas de temps en temps elle te file entre les doigts.

Matthew Broderick alias Ferris Bueller | La folle journée de Ferris Bueller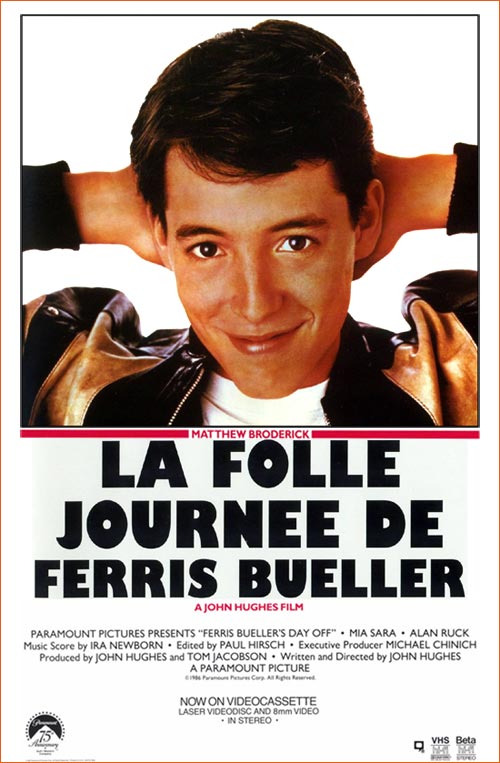 La folle journée de Ferris Bueller de Hughes (1986).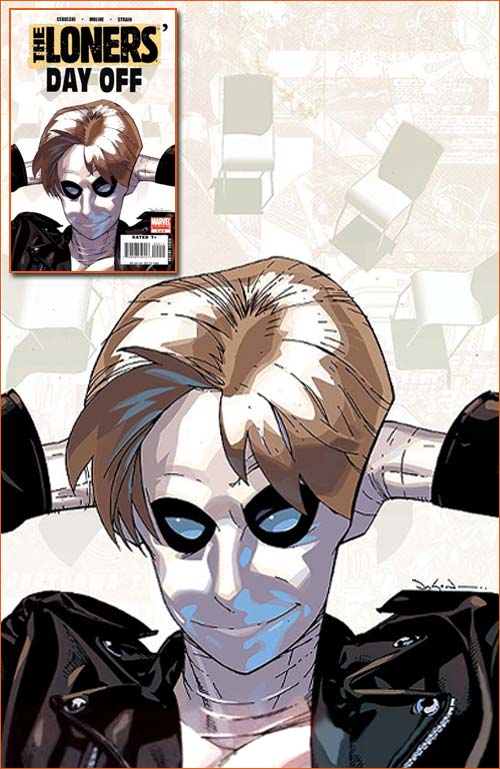 The Loners #2 de Moline et Cebulski (Couverture de Pearson).
Dans le comics book The Loners #2 - "Reflex actions" (Moline et Cebulski, Marvel) Jason Pearson, l'illustrateur de la couverture, pastiche l'affiche du film de John Hughes La folle journée de Ferris Bueller sur la couverture de sa BD. Ici, Ferris Bueller alias Matthew Broderick devient Ricochet alias Jonathan Gallo.
La folle journée de Ferris Bueller est un long métrage américain réalisé par John Hughes, et sorti dans les salles obscures le 11 juin 1986. Il a été inscrit en 2014 au National Film Registry pour être conservé à la Bibliothèque du Congrès.
Un cancre invétéré, Ferris Bueller (Matthew Broderick), convainc sa petite amie (Mia Sara) et son meilleur ami hypocondriaque (Alan Ruck) dont le père a une Ferrari, de sécher les cours pour aller passer la journée à Chicago. Pendant qu'ils font les 400 coups dans la grande ville, le proviseur (Jeffrey Jones) et la sœur de Ferris (Jennifer Grey) tentent, chacun de leurs côtés, de prouver aux parents que leur fils est un cancre et qu'il a séché.

AlloCiné | La folle journée de Ferris Bueller
Après Une créature de rêve, Breakfast Club et Rose bonbon, c'est le quatrième film où le réalisateur, John Hughes, consacre un nouveau regard sur l'adolescence, ouvrant la porte à un nouveau genre cinématographique. Outre son scénario, le film séduisit par l'impertinence de son ton et par son traitement, Matthew Broderick s'adressant souvent directement à la caméra. En 2008, son personnage: Ferris Bueller, a été classé 15e par le magazine Empire parmi les 100 Meilleurs personnages de films de l'histoire.
En 1990, La Folle journée de Ferris Bueller a donné naissance à une série inédite en France, titrée Ferris Bueller. La série n'a duré qu'un an et est la première expérience à Hollywood de Jennifer Aniston, rendue célèbre par une autre sitcom, Friends. La même années, le film inspira également fortement la série, Parker Lewis ne perd jamais.

J'ai déjà manqué 9 fois ce semestre, je commence à être à court de maladies nouvelles. Si j'en arrive à la dixième je vais être obligé de vomir un poumon. Faut que j'en profite à fond aujourd'hui.

Matthew Broderick alias Ferris Bueller | La folle journée de Ferris Bueller