En gros, je suis pour tout ce qui peut aider à passer la nuit. Prier, une boîte de calmants ou une bouteille de Jack Daniels.

Frank Sinatra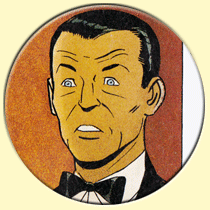 Dans Pin-Up - Tome 7 - "Las Vegas" (Berthet et Yann, Dargaud) Philippe Berthet caricature Frank Sinatra et lui fait jouer son propre rôle. Ici, Dottie, l'héroïne de la série le rebard à plusieurs reprises...
(L'image est tirée de la planche 6, case 9).
Frank Sinatra (1915-1998) était un chanteur et un acteur américain. Fils d'immigrés italiens, produit errant des rues de Hoboken, le jeune Frank n'a qu'un but en tête: égaler la voix d'or de l'Amérique des années 1930, Bing Crosby.
Après quelques années de précarité passées entre petits boulots et contrats misérables, le jeune époux de Nancy Barbato gravit peu à peu les marches de la gloire: il rencontre en 1939 le trompettiste virtuose Harry James et chante à ses côtés pendant six mois, avant de devenir le chanteur vedette de l'orchestre réputé de Tommy Dorsey.
Consacré meilleur chanteur de l'année 1942, il remplace son idole dans les cœurs de milliers d'adolescentes et de jeunes femmes américaines. Le succès de celui qu'on appelle -The Voice- n'a plus de limites: il règne sur le Paramount Theatre de New York et Hollywood lui ouvre ses portes avec Las Vegas Nights, Croisière mouvementée, Amour et swing, Un jour à New York ...
Il connaît pourtant quelques revers dans les années 1940: sa carrière de chanteur s'essouffle au rythme des accents rock'n roll venus d'outre-manche, ses déboires sentimentaux se multiplient, le Hit Parade et les producteurs le boudent.
Son second rôle dans le film Tant qu'il y aura des hommes, qui lui vaut un Oscar en 1954, le propulse à nouveau sous les feux de la rampe. De tournage en tournage, d'enregistrement en enregistrement, il forge et entretient sa légende. Interprète mythique de My way et de Strangers in the night, Frank Sinatra incarne le symbole de la réussite américaine, l'image de la séduction et de la sensualité vocale.
Martin Scorsese, Sydney Pollack, Robert De Niro, Michael Bay, Steven Soderbergh, Woody Allen, Oliver Stone... On ne compte plus les réalisateurs qui, aujourd'hui encore, glissent un extrait du répertoire de Frank Sinatra dans un de leurs films, prouvant un peu plus à chaque fois la trace indélébile laissée, dans le monde de la musique par The Voice.

L'alcool est le pire ennemi de l'homme. Mais la Bible nous enseigne d'aimer nos ennemis.

Frank Sinatra