Par le pouvoir du crâne ancestral...
04
mai
2011
Par le pouvoir du crâne ancestral, je détiens la force toute puissante !

Le Prince Adam alias Musclor dans Les Maîtres de l'Univers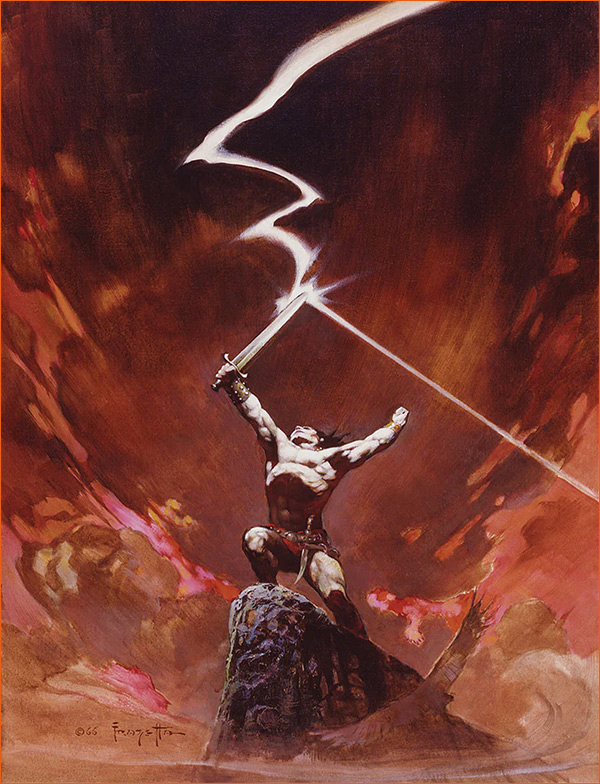 Against the gods de Frazetta pour la couverture de Thongor contre les Dieux de Carter.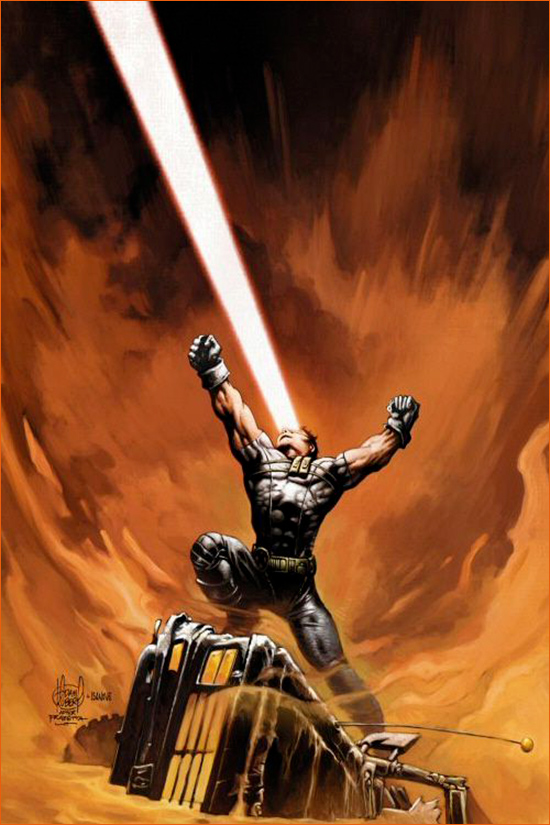 Ultimate X-Men #30 de Thibert et Millar (Couverture de Kubert).
Dans le comics book Ultimate X-Men #30 - "Return of the king" (Thibert et Millar, Marvel), Adam Kubert rend hommage au dessin, Against the gods de Frank Frazetta, illustrant la couverture du roman de Lin Carter, Thongor contre les dieux, sur la couverture de son comics. Ici le barbare Thongor, est remplacé par Scott Summers alias Cyclope des X-Men.
Thongor contre les dieux, le roman de fantasy de Lin Carter (1930-1988), est le tome 3 d'un cycle de 6 volumes narrant les aventures du barbare Thongor à travers la Lémurie, un continent imaginaire. Carter est très influencé par deux maîtres de la Fantasy, Robert E. Howard (Conan le Barbare) et Edgar Rice Burroughs (John Carter of Mars). Il combine les deux influences dans son cycle de Thongor. Le récit linéaire, genre de road movie de fantasy, est clairement inspiré des caractéristiques de style et de construction de récit de Edgar Rice Bourroughs et des débuts de la littérature pulp.
L'illustrateur/peintre, Frank Frazetta (1928-2010), était un des artistes américains les plus influents de la science-fiction et de la fantasy. Son iconographie de héros musclés, parmi lesquels Conan le Barbare, a inspiré des générations d'adolescents, et d'auteurs de bandes dessinées, et de cinéaste. Il est l'auteur de nombreuses couvertures de comics, de magazines, d'albums musicaux, et d'affiches de films.

PS: Si tu ne connais pas l'œuvre de Frazetta, je t'invite à visiter www.arthistoryarchive.com/arthistory/fantasy/Frank-Frazetta.html.