Courant Alternatif/Courant Continu
28
juin
2012
Ceux qui partent en vacances au Club Med' écoutent les Bee Gees, ceux qui vont au camping écoutent AC/DC. Moi, j'essaie de ne pas penser aux Bee Gees.

Angus Young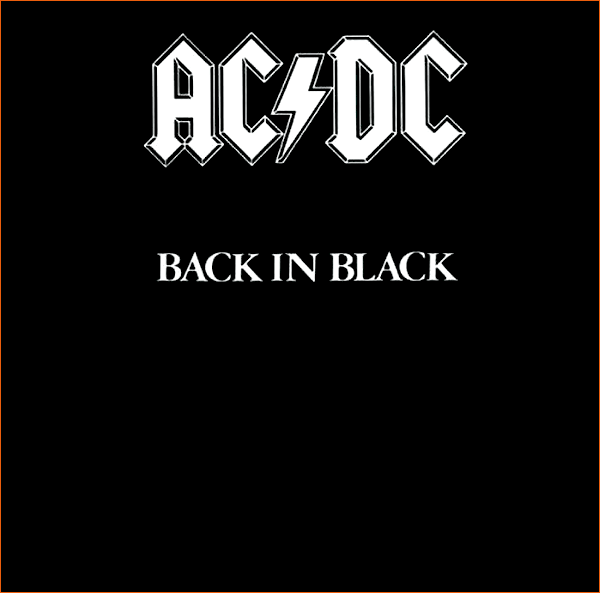 Back in black d'AC/DC (1980).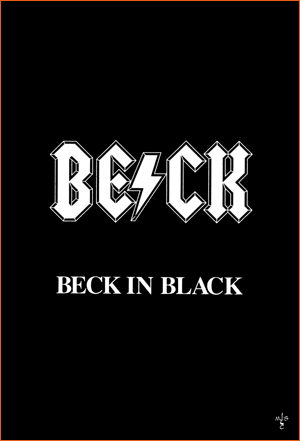 Beck - Tome 10 de Sakuishi (Page 132).
Dans le manga Beck - Tome 10 (Sakuishi, Delcourt), Harold Sakuishi parodie la pochette de l'album musical Back in black d'AC/DC sur la page d'introduction du chapitre 3 de sa BD.
J'ai hésité à faire cet article car la référence se limitant au visuel typographique n'est pas très intéressante en soi, mais cet album d'AC/DC décoiffe tellement que je n'ai pas pu résister ! 😃
Back in black, sorti en 1980, est le septième album du groupe de hard rock australien AC/DC. Cet album est le premier à être enregistré avec le chanteur Brian Johnson après la mort de Bon Scott. Il contient trois grands classiques du groupe, voire du rock en général: Hells bells, You shook me all night long, et la chanson éponyme, Back in black. Il est l'album de rock le plus vendu de tous les temps et le deuxième tous genres de musique confondus derrière l'album Thriller de Michael Jackson.
Angus Young, le diablotin à casquette, de la guitare hard et ses complices se transcendent pour surmonter la mort accidentelle de Bon Scott. Back In black est un hommage en bonne et due forme au cher disparu. Hommage façon AC/DC, c'est-à-dire rentre-dedans à souhait, célébrant le rock. Qui d'autre aurait osé composer un morceau intitulé Have A drink on me quand on sait que Bon Scott a succombé en s'étouffant dans son vomi après une nuit de beuverie. Son successeur sait se montrer à la hauteur du déluge de feu et de sang qui l'entoure. A circonstances exceptionnelles, disque exceptionnel, la marque d'un très grand groupe. Toutes catégories confondues, n'en déplaise aux détracteurs du hard-rock.

1. Hells bells
2. Shoot to thrill
3. What do you do for money honey
4. Given the dog a bone
5. Let me put my love into you
6. Back in black
7. You shook me all night long
8. Have a drink on me
9. Shake a leg
10. Rock and roll ain't noise pollution

AC/DC | Back In black
La pochette de l'album est entièrement noire. Y figurent simplement le nom du groupe et le titre de l'album en caractères blancs. Ce noir symbolise le deuil du groupe suite au décès de Bon Scott. Les chansons Hells bells, Back in black et Have a drink on me, par leurs paroles, font également hommage à Scott.

Il me semble très facile de devenir un groupe très controversé et rebelle. Les Sex-Pistols ont prouvé qu'il était facile de devenir une star du jour au lendemain en provoquant son monde. Mais on a constaté qu'ils ne pouvaient jouer nulle part, et cela a conduit à leur perte. Le punk a plus de rapport avec la mode qu'avec le rock. AC/DC est un groupe de prolos durs à l'attache. Nous ne sommes pas d'ex étudiants en art, comme la plupart des punks.

Angus Young