Arbre de Josué
20
sept.
2013
Beaucoup de gens veulent changer le monde mais ils ne veulent pas se changer eux-mêmes. La révolution commence chez toi, dans ton cœur, dans ton refus de compromettre tes propres convictions. Je crois que nos plus grands ennemis sont l'apathie et le cynisme qui ont mis le collet sur notre génération.

Bono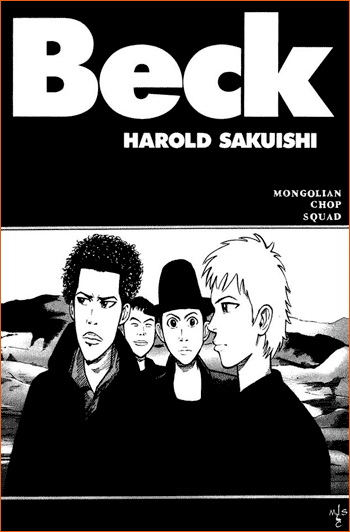 Beck - Tome 12 de Sakuishi (Page 5).
Dans le manga Beck - Tome 12 (Sakuishi, Delcourt), Harold Sakuishi parodie la pochette de l'album musical The Joshua tree de U2 sur la page d'introduction du chapitre 1 de sa BD. Ici, Larry Mullen est remplacé par Chiba Tsunemi, Adam Clayton par Yûji Sakurai alias Saku, The Edge par Tanaka Yukio alias Koyuki, et Bono par Taira Yoshiyuki.
The Joshua tree est le cinquième album du groupe de rock irlandais U2 sorti le 9 mars 1987 chez Island Records. Après les fantastiques Boy en 1980 et War en 1983, ce disque est l'album de la consécration, tant sur le plan créatif que commercial. D'emblée numéro 1, il ouvre au groupe les portes du marché américain et les voit se pavaner en couverture de Time, un honneur que peu de pop stars ont connu.
Titres de l'album:
1. Where the streets have no name
2. I still haven't found what I'm looking for
3. With or without you
4. Bullet the blue sky
5. Running to stand still
6. Red hill mining town
7. In god's country
8. Trip through your wires
9. One tree hill
10. Exit
11. Mothers of the disappeared
Lyrique, passionné, épique et animé par une foi inébranlable, The Joshua tree demeure fidèle à ce qui fit le succès de U2. L'album est d'une bouleversante sincérité poussant le groupe à se pencher sur ses racines musicales, folk irlandaises, à abandonner les solos qu'affectionnait leur guitariste The Edge, pour des claviers plus années 80, à choisir des arrangements moins fouillés et plus spontanés que ceux élaborés par Steve Lillywhite sur les précédents opus, offrant à la voix de Bono l'écrin parfait.
Les fans du leader, toujours avides d'hymnes de la trempe de Sunday Bloody Sunday, sont aux anges: outre quelques merveilles comme One tree hill et I still haven't found what I'm looking for, Bono signe avec With or without you un de ses plus gros tubes.

U2 me pète les burnes à un point qui dépasse l'entendement. Je dirais, pour illustrer, qu'il m'est physiquement impossible d'écouter un seul morceau sans qu'un engourdissement proche de la catalepsie s'empare de moi. [...] L'incarnation d'un rock à bonne conscience en font des prototypes parfaits de têtes à claques. Qu'on hésite de surcroît à gifler, vu qu'en bons chrétiens, ils seraient capables de tendre aussitôt l'autre joue, ces cons.

Antoine de Caunes | Dictionnaire amoureux du Rock