Les deux seuls choses qui me font peur sont Dieu et les inspecteurs des impôts.

Dr. Dre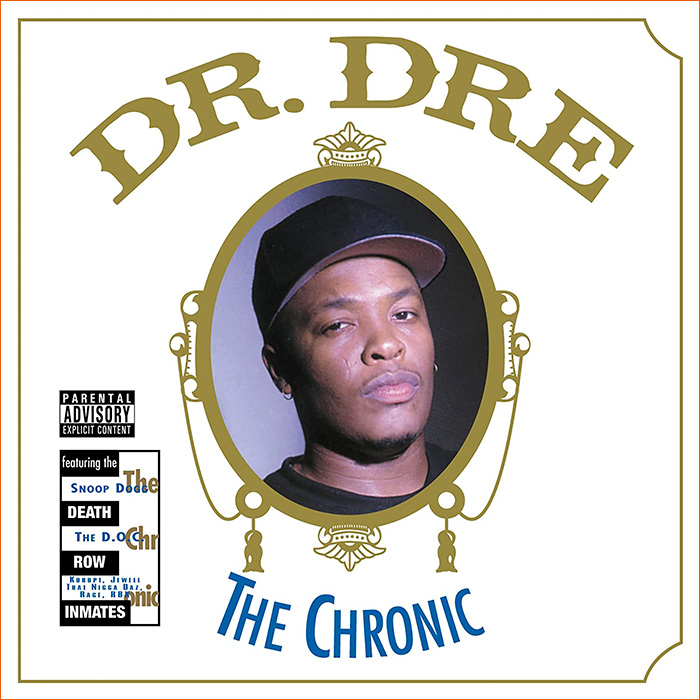 The Chronic de Dr. Dre (1992).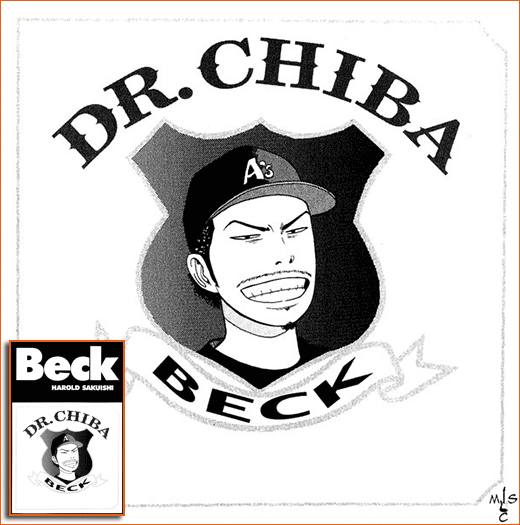 Beck - Tome 14 de Sakuishi (Planche 62).
Dans le manga Beck - Tome 14 (Sakuishi, Delcourt), Harold Sakuishi parodie la pochette de l'album musical The Chronic de Dr. Dre sur la page d'introduction du chapitre 2 de sa BD. Ici, Andre Romelle Young alias Dr. Dre est remplacé par Chiba Tsunemi.
Fin 1992, Los Angeles peine à se remettre des émeutes qui ont suivi le passage à tabac de Rodney King par la police. Plutôt que de jeter de l'huile sur le feu et de poursuivre dans la voie du gangsta rap, Andre Young choisit une sorte d'apaisement en sortant un premier album solo qui délaisse les thèmes violents de N.W.A.. Aidé par un Snoop Doggy Dog omniprésent, Dre ralentit ses rythmes, soigne plus ses musiques afin de toucher un public de plus en plus large.

1. The Chronic Intro
2. Fuck wit Dr Dre day (And everybody's celebratin')
3. Let me ride
4. The day the Niggaz Took over
5. Nuthin' but a 'G' Thang
6. Deeez nuuuts
7. Bitches ain't shit
8. Lil' ghetto boy
9. A Nigga witta gun
10. Rat-Tat-Tat-Tat
11. The $200 sack pyramid
12. Lyrical gangbang
13. High powered
14. The doctor's office
15. Stranded on death row
16. The raoch (The Chronic Outro)

Dr. Dre | The Chronic
Le succès est rapide grâce à des titres comme Nothin' but a 'G' Thang et Let me ride que MTV n'a plus peur de diffuser. Le producteur est passé en un an du gangsta rap au G-funk, clin d'œil au P-funk. Un nouveau style plus propice à la fête, au fumage de joint, le terme -chronic- signifiant en argot une herbe de très bonne qualité, et aux soirées bikini autour de la piscine. Un monde où les voitures roulent sur trois roues, les bras sont en l'air, et où les armes ont été remplacées par des bouteilles dans des sacs de papier bruns. Une esthétique légère toutefois teintée d'un certain second degré dans les clips.
The Chronic connaît un succès fulgurant et a une influence majeure sur les albums qui sortiront les années suivantes. Dr. Dre a réussi à donner au rap une image qui peut toucher le grand public avec un son original marqué par des mélodies aiguës et des basses brouillonnes typiques des synthétiseurs de l'époque. Sur Deeez nuuuts apparaissent Nate Dogg et Warren G que Young produira les années suivantes.

Je vais continuer à bâtir ma carrière, tout déchirer. Puis me poser, me relaxer, et vieillir avec mes millions.

Dr. Dre