... bijoux, cailloux
07
août
2015
Tes yeux, où rien ne se révèle
De doux ni d'amer,
Sont deux bijoux froids où se mêle
L'or avec le fer.

Charles Baudelaire | Le serpent qui danse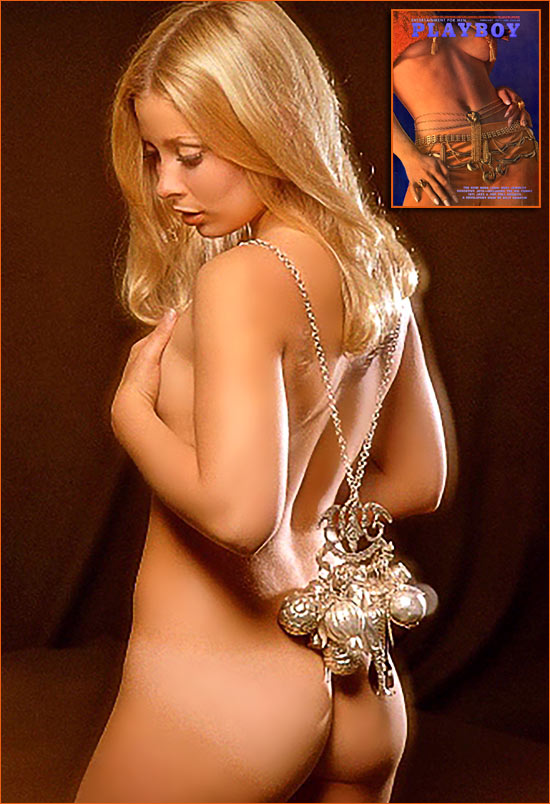 Photographie d'un model Bods Bejeweled par Smith pour Playboy (1971).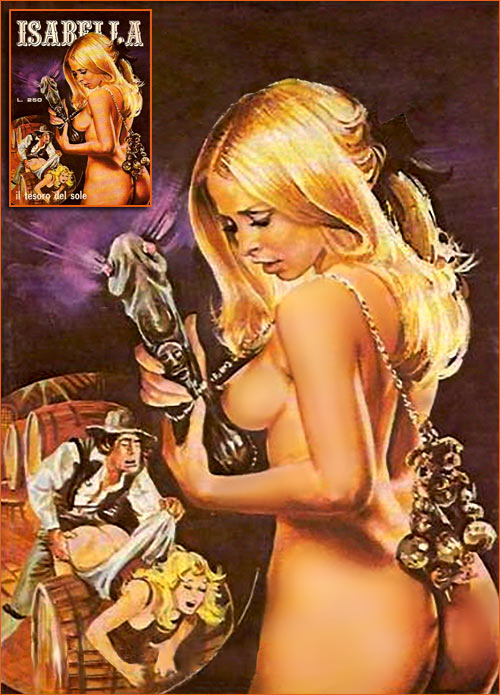 Isabella #215 Collectif et Cavedon (Couverture).
Dans le fumetti Isabella #215 - "Il Tesoro del sole" (Collectif et Cavedon, Ediperiodici), l'illustrateur de la couv' plagie une photographie du magazine Playboy de Février 1971, sur la couverture de sa BD. Cette photo est extraite d'une série de cliché pris par J Frederick Smith, où différentes models portent des bijoux géants dans le plus simple appareil. Ici la mannequine brésilienne est remplacée par la duchesse Isabella De Frissac.
Si tu sais qui sont le dessinateur et l'illustrateur de la couverture de ce fumetti, je suis preneur pour compléter l'article. 😃
Isabella est une série italienne publiée entre 1966 et 1976 en Italie. En France, 103 numéros sont publiés par Elvifrance entre 1970 et 1978. Le scénariste Giorgio Cavedon a adaptée à sa sauce un roman de Renzo et Giuseppe Barbieri, eux-mêmes inspirés de la série Angélique, marquise des anges. Isabella est une jeune noble française dépossédée qui apprend à se battre et devient agent secret au service du Cardinal de Richelieu. Ses aventures sont fortement teintées d'érotisme. Isabella est une des premières héroïnes de BD à apparaître complètement nue.
Pour avoir plus d'informations sur le magazine aux longues oreilles et te rincer l'œil sur d'autres playmates, c'est par ici que ça se passe: 1 - 2 - 3 - 4 - 5 - 6 - 7 - 8 - 9 - 10 - 11 - 12 - 13 - 14 - 15 - 16 - 17 - 18 - 19 - 20 - 21 - 22. 😉
Le numéro de Playboy qui nous intéresse aujourd'hui est paru en février 1971. C'est Fran Jeffries qui est en Une de couverture shootée par Bill Arsenault. La Playmate of the Month de ce mois de février 71 est Willy Rey photographiée par Mario Casilli.
A l'intérieur du mag', outre ces deux charmantes demoiselles, on peut aussi contempler une série de clichés intitulés: The bejeweled bod, où différentes hôtesses dénudées nous présentent des bijoux imposants et hors norme, sous l'objectif de J. Frederick Smith. La photo du jour en fait partie, la jolie brésilienne porte un collier géant appartenant à la collection privée de bijoux indien et africain de Fredda Weisf.
En feuilletant ce numéro, on peut aussi lire une interview de Tom Murton, et les articles: Bussman's holiday de William Iversen, The intelligent man's guide to intelligence de William E. Massee, Histories of future d'Arthur Schlesinger Jr, ...

PS: En 1969, la BD Isabella est adaptée dans un film italien, Isabelle duchesse du diable de Bruno Corbucci avec Brigitte Skay dans le rôle-titre.