Arrêt de jeu
07
juin
2012
La pluie du matin n'effraie pas le pèlerin.

Proverbe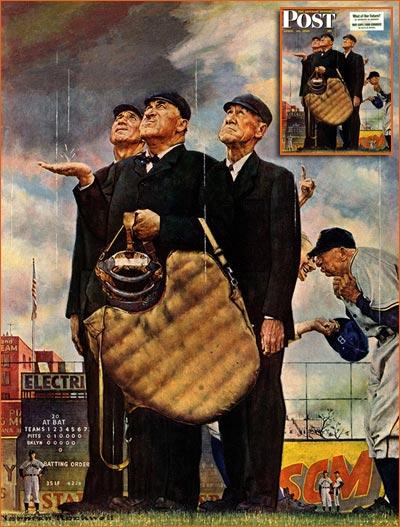 Bottom of the sixth de Rockwell pour la couverture du The Saturday Evening Post (1949).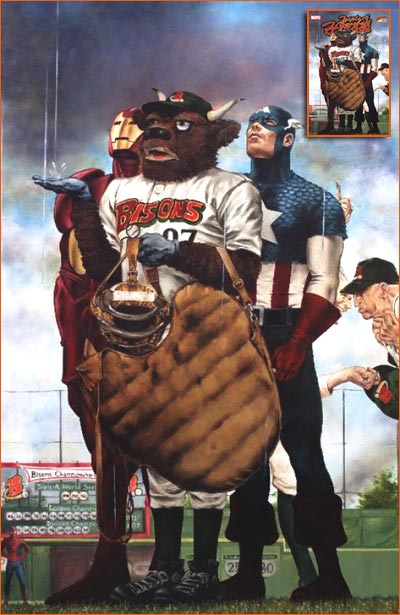 Triple-A Baseball Heroes de Adkins, Ketchum, Geraci et Eliopoulos (Couverture de Watson).
Dans le comics book Triple-A Baseball Heroes (Adkins, Ketchum, Geraci et Eliopoulos, Marvel) John Watson, le dessinateur de la couverture, pastiche l'illustration Bottom of the sixth de Norman Rockwell faisant la Une du Saturday Evening Post du 23 avril 1949 sur la couv' de la BD. Ici, les trois arbitres son remplacés par Iron Man, la mascotte de l'équipe des Bisons de Buffalo, et captain america.
Ce comics est un numéros spécial né d'un partenariat entre les éditions Marvel et la ligne de Baseball Triple-A. Il est sorti en aout 2007, et n'était disponible que dans les stades à l'occasion de trente rencontres de la saison. Pour trois matchs se déroulant à Buffalo, Durham et Memphis, l'illustrateur John Watson a même dessiné trois couvertures dont celle qui nous intéresse aujourd'hui. Le match en question opposait les Bisons de Buffalo et les Scranton/WB Yankees.

Pour plus d'information sur le travail de Rockwell au The Saturday Evening Post et voir d'autres adaptation, rends-toi »ici«, »là«, encore »ici«, même »là«, ou »ici«, ou bien »là«, puis »ici«, et »là«, et encore »ici« (ouf ! ^^) où j'ai déjà traité le sujet. 😉

Je n'aurai jamais assez de temps pour peindre toutes les photos que je voudrais.

Norman Rockwell