Gangstar Marv'
21
janv.
2016
Les deux seules choses qui me font peur sont Dieu et l'IRS [Impôt sur le revenu].

Dr. Dre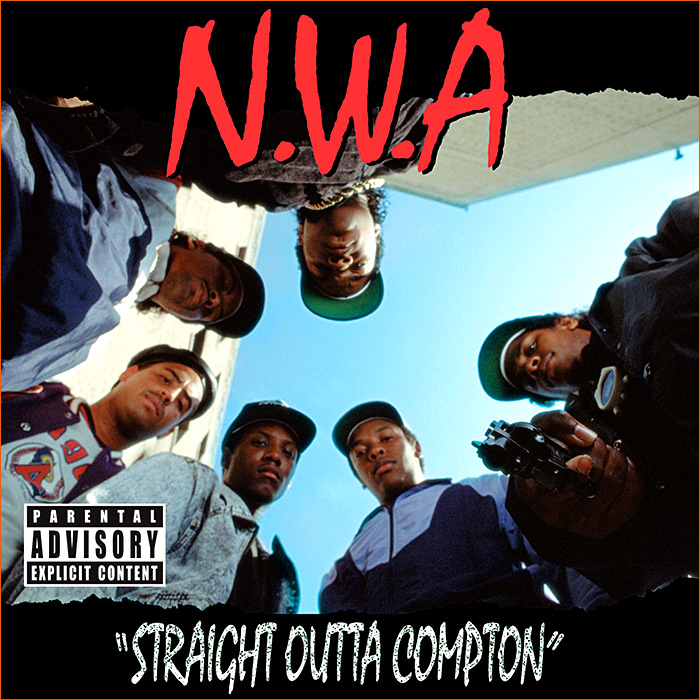 Straight outta Compton de N.W.A (1988).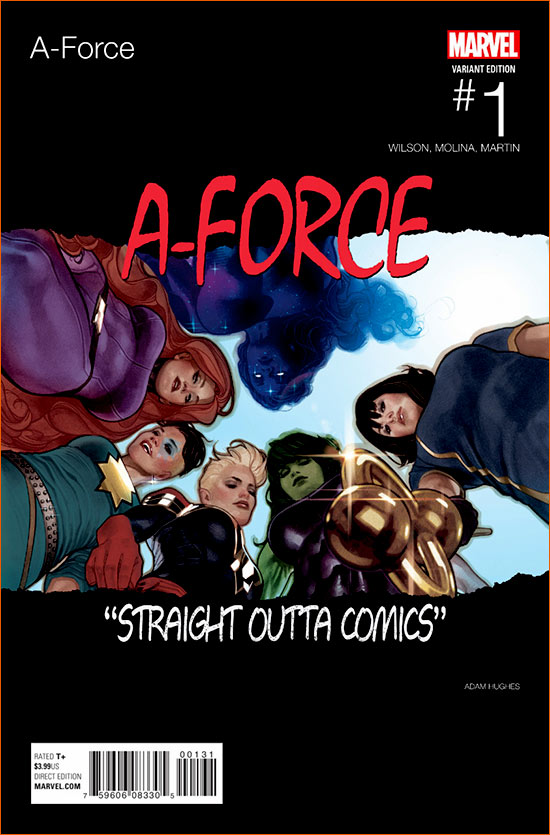 A-Force #1 de Molina et Wilson (Couverture alternative d'Hugues).
Dans le comics book A-Force #1 (Molina et Wilson, Marvel), Adam Hugues, l'illustrateur de la couv', parodie la pochette de l'album de rap Straight Outta Compton des N.W.A sur une des couvertures alternative de la BD. Ici, O'Shea Jackson alias Ice Cube est remplacé par Singularity, Mik Lezan alias Arabian Prince par Medusalith Amaquelin-Boltagon alias Medusa, Antoine Carraby alias DJ Yella par Alison Blaire alias Dazzler, Lorenzo Jerald Patterson alias MC Ren par Carol Susan Jane Danvers alias Captain Marvel, Andre Romelle Young alias Dr. Dre par Jennifer Walters alias She-Hulk, et Eric Lynn Wright alias Eazy-E par Nico Minoru.
N.W.A, acronyme pour Niggaz Wit Attitudes (Des noirs avec du style), est un groupe de hip-hop américain, originaire de Compton, une banlieue sud de Los Angeles, qui a popularisé le style gangsta rap. Actif entre 1986 et 1991, puis entre 1998 et 2002, le groupe est sujet à controverse en raison de ses textes vulgaires et provocateurs. Il est interdit d'antenne par de nombreuses radios américaines grand public; parfois même interdit de concert. Le groupe dénombre malgré tout plus de 10 millions de disques vendus rien qu'aux Etats-Unis. En octobre 2012, N.W.A est nommé pour la première fois au Rock and Roll Hall of Fame, et une seconde fois en octobre 2013.
Leur premier véritable album, Straight Outta Compton, sort en août 1988. Il devient rapidement culte dans le milieu underground, notamment en raison de ses paroles d'une rare violence, spécialement le tube Fuck tha police.
1. Straight outta Compton
2. Fuck tha police
3. Gangsta gangsta
4. If it ain't Ruff
5. Parental discretion iz advised
6. 8 ball
7. Something like that
8. Express yourself
9. Compton's n the house
10. I ain't tha 1
11. Dope man
12. Quiet on tha set
13. Something 2 dance 2

N.W.A | Straight outta Compton
Dr. Dre et DJ Yella, représentant HighPowered Productions, composent le rythme de chaque chanson, Dre rappant à quelques occasions. Ice Cube et MC Ren écrivent toutes les paroles de Fuck tha police, sans doute le single le plus controversé du groupe. Sous la pression exercée par l'association Focus on the Family, Milt Ahlerich, du FBI, adresse une lettre d'avertissement à Priority Records. Straight outta Compton est également l'un des premiers albums à être étiqueté Parental Advisory. Cependant, la nature musicale taboue de N.W.A est ce qui attire l'intérêt du public. La presse spécialisée compense le manque de diffusion radio de N.W.A, et leur album est finalement certifié double disque de platine, et Le titre Fuck tha police est à la 425e place des 500 Greatest Songs of All Time du magazine Rolling Stone en 2003.

PS: Il y a quelques mois en 2015, le réalisateur F. Gary Gray a tourné un bon biopic, N.W.A - Straight outta Compton, retraçant l'histoire tumultueuse de ce groupe aux égos monstueux qui a révolutionné le rap.