Psychédélique
04
mai
2014
Je suis tellement bien imité que j'ai entendu des guitaristes copier mes erreurs.

Jimi Hendrix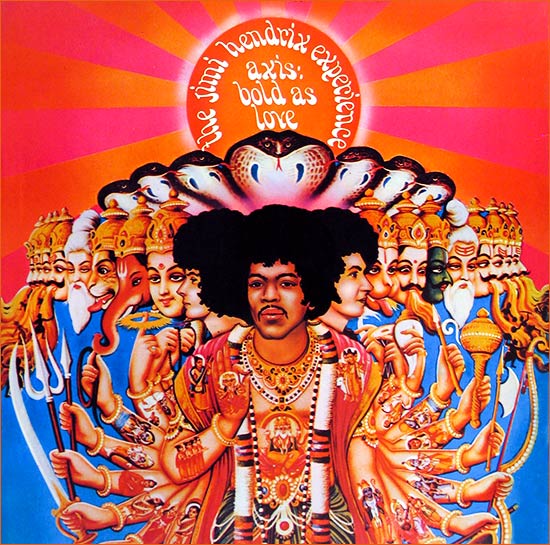 Axis: Bold as love de Jimi Hendrix (1967).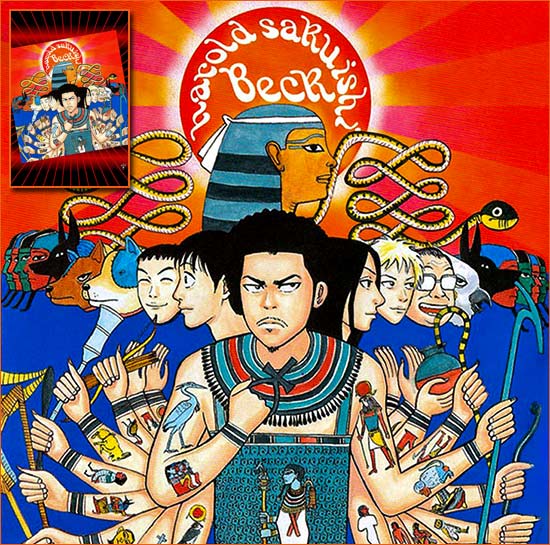 Beck - Tome 14 de Sakuishi (Quatrième de couverture).
Dans le manga Beck - Tome 14 (Sakuishi, Delcourt), Harold Sakuishi pastiche la pochette de l'album musical Axis: Bold as love de Jimi Hendrix sur le quatrième de couverture de sa BD. Ici, le groupe The Jimi Hendrix Experience est remplacé par les personnages principaux du manga. En premier plan, Jimi Hendrix est substitué par Chiba Tsunemi.
Axis: Bold as love est le deuxième album du groupe The Jimi Hendrix Experience. Sous la pression de sa maison de disque, qui veut un nouvel album pour Noël, Jimi Hendrix et ses deux comparses rejoignent les Studios Olympic dès mai 1967. Alors encore en pleine tournée anglaise où le groupe assure parfois deux concerts par soir, il passe leurs nuits en studio. Pourtant personne n'a la moindre idée de ce que sera l'album, Jimi s'installe derrière la console et attend l'inspiration en commençant à chercher de nouveaux sons et effets avec l'aide de l'ingénieur Roger Mayer, l'inventeur entre autres de la pédale d'effet Octavia. Hendrix enregistre toutes ses parties de guitare en stéréo en utilisant deux amplis Marshall de 100 watts et devient fou de l'effet phasing, qu'il utilise en abondance. L'enregistrement est bouclé en à peine 16 jours étalés sur trois mois.

1. EXP
2. Up from the skies
3. Spanish castle magic
4. Wait until tomorrow
5. Ain't no telling
6. Little wing
7. If 6 was 9
8. You got me floatin'
9. Castles made of sand
10. She's so fine
11. One rainy wish
12. Little miss lover
13. Bold as love

The Jimi Hendrix Experience | Axis: Bold as love
Hendrix sophistique ses morceaux, qui sonnent plus personnels, et ne seront quasiment jamais joués sur scène. Car malheureusement la complexité des techniques utilisées en studios limite les performances de l'album en public et seuls: Little wing et Spanish castle magic font régulièrement partis du repertoire de leurs concerts.

J'ai l'intention de former un orchestre symphonique avec 12 violons et trois joueurs de harpe et nous peindrons des tableaux de l'univers.

Jimi Hendrix